Entertainment
Phoebe Robinson On Meeting Boyfriend's Parents; Is She Getting Married?
American comedian Phoebe Robinson has made the audience stand on their feet for her brilliant stand-up comedies and famous podcast, 2 Dope Queens.
But her dating life has left everybody to search more and more, as her love life is tangled in layers of secrets. It is known to all that Phoebe has a boyfriend and now, comes a new update; she has met her beau's parents.
The full story is within your reach! Just keep on reading till the end!
Boyfriend Might Be "White"; Meets Boyfriend's Parents
If Phoebe Robinson's dating life is a lock, then her social media is the key that opens it.
The Cleveland, Ohio native has been dating her boyfriend since 2011 and later, celebrated their 1st anniversary in December 2012. She took the occasion to Twitter on the day and even gave out the tips how not to mess one's relationship.
Similarly, Phoebe's another tweet cleared her seriousness in her relationship, which she shared on 25 October 2013. She quoted she has a boyfriend but also would not stop checking out hot actors.
But the major bite came in March 2016 after she shared a parody video titled How to Master INTERRACIAL DATING! Mostly True with Phoebe Robinson (Parody). In the video, she discussed the challenges of the interracial relationship and explained why it could be challenging to meet a white boyfriend's parents.
On the process, she made the big revelation that she has already met her boyfriend's parents.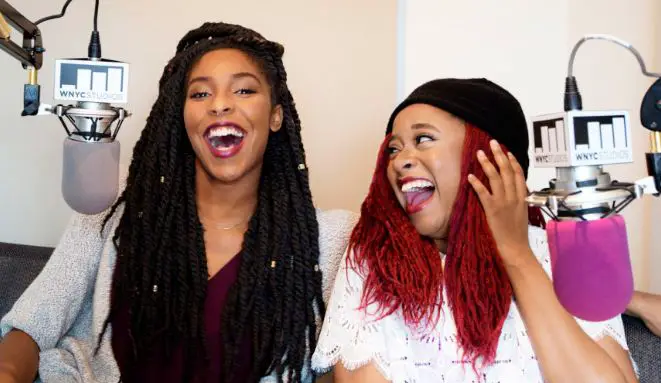 Phoebe Robertson (left) and partner Jessica Williams hosting their show 2 Dope Queens on 26 March 2015 (Photo: Oprah.com)
Furthermore, during an interview with the avclub.com on February 2018, Phoebe mentioned her boyfriend stating that she had the best time as she was balancing her work and relationship with her boyfriend.
"I've been having the best time. I've been working a lot, and I have a boyfriend now, so things are looking up. I'm having a good run. I don't know when it's going to end, but I'm going to enjoy every second of it."
Also the actress, Phoebe quoted herself to be happy being in a relationship via a Twitter comment on 13 March 2018 when she replied to her pals on the topic of her interview with Deray,
"Lol. Did I really ask him that? I thought I asked him what kind of guys he likes. And how I can I be thirsty when I'm not interested in him and when I'm happily in a relationship with my boyfriend?"
Undoubtedly, Phoebe shares no hesitation to openly talk about her boyfriend but she is yet to disclose her boyfriend's identity. Judging from the events, her boyfriend must be a white man as she brought out the interracial parents video.
Robert De Niro As Her Husband
Yes, Phoebe's love life is a low-profile dating life to some extent. And it has run to such extent, that there lacks the clarity whether the couple is already engaged or even married for that matter.
In an interview with the RollingStone on 2 February 2018, Phoebe had already revealed her dream husband. Quoting herself as "young buff of TV and films", she explained she was gonna "marry Robert De Niro."
Well, in case of Phoebe's silence, it can be assumed her boyfriend might be real-life "Robert De Niro", with whom she is enjoying her dating life. When the right time calls, the Pratt Institute graduate might get married to her long-term boyfriend and pronounce him husband.