Entertainment
Polyxeni Ferfeli, 23, Reportedly Dated Odell Beckham! Who Is She After All?
It has been a decade since most of the people started carving for popularity and stardom through social media. Social media has been an excellent platform for every budding celebrity, so same is the case with Instagram model Polyxeni Ferfeli who gained immense stardom via Instagram.
As of now, she is reported to be in a dating relationship with someone. And in this regard, who might be her boyfriend?
Let 's have a patrol towards Polyxeni Ferfeli's relationship status along with her personal life.
Polyxeni Ferfeli's Boyfriend
Polyxeni Ferfeli, the Instagram model, is in a romantic relationship with The NY Giants star wide receiver, Odell Beckham Jr, since April 2017. After then, Polyxeni was spotted with her boyfriend, Odell at Six Flags Magic Mountain in California where he even won her a giant stuffed pair by playing those tough carnival games.
Besides California's park, the couple was spotted several times. A few months later, Polyxeni and Odell were observed enjoying quality time on the beach together in Mexico on July 17.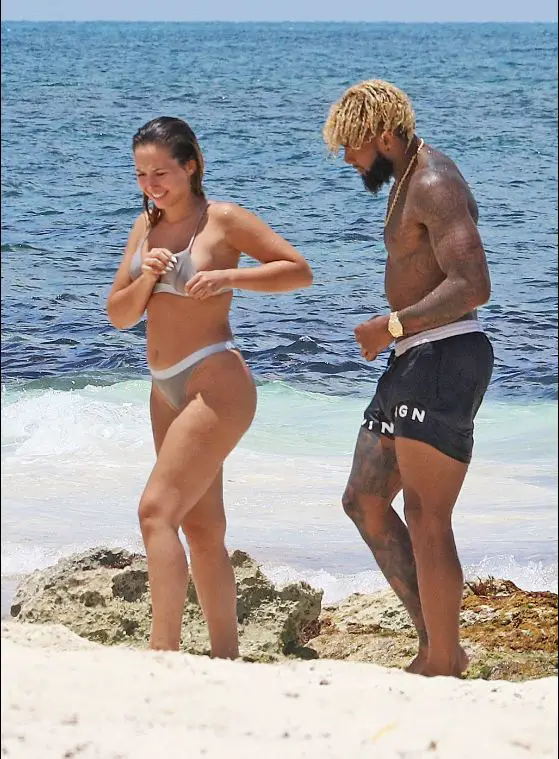 Polyxeni Ferfeli and her boyfriend Odell Beckham Jr (Photo: TMZ)
As of now, Polyxeni, who is at the age of 23, is in a smooth relationship with her boyfriend whereas her boyfriend is enrolling himself with the individual fourth season.
About Polyxeni Ferfeli Personal Life
Polyxeni Ferfeli, who was born on 8 March 1994 is based on Greece nationality. About her academic qualification, she joined prestigious Regent Business School of London in 2012 and got graduated in Global Business Management and Finance in 2015.
Instagram model Polyxeni, who is widely known for sharing photos of her jet-set lifestyle even worked as a marketing assistant for the Elgeka Group. Polyxeni entangles most of her time by sharing her beautiful photos on Instagram that shows off her impressive body and perfect fashion sense. As of now, she has garnered more than 24k followers on her Instagram account.
While gushing about her parents, Polyxeni seems to be very much attached to them. On the occasion of a Father's day, she shared her childhood memory on Instagram on 18 June 2017, stating that she loves her father to death though they fight like cats.
Besides that, Polyxeni even has shared a picture with her mother in which her mother is holding her in her arms. In a post shared back on 15 may 2017, she captioned a love for her mother.
However, regarding her parent's name and their profession, she hasn't come up publicly. Likewise, her ethnicity remains veiled.
Apart from father and mother, she even has uploaded her sister's picture wishing her birthday. Polyxeni shares different pictures with her sister, and on the basis of the caption, they seem very close to each other.
Prior sparking the romance with Odell, Polyxeni Ferfeli was even photographed with pop singer Harry Styles back in September 2015.