Entertainment
'SNL' star Rachel Dratch Discovers Family Duties At Age 43, Son's Father Wasn't Her Husband
The 52-year-old American actress/comedian, Rachel Dratch is one of the famous names known for her work in the American comedy show, Saturday Night Live (SNL).
The comedic actress welcomed a son in her forties, and the father of Rachel's child was not from the entertainment world.
Meets Boyfriend In Bar
The Massachusetts native Rachel Dratch first met the then California-based natural-foods consultant, John Wahl in 2009 in a bar named Shoolbred's in the East Village.
Rachel and John (Photo: Pinterest)
The food and beverage industry professional, John, who had put a bacon-flavored lip balm, arrived in the bar while the famous actress was going for absinthe.
She later invited him to her place after his personality impressed her.
After their first meeting, both Rachel and John sparked a flirty, long-distance relationship.
They even started meeting each other in cities and on Hawaiian islands.
Unexpected Pregnancy, Boyfriend Supports
After dating casually for six months, at the age of 43, Rachel found out that she was pregnant with her boyfriend.
Revealing in an interview with PEOPLE in October 2010, she stated that she didn't expect to have kids in her forties. She said,
"I had bought into all this stuff about, 'Once you're over 40…' I'd gone through the whole process of letting go of [the idea of having kids]."
The news of Rachel's pregnancy also shocked her boyfriend, John.
He asked her to retake the test, which again came out positive. Soon, the baby daddy moved to New York City to be close to his girlfriend and soon-to-be-born child.
Talking about the moment when he first knew Rachel was pregnant, in an interview with PEOPLE in October 2010, her long-time boyfriend added that the news was excitingly shocking, stating,
"[Rachel] was resigned to the fact that this wasn't going to happen and had written it off. That may add to the adrenaline and euphoria and excitement."
Again in an interview with hollywoodlife.com in October 2010, Rachel's yet-to-be husband recalled the moment and expressed his love towards Rachel, saying,
"It was a no-brainer. I wanted to be a part of Eli's life every day."
Finally, on 24 August 2010, the popular American actress gave birth to a son named Eli Benjamin but didn't disclose the name of the father.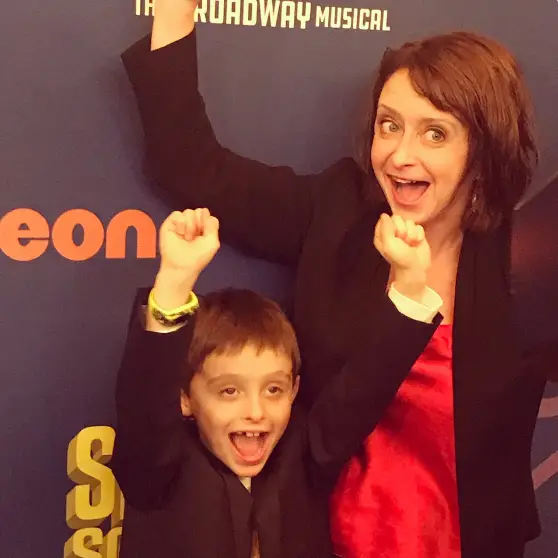 Mom Rachel and son Eli Benjamin attend a SpongeBob Broadway show in 2017 (Photo: SpongeBob Broadway, Twitter)
But after the birth of her son, Eli, Rachel started reading the crazy reports about Eli's "unknown" father.
The satirical American show, 30 Rock star, Rachel then decides to reveal about the baby father to halt the crazy rumors.
Reveals Her Boyfriend, Eli's Father, Motherly Experience
She exclusively talked to PEOPLE in October 2010 addressing the insane theories, stating,
"People are expecting the craziest story. I just meant it's crazy for me!"
After the birth, the couple started to raise the baby together.
In 2012, Rachel, who belongs to Russian Jewish and Polish Jewish descent, was seen as a happy mother.
In an interview with nypost.com in March 2012, the Dartmouth college graduate hoped that her story would help the single ladies realize the importance of motherhood. She said,
"Not to get all cornball-Hallmark cards on you, but I feel like I was sent some Cinderella-type fairy godmother when I had Eli. I hope my story will make other single ladies feel good about themselves and help them realize that it's never too late for them. I'm living proof."
The mother of Eli, who then lived with John and El in the Union Square area, also talked about her future with her longtime boyfriend in the same interview, stating,
"We're still trying to figure out what we are to each other. Eli was a total surprise, and we've been so focused on him that we haven't really had time to define what we are. We're an unconventional New York family."
The surprise pregnancy was a major turning point in her life. She had to balance her professional life with her new-found personal one.
The couple, who then resided in the Union Square area, put all the focus on El and had less time for each other, but managed time for date night and "adult times."
Since 2012, Rachel has progressed in all of the dimensions of her career from comedy to acting but has stayed mum regarding her relationship with John.
On the other hand, John currently works as the Director of National Sales for the company Mamma Chia, according to his Linkedin profile.
Rachel Dratch's Career
Rachel, who enjoys a net worth of $ 3 million is best known for the American television show, Saturday Night Live (SNL). She worked on the show for seven long seasons and became the longest-running female cast member on the show.
She first left the show SNL(1999–2006, 2010–2011, 2017–present) in 2006 along with the likes of Horatio Sanz and later made a short return with Tina Fey in February 2018 with a sketch about the feud between Philadelphia and New England.
The first female cast member of SNL to turn forty, Rachel is also known for her acting in movies such as Spring Breakdown (2009), Just Go With It (2011), Sisters (2015). Her upcoming movies include Wine Country and Hurricane Bianca 2: From Russia With Hate.