Entertainment
Radio Host John Tesh's Blissful Married Life with Wife and Family! View Full Report
Marriages are supposed to add happiness to your life. But this is not the case for everyone because not all the marriages last forever and they often end in divorce. But the lucky Radio Host John Test who is happily married and leading a blissful married life.
Happy Married Life of John And His Wife:
Tesh has a beautiful family which consists of his wife, and two children. As a family man, he is successful to keep hold of his family values. He is married to actress Connie Sellecca. The couple on April 4, 1992, tied the wedlock. They are parents to one daughter named Prima.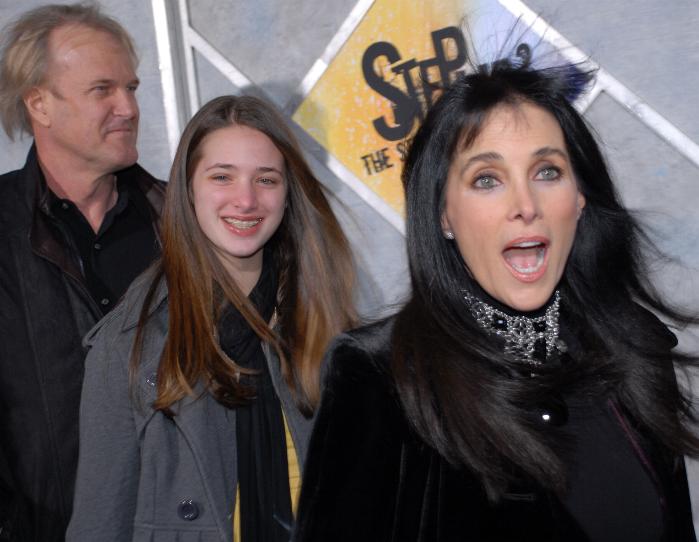 Caption: John Tesh and Connie Sellecca share a happy family with daughter Prima (2005).
Photo Credit: upload.wikimedia.org
Their first meeting took place at a hotel Gym in Palm Springs in 1991. Then and there, John asked her out. In the same year, John proposed Connie, and it was done with great lavish. For this, he reserved the whole restaurant in Monterey. He arranged the firework display too. Not only this, he wrote a song for her and made the whole atmosphere musical. For this, he hired a string quartet to serenade her with a song.
On their first anniversary in 1993, he had a plane pull a banner over their Orlando vacation spot indicating JOHN [love] CONNIE, and she was seven months pregnant that period. He didn't again miss to show his love as he took her via helicopter to a picnic for two atop an Arizona mesa. How romantic! Connie said,
"He's romantic in every way."
April 4 holds great significance in their life as they were married on this date. So, Tesh sends his wife flowers on the 4th of every month. The following Twitter post also suggests their blissful married life from a long period of time.
Tomorrow is 21 years of being married to my awesome husband. ? My heart is full.

— Connie Sellecca (@conniesellecca) April 3, 2013
For both of them, it is their second marriage. Connie divorced actor Gil Gerad in 1987 and John did the split with actress Julie Wright in 1991. They have learned some lessons from the failure of first marriage and now don't wish to repeat the same mistakes again. Connie expresses this as,
"We both came from bad marriages and didn't want to make that mistake again,"
Connie further puts in,
"Some people are probably disgusted by our image, but if they came over to our house, they'd see we have to work things out like everyone else."
"Our house is falling apart from the earthquake," says Sellecca, "and we have an epileptic dalmatian who takes 19 pills a day."
From her above statement what is evident is marriage for them is also not a piece of cake. They also have to go through various ups and downs of the wedding. But despite the imperfectness of the marriage, still, they try to be with each other and show to the world that they are happily married.
John Feels Guilty Over Something!
According to the book written by Kitty Kelley, which is the biography on Oprah Winfrey, John Tesh once lived in the Nashville apartment with Oprah Winfrey when she was barely out of her teen. But one night, John walked out of the room in the middle of the night and didn't return again. As per the book, the reason behind it was Tesh couldn't handle the "social pressure" as both of them were an interracial couple at that time. This has been referred in the book as,
"He said one night he looked down and saw his white body next to her black body and couldn't take it anymore,"
But later, this incident made John feel very guilty about it, and he was apologetic about his action.
"He walked out in the middle of the night. ... He told me he later felt very guilty about it."
While John got married to Connie, Oprah Winfrey shares a long time relationship with Stedman Graham.
Caption: John Tesh and Oprah Winfrey were dating once (2004).
Photo Credit:eonline.com
John's Successful Career Contributes To His Net Worth:
John Tess is an American musician, radio host, and a television presenter. He even has a deep interest in music and has got a booming musical career. He hosts his own nationally syndicated radio show. He has already written few books and also continues going on a lot of tours. Tesh has sold over eight million records. His live concerts have raised more than $20 million. So, he is successful in the entertainment industry as well as a recording artist. Thus, his successful career has helped him to accumulate the net worth of $30 million.