Entertainment
Rainie Yang Not Keeping Her Dating in Privacy! Wedding Bells To Ring Soon?
While there are celebs that are private and keep their affairs close to the chest; there are others who are pretty much open with their love life.
Taiwanese actress Rainie Yang shares a similar scenario, as she is open regarding her affairs as well. Although Rainie is not so active on Twitter and Instagram, she can be seen conveying her love life through Weibo.
So, let's pick into her love life to see what's going on at present!
Rainie Yang's Stripped Love Life!
In spite of the actress Rainie Yang's scandals and rumors, she has always been honest about her hookups. The Taiwanese actress Rainie Yang found love with the Chinese singer Li Rong Hao at the end of 2014 and confirmed their dating on February 14, 2015.
The low profile couple, Li Rong Hao and Rainie Yang have kept their fling under the radar; nonetheless, they constantly show their rampart for one another on numerous instance.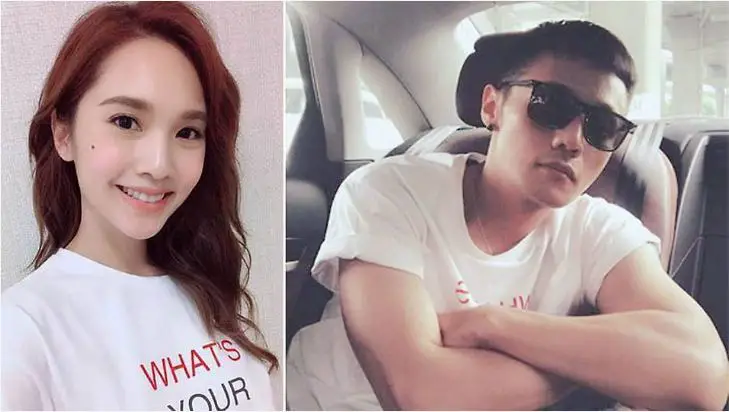 Caption: Rainie Yang(left) and Li Rong Hao(right)
Photo Credit: entertainment.toogle
Back in September 2015, news broke out that Rainie Yang was secretly married to Li Rhong Hoa; but the actress, Rainie Yang was shocked and distressed. Denying the report, she shared through Weibo,
What?! How come I don't know I got married? It's the seventh Chinese month now, is it a newsbreak from the underworld...scary! The point is, I'm not married, although I'm fainting from seeing the report, but thank you for your concern.
Hao's and Yang's agents also refuted the secret marriage story. Yang's agent uttered:
Don't talk ghostly nonsense in the seventh Chinese month.
Likewise, Li's agent recounted the report as "exasperating and amusing."
After a year, in July 2016, Li RongHao attended an event in Shanghai; however, on a tertian day, he suddenly changed hotels where Rainie's parents were staying.
Li Rong Hao was also spotted having a meal with Rainie's parents for three hours, which led to the discussion about Rainie Yang and Li Rong Hao's wedding. After a couple of days, Rainie Yang and Li Rong Hao were seen walking hand-in-hand in Tokyo as well.
Anew, Rainie Yang and boyfriend Li Rong Hao were spotted in Kyoto, Japan in February 2017; however, the duo's were not having a romantic date as they were accompanied by the Taiwanese actor Chin King.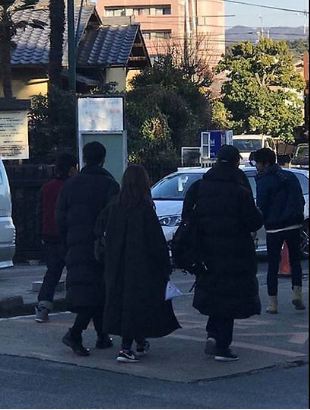 Caption: Rainie Yang and Li Rong Hao with Chin King
Photo Credit: entertainment.toogle
The couple was photographed by a fan on the streets of Kyoto, who shared it online saying;
Please forgive me for taking pictures secretly, you two were so sweet.
The couple Li Rong Hao and Rainie Yang, who have dated for 3 years already, were also spotted sharing the same stage on Taiwan back in September 2017.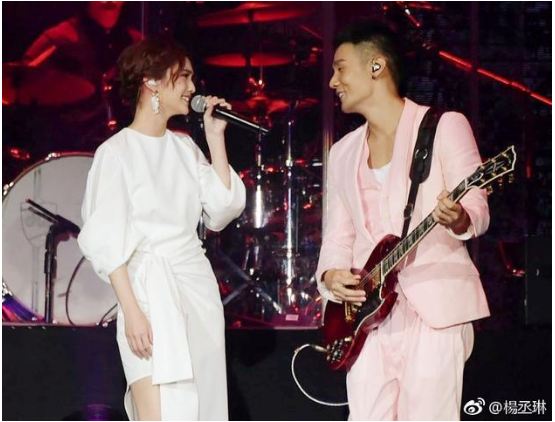 Caption: Rainie Yang and Li Rong Hao together in a concert in Taiwan
Photo Credit: koalasplayground.com
They did a duet, during which Li Rong Hao awkwardly pulled the Taiwanese actress Rainie Yang for a cheek kiss that made her look unhappy, but she later shared that she was delighted and honored to have been her honey's special guest at the concert.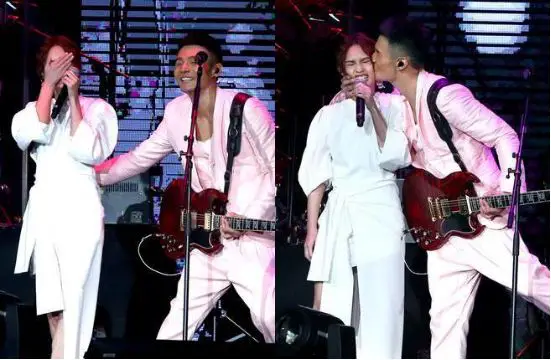 Caption: Li Rong Hao kissing Rainie Yang
Photo Credit: koalasplayground.com
The duo, Rainie Yang and Li Rong Hao seem to have a close and stable relationship, but neither Rainie nor Li Rong has spoken about getting married anytime soon.
Before Li Rong, the actress cum singer Rainie Yang dated the Taiwanese singer Prince back in 2013.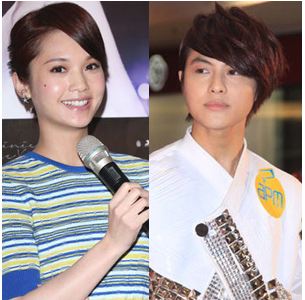 Caption: Rainie Yang(left) and Prince(right).
Photo Credit: onehallyu.com
When Rainie Yang was asked for her opinion on Prince, she giggled nervously and said;
This is so awkward! I don't really know how to tell lies.
Admitting that prince is her boyfriend, she then exclaimed;
He has an old soul! He has got guts. Very often, there are very few people who really have guts. I don't like it when some guys are so ambiguous and passive when it comes to chasing a girl.
Rainie Yang, happily in love, changed her mind, who heretofore announced that she doesn't want to get married and has planned to give birth before she turns 35.
Then Rainie Yang also announced that she would not tie knot secretly, saying;
I have many reporter friends who have watched me grow. So if I really do get married, I will announce it publicly.
But unfortunately, Rainie Yang and Prince drew a line sometimes in March 2014. When asked about their relationship, both confirmed that they called it quits.
Fortunately, Raini Yang has a stable relationship with Li Rong Hao, and she might take the next step soon and tie the knot with Li Rong Hao before she turns 40! But one thing's sure; she will not be giving up the showbiz even after marriage!