Entertainment
Who Are Rashida Jones Parents? Ethnicity She Shares & More Family Insight
Actress Rashida Jones is popularly known as the celebrity kid as she had both parents in the showbiz. She has, however, refused to settle on laurels as a daughter and created her own profile in the entertainment industry after appearing in the series like Angie Tribeca as the titular character.
The actress has always been supported by her mother in every decision she has made. The mother and daughter share a close bond with each other and are the perfect example of "Partners in Crime."Whats more, she is still close to her father despite being raised up by her father.
Mixed Ethnicity Actress; Mom Is Partner In Crime
Rashida, born on 25 February 1976 in Los Angeles, possess a mixed ethnicity. She was born to a recording artist father Quincy Jones and actress mother, Peggy Lipton. Rashida has an older sister named Kirada Jones. Her father belonged to African-American descent with some English, Scottish and Welsh heritage whereas her mother is Ashkenazi Jewish.
Rashida's parents Quincy Jones and Peggy Lipton got married on 14 September 1974. However, the couple cited irreconcilable differences and ended the marital bond in 1989.
Rashida's mom filed for the divorce after 15 years of marriage in 1989 and also claimed the joint custody of their two daughters Kidada and Rashida who were just 15 and 13 years of age respectively at the time.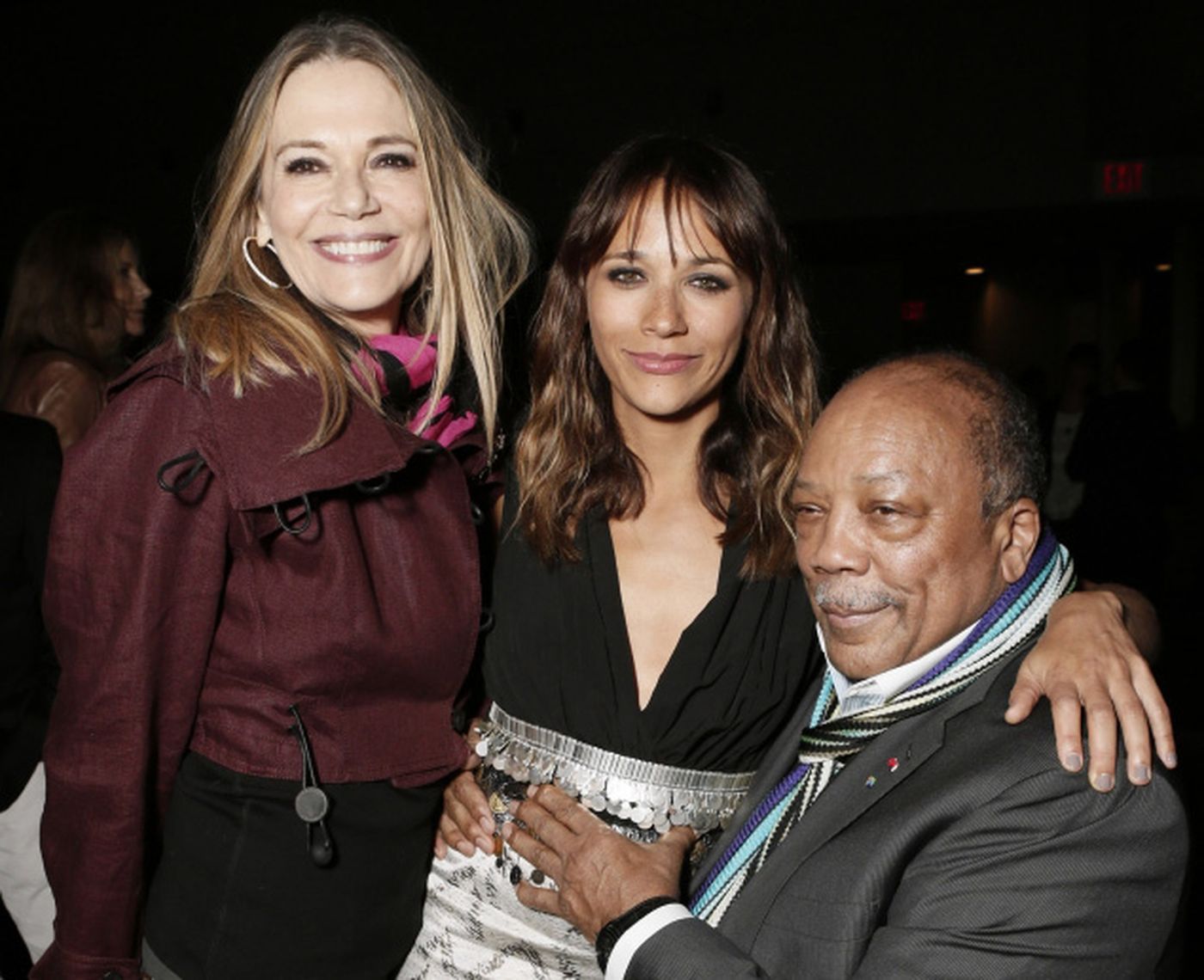 Rashida Jones with her father, Quincy Jones and mother Peggy Lipton (Photo: Getty Images)
Rashida was so close to her mom that she did not leave her side and stayed with her after their parent's divorce while her sister went to live with her dad. As she lived with her mother, she grew up following religious beliefs of Reform Judaism.
Following the separation of her parents, her mother never got married and spent her life raising the two daughters. And Rashida was more close to Peggy than Kidada. Rashida and her mother's bond was on show when they shared screen spaces together in a play called Pitching to the Star in 2002. The Last Don actress described that moment as a special and unique experience for her.
However, the mother and daughter duo's relationship suffered an extreme test when her mother was diagnosed with colon cancer in 2002 months after their play appearance together. Not only did Rashida stayed by her mother's side during her illness, but she also served to cheer her up at such a grim circumstance.
Rashida and Peggy made a perfect foil for each other, and Rashida's labels for her mother as 'Partner In Crime,' was on display during the tough times.
Helps Father, Quincy Jones Realize Mistake Through Sister's Help
However, it is not just her mother Rashida shares a special bond with as she is also very close to her father. Her father Quincy married soon after the divorce with Piggy. However, the marriage also did not turn out to be successful, and his third relationship also did not go well.
Apart from her biological elder sister, Rashida has five half-siblings by her father's other relationships.
Though the family split when Rashida was a mere teenager, Parks and Recreation actress seems to share an intense relationship with her 85-year-old producer father. She held a surprise family intervention after her father had sparked controversy in the media and along with her other half-sisters reminded her father of his responsibilities.
Her father Quincy Jones could not hide his pride at his daughter's courage in fronting up to him and shared his gratefulness towards his daughter in a Twitter post. He wrote:
"I'm so grateful for my daughters because they aren't scared to stand up to their daddy. I am an imperfect human and I'm not afraid to say it. And I'm sorry and I'm not afraid to say it."
The full post also contained an apology for the people he offended with his words and asked for forgiveness from all parties involved.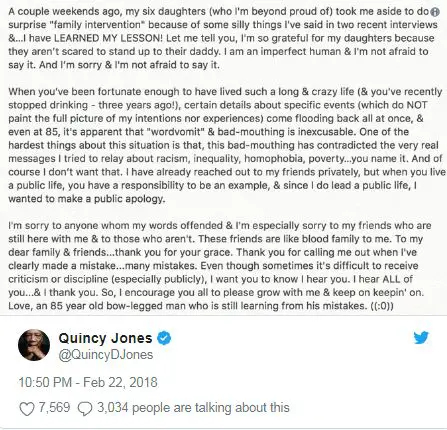 Quincy Jones gushes about daughters and asks for an apology for his offending remarks (Photo: Quincy Jones' Twitter)
Rashida not only showed the caring side of her personality in correcting her father through the sister's help, she also proved to the world that she still cared about her father.