Entertainment
Openly Gay Raven-Symoné Getting Back With Partner Again? After All, Life With Girlfriend Was Bliss
Hook ups and break ups are the major portions of the celebs' lives, and they happen to pass through these events now and again. So, how could The View co-host Raven-Symoné stay away from the relationship issues?
Raven, the 31-years-old TV actress, rather has a different relationship story as she seems to rekindle her former flame. We are alleging this as some tabloids have reports of her remaking the lost love with the previous model girlfriend, AzMarie Livingston.
Raven And Livingston Are Patching Up The Second Time?
The Cheetah Girls' Bubbles has always been open about her sexual orientation and has announced that she was a gay in 2012.
Moreover, she also stated that she was in a relationship with AzMarie Livingston and preferred not to be defined by her sexuality.
On August 2, 2013, after the Supreme Court's June decision to overturn The Defense of Marriage Act, Raven expressed her joy through Twitter.
I can finally get married! Yay government! So proud of you

— Raven-Symonè (@ravensymone) August 2, 2013
However, few months before the tweet, in May, Raven had defended her right to remain private. She addressed the rumors of her living with former America's Next Top Model contestant and called it her personal life. She told:
"I'm living my PERSONAL life the way I'm happiest. I'm not one, in my 25-year career to disclose who I'm dating. And I shall not start now."
She also added:
"My sexual orientation is mine, and the person I'm dating to know. I'm not one for a public display of my life."
Moreover, That's So Raven star Symone was also involved in a rumor of having a baby in early July 2009, which she put to rest much sooner with the help of her representative. Her agent told People:
"Raven-Symoné is not pregnant nor did she give birth."
The supportive parents of Raven, Christopher B. Pearman, and Lydia Gaulden have helped her manage her career. Later, she got support from her partner, Livingston.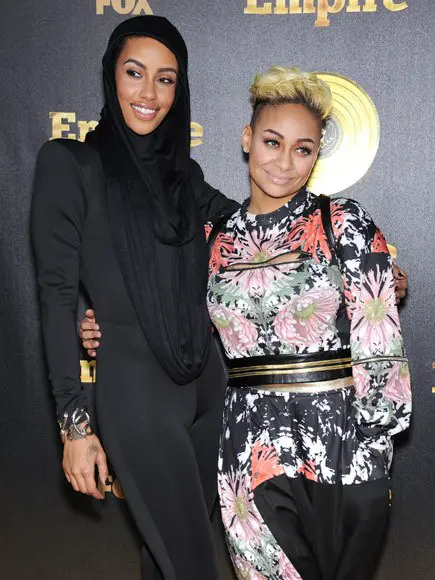 Caption: Raven and Livingston spotted together at an event.
Photo Credit: people.com
Raven has never announced the coupling officially, but the duo became the public interest after the discussion of her sexuality on Oprah's Where Are They Now in 2014.
The pair went pretty well until October 2015, which was the moment when they decided to stay separately. The Us Weekly confirmed their split on October 19 and called Raven single.
However, the news of their reunion propagated, as the two passed cozy moments together at Xscape Puerto Rico, an LGBT arts and film festival for the LGBT community.
Livington also took to Instagram to share a picture with Raven, where she is wrapping her arm around Raven, who is kissing her on the neck.
The American actress Raven, who enjoys an enormous net worth of $55 million, seems to be getting hooked up again with the 30-years-old Empire star, Livingston.
As the two haven't unveiled any of their relationship statuses recently, their relationship plans remain a mystery. However, we like to see the coupling of Raven and Livington in future as well.
Stay with us for further updates on Raven Symone!