Life is all about giving and taking, but the best part is if we can give without any expectation for someone's good. Reign Edwards, a multi-talented actress, is also playing such a role where she not only presents good appearance but also reflects character's good soul who is willing to help the belongings.
Reign Edwards is known to be an actor who is fully focused on her career but what is going in her love life. Let's find out
Is choosing Career Over Boyfriend?
Reign Edward's on screen love story has left everyone in confusion while her real love life has also been a mystery.
As being a hard working girl, her priority is her career rather than spending time with the boyfriend. She is busy concentrating on her work, and acting sector and loves spending time with family at her free time.
And in an interview with soapcentral.com, she has also talked about her holiday plan with her family. She said
"We're trying to figure out where we want to go right now. My mom and my sisters want to travel. We don't know where to yet, but I know time is running out! We've been talking about it for days, and we need to make a decision, but we don't know yet."
And talking about her bond with her sisters, she mentioned,
Yeah. My little sister is glued to my hip! The older sister is on her own doing her own thing now, but we still stay in touch -- obviously. But, yeah, family is very important to me, so I try to look out for my sisters and everything.
It can be seen from her conversation that she is a family type of person and loves spending time with them. So, as having a busy schedule and responsibilities, she is more focused on her career rather than her love life.
There was a rumor of her dating the actor, Rome Flynn as they had played on-screen match-up on the series 'The Bold and The Beautiful.' She also revealed that it was shy playing on-screen kiss scene for the first time with Rome Flynn. They have a sizzling chemistry on-screen and also spends time behind the scenes but just as friend basis.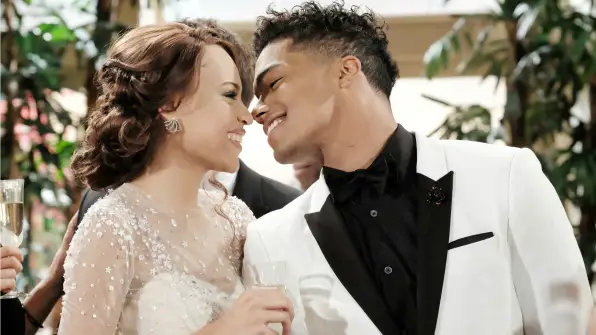 Caption: Nicole Avant (Reign Edwards) and Zende Forrester (Rome Flynn) as an on-screen pair from 'The Bold and The Beautiful.'
Photo Credit: cbs.com
But Reign Edwards being a lady of few words, she doesn't like revealing her personal life out in media. So, her dating issues have never been out. Hope we get to know about her love life soon.
Wiki-like Bio Of Reign Edwards:
Reign Edwards, the beautiful actress, was born on Dec 1, 1996, in Hartford Country, Maryland, USA. She is interested in dancing, singing, and fond of shopping. Talking about her parents, she is a single parent child. While her mom and her two siblings, older sister, and younger sister have always played very important role in her life.
It can be seen from her Instagram post that she has a great bond and loves spending time with her mother.
On may 2017, she had posted a picture with her mom, wishing her on mother's day.
The actress joined the cast of The Bold And Beautiful in Jan 2015, and she was also nominated in the category of "outstanding younger actress in a drama series." In the series, she is playing the role of Nicole Avant who has been closely connected with her sister. She had also played in some big screen films like "35 and Ticking" and "Explicit llls" and shared a small screen on "The Thundermans" and "K.C Undercover."
Reign Edwards, the fans favorite has estimated to earn huge amount of net worth from her remarkable acting career, which is still yet to be revealed by her.
She is an actor who has maintained privacy in her personal life but is very enthusiastic about her acting career and has achieved the height of success in her acting sector.
#American Actress
#The Bold and the Beautiful
#35 and Ticking
---