Entertainment
Roger Mooking Age 44 Reveals Untold Secrets On Wife & Family!
Canadian chef Roger Mooking, who is well known for his appearances on cooking shows across North America, had kept his personal life under his hat.
The scenario completely changed as Roger has finally spilled the beans on his beautiful love life amid his loving family.
In the article below, we present some of the details about the TV host that you probably might have missed.
Old School Dating Amid Supportive Family
Roger and his wife, Leslie Mooking, met in an old fashion way that did not include the internet. Roger met his love for life Leslie at Barrio restaurant, when he had his first job as a head chef, and Leslie was a wardrobe stylist.
After their first meeting, the couple fell for each other and started dating.
Though, the actual date of their meeting remains confined it came to the limelight that Roger and his wife had their first date in 2005. They watched a show at Barrio for their dating, where one of the servers was an actor putting on a one-person show.
They also had a stroll around the St. Lawrence Market area before stopping at a lounge to converse. While gushing about their romance, Roger during an interview, shared that they loved taking last-minute road trips on an inclination and liked exploring different cities. He even revealed that their most memorable trip was when they traveled to San Francisco.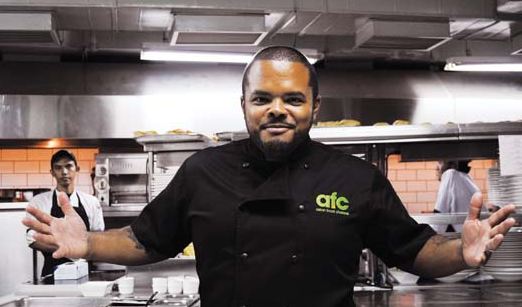 Roger Mooking in the set for the Asian Food Channel (Photo: exquisite-taste-magazine.com)
Despite the low keyness in their engagement, Roger, who ages 44, shared that they eloped and got married in Castara Tobago. He quoted that their elopement was the finest as they watched oceans on the edge of the sea hovering over a fishing village that day.
After the wedding, the couple changed their dress and put on shorts and T-shirt due to the scorching sun. The couple then rented a car and spent days on the mountaintop roving around Tobago and visiting Roger's childhood hang-outs.
The pair even went for a week-long family reunion in Trinidad to meet Roger's family. Months later, when the couple visited their parents in Edmonton, their family threw a surprise party to celebrate the wedding again.
It has also come to the limelight that Roger has a family of six sharing four daughters with his wife. However, he has kept the date of birth and identity of his children under the wraps.
But Roger does not hesitate to mention his wife and show out his appreciation for her in the interviews. One such instance is when Roger during an interview, shared that his wife Leslie, who handles most of his professional wardrobe demands, is possibly the best mother among the earthlings.
On the other hand, Leslie also does not feel shy flaunting her love for Roger. In an interview, she bestowed that Roger is an amazing husband and father.
Interestingly, Roger mentioned his kids in an interview with the cookingchanneltv.com in January 2018. When the interviewer asked Roger how he inspires his children to be adventurous eaters, he answered that his family goes to the grocery together to buy a new thing every time. They bring the new food home, and all the family members try it together.
Despite the low profile of their family, it is quite clear now that Roger has a beautiful family and they all have an affectionate bond with each other.