Entertainment
Sabine Schmitz, Married to Klaus Abbelen: New 'Top Gear' Presenter, Sexist Fans' Reaction
She is known as 'Speed bee' for a reason. Sabine Schmitz is a German professional motor racer driver and now new 'Top Gear' presenter. However, the appointment of a female in top Gear wasn't welcomed by many.
New 'Top Gear' Presenter: First in 15 years!
It took 15 years for BBC's motoring program, Top Gear, to present their new female presenter. She followed the trail left by Kate Humble, Angela Rippon, and Vicki Butler-Henderson. They were presenters for the original Top Gear before its 2002 revival.
Chris Evans is the chief host of the show, and the cast includes journalist Chris Harris, David Coulthard, the former Formula One star, Rory Reid, Matt Leblanc and Eddie Jordan.
After accepting the job, Schmitz said: 'I grew up next to the Nurburgring, and have been racing for most of my life, so the chance to combine both driving and filming was too good an opportunity to pass up. I've appeared on Top Gear a few times in the past, so I know we're going to have a lot of fun.'
Schmitz Married Life and Husband:
The daredevil lady is married to a race car driver like herself. Although the exact time of their wedding is unknown, what we know is she is married to Klaus Abbelen, who is a race car driver, a butcher master, and meat entrepreneur. In the Nürburgring VLN endurance racing series held in 2006, Schmitz and Klaus Abbelen, girlfriend and boyfriend at the moment, drove the #97 Porsche 997 entered by Land Motorsport. The couple finished third in the 24h 2008 and were beaten by factory-backed Manthey who were winners of 2006 and 2007 edition.
Sabine Schmitz was previously married to an hotelier and used to go around with the name of Sabina Reck. The only thing we can say about her ex-husband is that he is German.They divorced in 2000. She opened her own restaurant-bar until 2003.
"Sexist" Fans' Reaction!
Top Gear fans are not happy with the appointment of Sabine Schmitz's new position as the show's first female presenter in last 15 years. They have gone to the extent of setting up a website committed to her breasts and bum.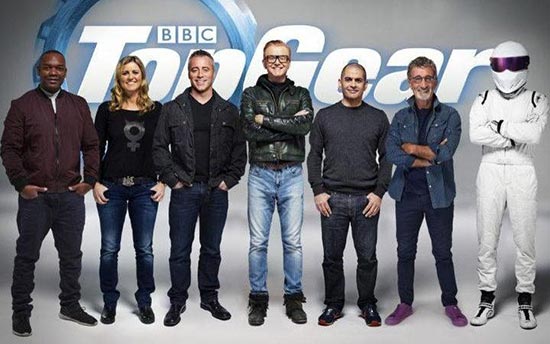 Caption: Sabine (second left) was announced in the new line-up in 2016 alongside unknown Rory Reid (far left), Matt Le Blanc and Chris Evans (centre) and Chris Harris, Eddie Jordan and The Stig.
Source:dailymail.co.uk
Sabine was also heavily condemned for wearing a T-shirt with the symbol for "women" in the launch photo of Top Gear.
Moreover, the new page has been set up on an X-rated website as abuse from male fans, as per as a Daily Star report.
The site reads: "Sabine Schmitz German racing driver nice t*ts lovely big a**."
Caption: Sabine Schmitz in Top Gear back 7 years earlier in 2009.
Sabine Schmitz (born 14 May 1969) is a German professional motor racing driver for BMW and Porsche. She is also renowned for driving the BMW "Ring Taxi" around the Nürburgring race track.
Also a well-known television personality, she has earned names such as "Queen of the Nurburgring" and "The fastest taxi driver in the world". She has been presenting the BBC's motoring programme Top Gear since May 2016.