Entertainment
Santiago Cabrera Has A Beautiful Wife And An Even More Beautiful Baby! Flaunts Him On Instagram
Baby is a gift to a couple, as it brings happiness in their life. Not only they become a part of the family but become the part of their lives too.
Santiago Cabrera, who has cemented his name in the acting sector, is delighted with his baby and loves spending time with him. Today, let's take a look at Santiago's baby and find out how he manages time to spend with him.
A Peek Into Santiago Cabrera's Personal Life:
Family is an important part of everyone's life because they are the one who always stands out in every step of your life. Santiago Cabrera, being a very dashing model is no different, as he is also very concerned about his son and his family.
Santiago Cabrera got married to Anna Marcea, a theater director, back in 2003. Santiago first met his wife in Britain, while he was studying at London's Drama Center. Santiago used to make a buck by taking tourists in rickshaws, during his time at London's Drama Center.
.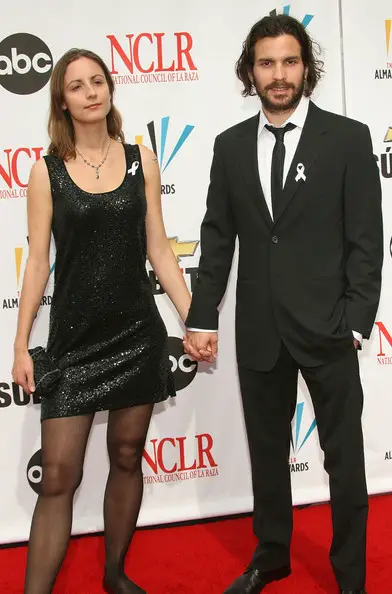 Caption: Santiago Cabrera and his wife Anna Marcea at the 2007 NCLR ALMA, 2007.
Photo credit: zimbio.com
Caption: Santiago Cabrera and wife Anna Marcea at HBO's "Big Little Lies" Premiere (Published on 8 Feb 2017)
This couple welcomed their son in April 2016, and the baby boy was named Kilian Emiliano.
Santiago was very pleased having their baby, and he even shared many pictures with his little boy Kilian Emiliano through Instagram.
His wife, Anna Marcea, also made Santiago's father day a special one.
Santiago seems smitten spending quality time with his beautiful baby boy, Kilian.
He has not revealed more about his personal life, but from his activity, it is clear that he is having a good quality life with his wife and child.
More about Santiago Cabrera
Santiago Cabrera, a TV actor, was born on may 5, 1978, Caracas, Venezuela to the father, Pedro Pablo Cabrera Gaete, and mother, Cecilia Perez Walker. He is fluent in English, Spanish, French and Italian.
Santiago planned to be a soccer star, but he entered into an acting sector, as he was once convinced by his drama teacher to try acting.
He is a trained Chilean actor and known for his role as Isaac Mendez in television series Heroes and Lancelot in Merlin. He has also played as Aramis in BBC series, The Musketeers.
He is even going to be seen on a series 'Salvation' as Darius Tanz, and the science sort of thing attracted him to this series.
Caption: Interview of Santiago Cabrera on 'Salvation.'
Video Credit: newyork.cbslocal.com
Looking at his charming personality, it's obvious that he can win everybody's hearts. Besides that, keeping his working field on one side and handling his personal life giving quality time to his baby is just commendable.
Stay with us for the emerging updates on Santiago Cabrera!