Entertainment
Sarah Roberts Wiki: Dating Goals & Partner, Hinting A Wedding?
Australian actress Sarah Roberts career in the showbiz started after appearing in reality show, Bollywood Star. After the program, the actress has starred in the series Brennan On The Run, and Home And Away.
Home and Away has also given her precious 'Love.' The actress is involved in a romantic relationship with one of her co-star and has been flaunting her newest love interest.
Want to know more about the hunk who the Felony actress is dating? Also attached is her wiki like bio.
Mixed Ethnicity Star: Dating Life and Partner (Boyfriend)
Sarah Roberts, age 32, has the killer looks that attracts anyone. The actress possesses mixed ethnicity and belongs to Srilankan heritage which could be the reason for her beauty.
And that beautiful look has helped her amass a vast amount of followers. Further, her husky tanned looks also seem to have impressed her co-star James Stewart.
Sarah made her first appearance in the series Home And Away in November and grew closer with James during the series' shoot.
And whats more, their fondness quickly blossomed to love, with the sets of Home and Away filled with their romantic stories.
The secretive couple, who spilled little beans about their relationship, was finally caught sharing an intimate moment in Byron Bay on 9 January 2018. The couple was pictured cozying up which signaled the couple's romantic association.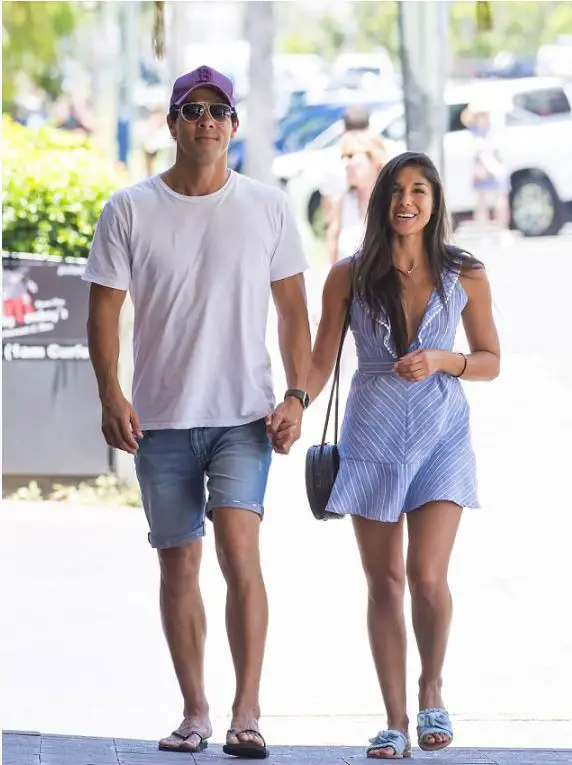 Sarah Roberts cozying up with James Stewart in Byron Bay in January 2018 (Photo: Dailymail.co.uk)
The couple finally made their relationship public on 30 January 2018, after James posted the couple's photo with a heart emoji on his Instagram. The post was a mere confirmation of what had been rumored for a long time.
After the confirmation, the actress has not held back in displaying affection to her partner. She has Instagrammed her partner's photo on numerous occasions be that his musical's premiere, or their date night.
Despite the official confirmation about the couple's dating coming on January, the beautiful actress shared that they had been together since August 2017.
Acting Does Not Seem Like Faking When In Love
The couple who are both involved in the series Home and Away, have shared numerous steamy scenes in the sets. The real-life couple has extended their romance from their home to the sets.
Sarah gushed about the electric chemistry she shared with James and explained that she never had to fake passion for their character.
The actress also claimed that the couple's parents had met with each other, and was comfortable that their kids had been dating. Furthermore, the actress revealed that she was enjoying the experience of filming with her beau.
Sarah said to Dailymail on 27 January 2018:
'I did not even have to create any chemistry when I was on screen with Jimmy, it was all just there, it was not a job. I'm really grateful, happy and excited for what we have. It's a nice place to be in, we're in a great spot.'
Whats more, the couple were embroiled in a romantic sequence while filming for the series two months on from sharing their set experience. The loved-up couple looked carefree and was filmed passionately kissing embraced in each other's arms.
Getting Married, The Next Step
The couple looks adorable together, and it seems wedding is the natural progression for the couple.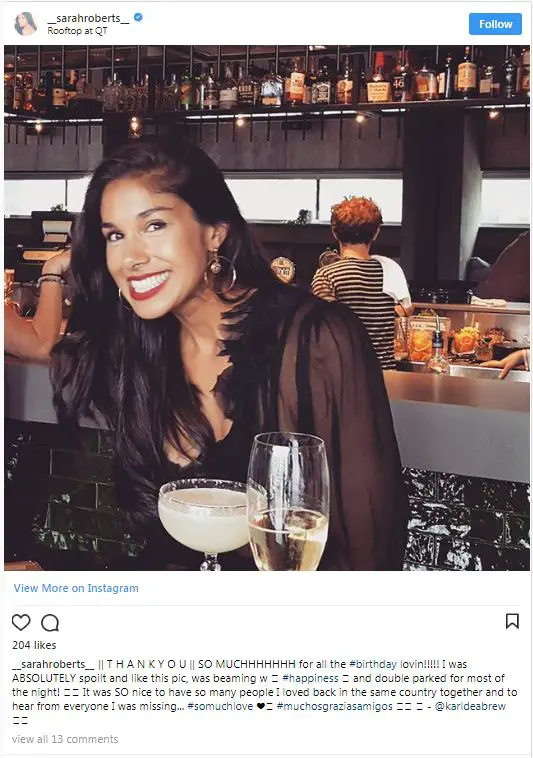 Sarah Roberts celebrating her birthday in 2016 before being cast as Willow Harris in Home And Away (Photo: Sarah Roberts' Instagram)
However, the brunette beauty is taking it slow and further revealed that she did not want her relationship to be talked about. She affirmed:
"We just wanted to be respectful of everyone and stay under the radar. When it started happening, we wanted to keep it all separate from work."
And the actress further explained that she found her partner charming, and wanted to enjoy the special relationship before thinking about their wedding.
"He's very funny, charming, kind and generous - plus he's handsome. In terms of taking the next step, we want to keep things a bit private and special like they are in normal relationships"
With the couple madly in love with each other, it seems it is only a matter of time before the wedding bells start to chyme.