Entertainment
Sasha Clements' Fairytale Love Story With Boyfriend/Fiance: Upcoming Burbank Wedding
Undoubtedly, most of the girls spent their childhood hearing fairy-tale love story and happy endings of Cinderella, Ariel, Jasmine, and Snow White. Some of them might be still waiting for their prince charming to arrive someday right in the middle of an ordinary life. Don't worry ladies if you're running out of patience; fairytales really do come true.
Well, The Snow Queen actress, Sasha, has already met her prince charming. Her fairytale love story is something to envy.
A magical proposal; engaged at Disney World!
Sasha was dating "High School Musical" star Corbin Bleu since they met in 2011 in a grocery store. No doubt Corbin is a good actor, but we never knew he is a romantic boyfriend. The way he made the proposal illustrates that real life romance can be as romantic as the real lives. Well, the twenty-seven-year-old handsome hunk proposed his girlfriend at Disney World on 15 October 2014. He offered her during the theme park's fireworks show when they were standing in front of Cinderella's Castle, presenting her a glass slipper which contained a diamond ring. Now, that is a fairytale engagement.
@corbinbleu omg I cant believe you proposed outside the disney world xastle that is my dream engagment or wedding venue. I am so jealous????????

— Jade_A_Allen (@Jade_A_Allen) October 16, 2014
Corbin expressed his feeling with People in 2014 by saying,
"I'm very excited to begin this next chapter of my life with the woman who stole my heart."
Wait is over for a fairytale wedding!
Caption: Corbin Bleu and his fiancé Sasha Clements at Kleinfeld to pick out a dress for her wedding.
Corbin has already seen his love donning the possible bridal dress for their upcoming wedding in the trailer for Say Yes To The Dress. And he will be seeing her walk down the aisle as the bride to take the vows with him on July 23, 2016. Yes, they are going to get married on 23rd of July in Burbank, CA. We are eagerly waiting to see them as husband and wife. Hopefully, the marriage ceremony will be as pompous and grand as the engagement.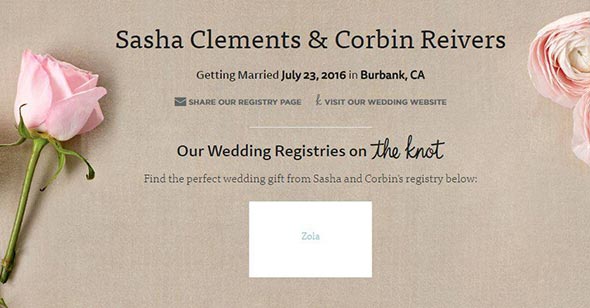 Caption: "The Snow Queen actress" Sasha is going to tie the knot with her prince charming Corbin Bleu Reivers on July 23, 2016.
Source: registry.theknot.com
Sasha Clements was born on March 14, 1990. She is a Canadian actress who is popular for portraying the role of Kiki Kincaid in Majority Rules!. She has also appeared in Disney Channel movie How to Build a Better Boy in 2014 where she portrayed the character of Marnie. Her recent film credit includes Open Heart, and Degrassi Don't Look Back.