Moving on from one relationship to the other is not much of a new trend in Hollywood and Shannon Elizabeth is no exception of course. As you have already noticed, today we will be talking about Shannon Elizabeth who was married before but as it happens, she separated and started dating a hip-hop mogul. However, the question is, did she moved on from him too?
A failed Married Life:
In 2002, Shannon married her longtime boyfriend, actor Joseph D. Reitman in Mexico. Shannon and Joseph had a long relationship before commitment, and finally got engaged in November 1999. The couple did not mention the specific venue of their marriage, but Shannon did reveal that she and her boyfriend turned husband had their wedding took place in a small beachfront ceremony at the Hotelito Desconocido, a resort south of Puerto Vallarta.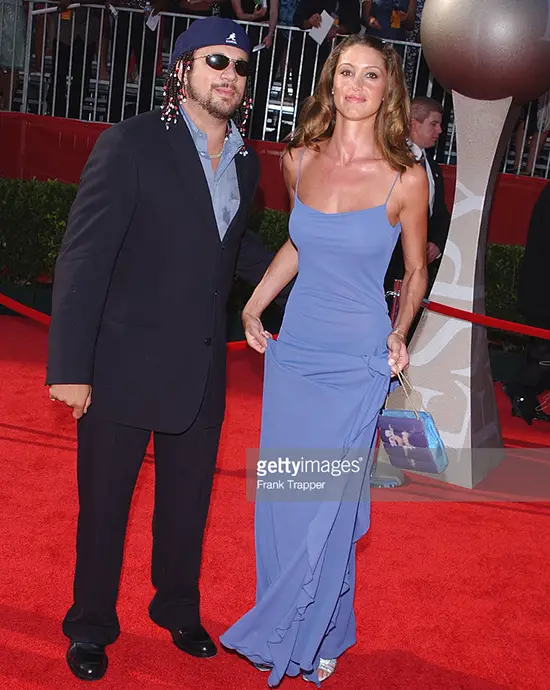 Caption: Shannon Elizabeth with ex-husband Joe Reitman at the 10th Annual ESPY Awards.
Source: gettyimages.com
No matter how much love they shared, their relationship apparently came to an end. Shannon and Joseph were living together for eight years which included their five years of cohabitating prior getting married in 2002, under an agreement which claimed,
"To be equal partners in the acquisition of assets and in financial affairs whether such transactions were separate or joint."
This agreement had Joseph seeking for half the property they both shared while staying together for eight years and also argued that he sacrificed his career to uplift hers.
Started having Boyfriend:
Years after that, she made the headlines while dating her dancing partner Derek Hough in Dancing with the Stars in 2008. However, Shannon and Derek's relationship only lasted a couple of months as they split in August 2009.
Caption: Derek Hough & Shannon Elizabeth meltdown
Again after years, she found her way back to love again with hip-hop mogul Russell Simmons who like Shannon, also happened to be an avid animal rights supporter.
Shannon and Russell were pictured together in 2014 while they both were visiting Crossroads Vegan Restaurant. Both of them loved animals, so it was like a match made in heaven. However, Shannon and Russell made their first public appearance in January of 2014 at the Golden Globe Award.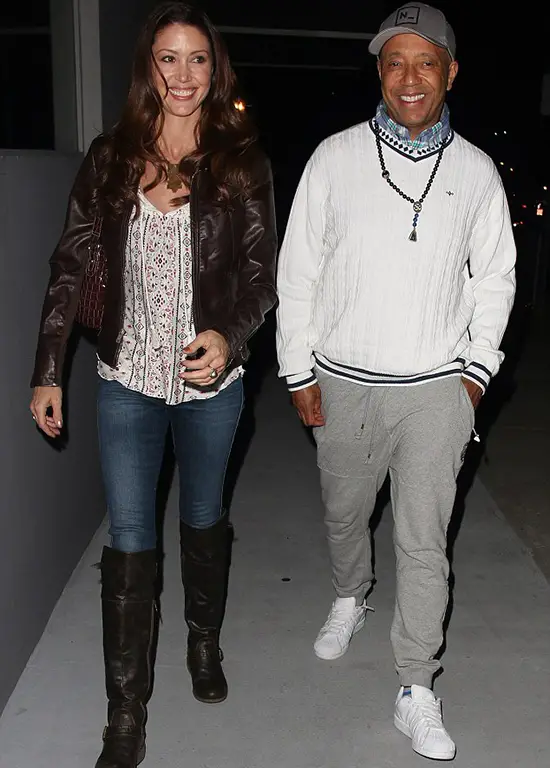 Caption: Shannon Elizabeth with ex-boyfriend Russell Simmons in 2014.
Source: dailymail.co.uk
Unfortunately, sharing similarities was not enough for the couple to stay together because Shannon's ex-husband Joseph also supported her by teaming up to rescue animals from an organization called 'Animal Avengers.' But their relationship came to an end too and Russell was spotted with a beautiful young lady in late 2015 on the Island of St Barts.
A Short Bio With Net Worth:
Shannon Elizabeth was born on September 7, 1973, in Huston and currently ages 43 years old. She is known as an actress and a fashion designer, but people widely recognize her as an actress from 'American Pie.' Throughout her career, Shannon has played various roles in different movies, and TV series like Cuts and A Green Story and all of her work has helped her foregather splendid net worth of $9 million.
These days, she appears in movies now and then and has recently finished shooting The Opera Singer and is currently seen on Gibby, and Swing Away.
#Joe Reitman
#Russell Simmons
#American actress
#former fashion model
---