Entertainment
Sheldon Souray's Had A Rancorous Divorce Battle In Past But It Did not Stop Him From Welcoming WWE Diva As A Wife
Oh, Canada indeed with hockey player Sheldon Souray happily gets married to his new wife, Barbie Blanks a former WWE wrestler. Interviews, pictures, and albums full of photos. All the details of how athletics had a spectacular wedding together but with a twist, the past can catch up once in a while with his last marriage ending on a sad note.
The wedding for athletes:
Sheldon is a forty-year-old Canadian hockey defensive player that swung his stick to the end as his marriage was one in a million. He was married to Barbie Blanks a retired twenty-nine-year-old WWE wrestler since the 27th of February 2016.
Now the wedding is a spectacular event where E! News interviewed the bride and groom but because of Sheldon Souray's last failed marriage will he be subjugated to the same fate from his first marriage?
Sheldon gave an all-out cliché wedding, and his new wife has gone off the charts with fluffy white gowns, and both a giant wedding and a large ring to gather the people in awe. The wedding took place in Cabo San Lucas, Mexico specifically in the beach where they had their first date. E! News first for the interview on the wedding with details down to the bouquet, she explains,
"When me and Sheldon first started dating, our first trip together was to Cabo and we fell in love with it and have probably been there a dozen times since. Once we started talking about where we would get married we both said, 'Cabo!'"
With a professional wedding planner to secure the special event though being the location a beach she had no intention of a beach-themed wedding. In the midst of all the commotion Sheldon relaxes with his new bride to be on the beach on Instagram with the quote "Last day as a single man."
On the day of the wedding, she
explained
to E! News,
"I couldn't be happier! Tonight was the most magical, incredible night and I'm officially Mrs. Souray! I'm the luckiest girl in the world to have married my best friend!"
The dress is another masterpiece she concocted where she had many tries before finding the perfect one that fitted to her liking, puffy, big and overflowing like whip creamed curtain dress dragging on the floor. She tells in her interview with E! News,
"After trying on my third dress I knew I had found the one. When I put on the dress and walked out of the dressing room the whole store turned around and look at me and they said, That's the one!"
And she continued explaining,
"I'm only getting married once so I thought, 'Hey why not go big?'"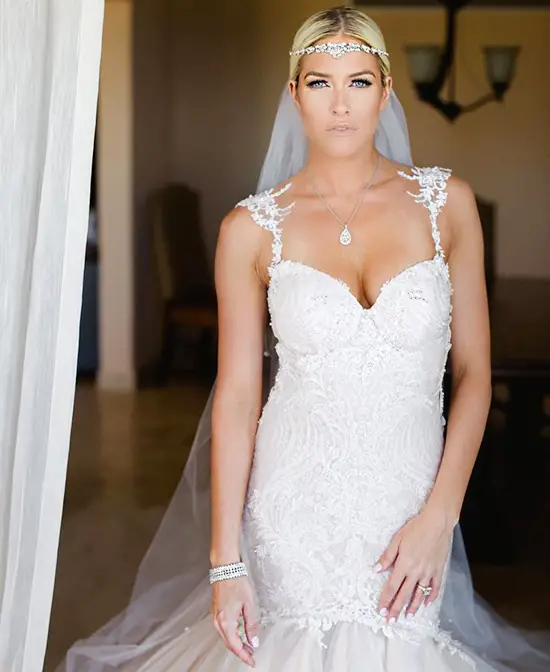 Caption: Barbie showing off her wedding gown outside the alter in February.
Picture: Credit: people.com
The ring is another magnificent piece Sheldon, and Barbie both agree on with its shine reflecting with dazzling lights.
"He picked all the rings including his. He has amazing taste so I leave that up to him."
"We picked a song that has always been our song since we started dating and we always said this is the song we will dance to at our wedding,"
As Barbie tells E! News how they first danced together as husband and wife in the song they heard together when first started dating.
All in all, the wedding was a marriage with the former WWE and a Canadian hockey player, both have still continued their strong relationship, growing together in their new married life.
Sheldon's Past Wedding:
Sheldon Souray was first married to his previous wife, Angelica Bridges, a 46-year-old former Baywatch actress married for a total of five years from 2002 until 2007 and had two children in that time, Valentina Raine Souray and Scarlett Skye Souray.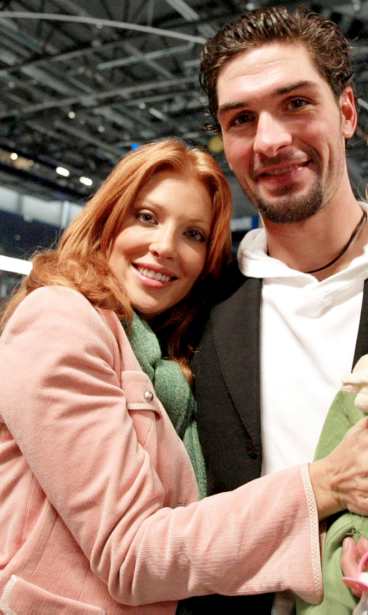 Caption: His previous ex-wife in when they were together in 2002 before breaking up in 2007.
Picture Credit: sbnation.com
Their dispute for the divorce was caused by Sheldon's physical and emotional abuse towards her. Temporarily claiming $37,000 per month in child support before 2007 but she had revoked the lawsuit thinking Sheldon had changed for the better. She, however, changed her mind and re-established the lawsuit in the following month.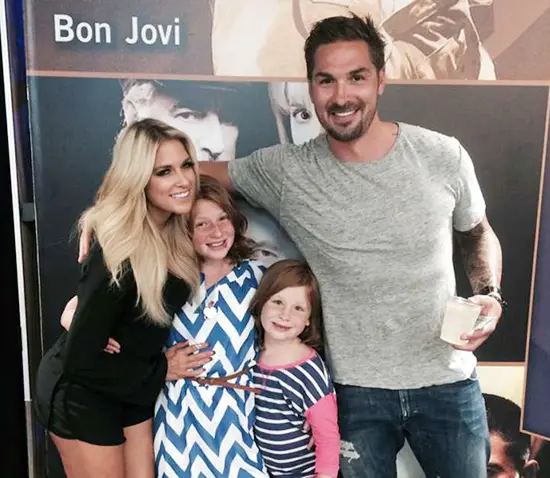 Caption: The two daughters have a new member in the family, Barbie Blanks (Left) his children (Middle) and Sheldon (Right) in 2015.
Picture Credit: montrealgazette.com
She won the custody for the children, and since then she still works in Las Vagas and is currently single, but for Sheldon, he did not stop there he has not let the old hockey stick rust as he is the had his personal life busy with another woman in his life, Barbie Blanks. Dating first while his divorce papers were being finalized and soon Barbie and Sheldon got engaged in August 2014.
Sheldon's Career: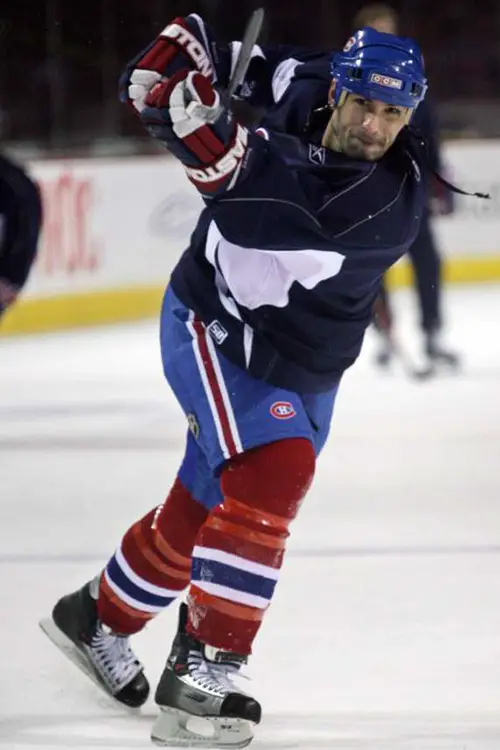 Caption: Sheldon back in 2015 sporting a hockey shot.
Picture Credit: montrealgazette.com
Sheldon Souray's Net Worth:
Crunching in on a net worth of $9 million he has obtained throughout his career playing for the Anaheim Ducks and signing a three-year, $11 million contract in 2012. Without a salary based income but a contract for three years.Soon after he announced that he would be retiring in 2015. With his mind set on planning the wedding and expenditures with his girlfriend, Barbie Blanks with no current news on his employment.