Entertainment
Single Dad Donny Deutsch Has An Abortive Married Life; Separated With Wife And Also Had Girlfriend Affairs
When people fall in love, they are head over heels about each other, and then they jump right into marriage. But subsequently, as time passes, they discover that they can't live together anymore causing a failed marriage.
This rushing to marry and not knowing your partner beforehand is one of the many reasons behind the failure of so many marriages these days. In the case of Donny Deutsch's abortive marriage; let's find out what went wrong.
Donny Deutsch's Personal Affair Like Marriage And Girlfriend:
Deutsch was tied in the wedlock in 2000 with Stacy Josloff. The pair married at the Plaza Hotel. When they first met Stacy, a 25-year-old party girl, and Donny, a 39-year-old party guy were both different in their personalities.
They dated for a couple of years, and initially, Donny didn't have it in mind to settle down. He was already married once which turned out to be a disaster for him. So he would say;
"Changes in my personal life are nerve-racking for me,"
However, Stacy needed marriage and said him;
"If you want to be in my life, you have to make a commitment."
Donny refused this, and thus the pair broke up. Later they again paired up when Stacy started dating other boys, and finally, they got married.
Unfortunately, they could only run their marriage for four years.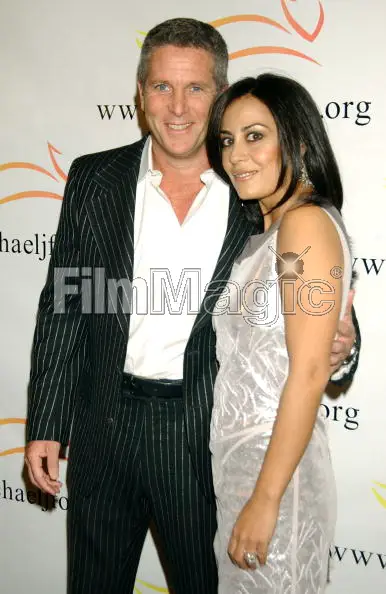 Caption: Donny and his ex-wife Stacy Josloff were married in 2000.
Photo Credit: FilmMagic.com
The name and whereabouts of his first wife have not been revealed. What could be the reason behind his failed marriage has been kept away from the limelight.
Moreover, he doesn't like to label his divorces as " failed marriage." This is clear from his following statements given in the interview with Piers Morgan.
"I was married to two great women. I think people get married at different stages of their life," said Deutsch. "Just because a marriage doesn't last forever doesn't mean it's a failure."
He further adds,
"Worst choice – two miserable parents staying together for the kids. That's bad for everybody."
Caption; Donny Deutsch talks about marriage with Piers Morgan.
About his dating history, nothing much has come to the spotlight, but there comes only one name Amanda Zacharia who is his ex-girlfriend. She gave birth to their daughter Daisy in 2007, after the pair had already splitted.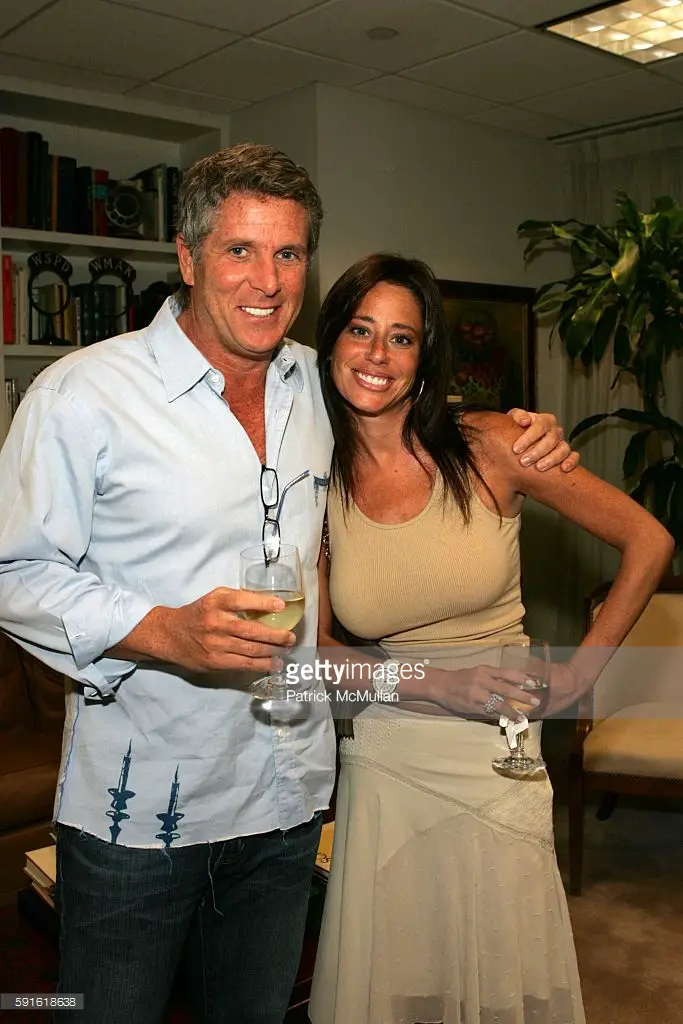 Caption: Donny Deutsch and Amanda Zacharia were once dating each other.
Photo Credit: media.gettyimages.com
Donny is all together father of three children. Other two children are Chelsey Deutsch and London Deutsch.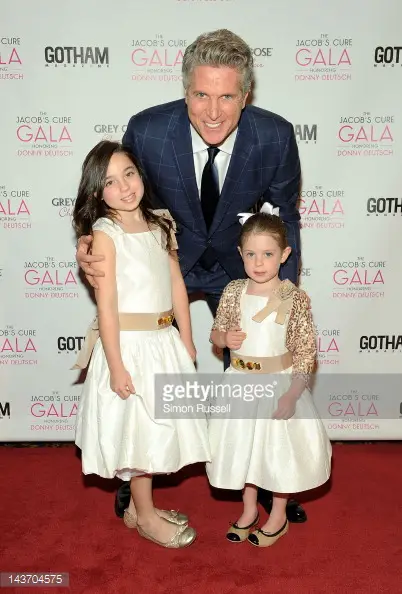 Caption: Donny with his two lovely daughters attending Dream Big The Jacob's Cure (2012).
Photo Credit: media.gettyimages.com
He seems to be a caring father when it comes to parenting. His love for his children can be seen in his following tweets.
Celebrating my youngest daughter's 4th bday today! Time goes by so fast.

— Donny Deutsch (@DonnyDeutsch) June 13, 2011
I cant believe my daughter @chelseypg is turning 23. Wasnt it just ystrdy we were playing pretty pretty princess Chels?

— Donny Deutsch (@DonnyDeutsch) March 5, 2010
Now he seems to be reluctant to marry again as in his statement to Vanity fair, he said;
"I have three amazing assistants who collectively function as my wife," he said. "I have a ton of female friends. I have my kids half the time. I have a great co-parent who lives 10 blocks away. I don't need someone to make a home for me. I've never functioned great as a couple of anything."
Also, he appears to have high regards for women in his life as he mentions;
"The women in my life are in the power positions,"
Interestingly, he was once in an affair with Lisa; the wife of hedge fund manager of Sandler Capital Management. After the suspicion had aroused regarding his wife, the manager had hired the detective to go into the heart of the matter. Lisa and Donny were found kissing each other. This led the manager to give divorce to his wife.
Also, it is found from different sources that he had an affair with some other girl. He was repeatedly seen with this mysterious blonde girl. However, her identity is a complete mystery.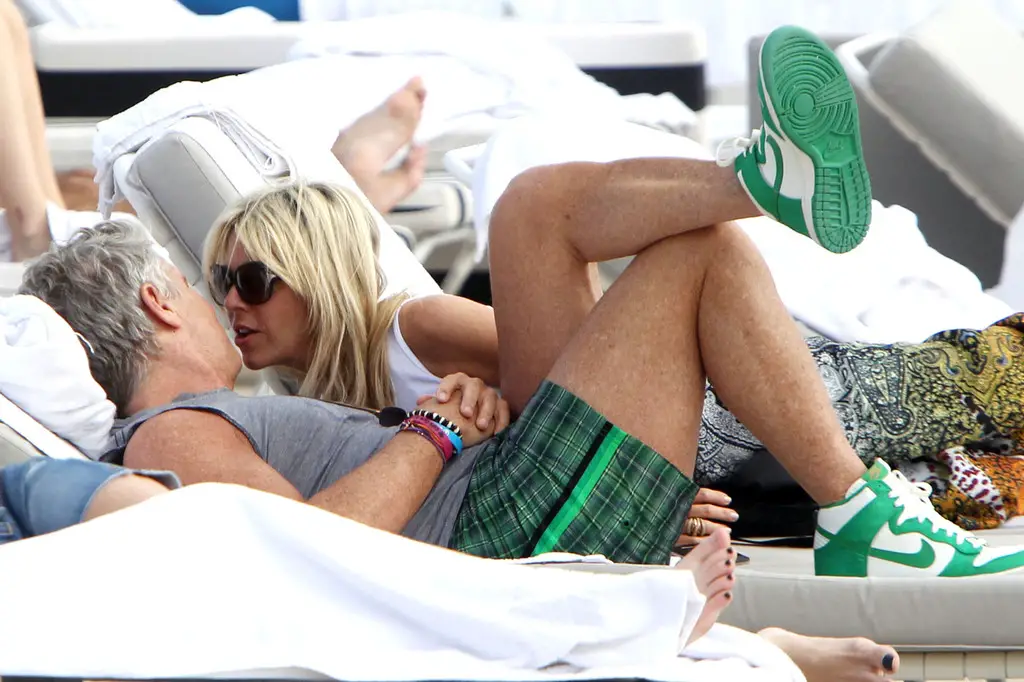 Caption: Donny Deutsch is having a good time enjoying the sun with his girlfriend.
Photo Credit: pictures.zimbio.com
Financial Status Of Donny Deutsch:
The former host of CNBC talk show "The Big Idea with Donny Deutsch," was once a chairman of ad agency" Deutsch Inc.", and is also regular on MSNBC's "Morning Joe." Due to his successful career, is a well-off person who has a total net worth of $200 million.
Additionally, in 2015, he also did a show called "Donny" in which he played talk show host Donny Deutsch; a fictionalized version of himself. Moreover, the show was filmed in his own house which helped to make his character even more authentic.