Entertainment
SOC Star Actor Corey Hawkins And His Thriving Career That Does Not Seems To Let Him Get Married Or Even Have A Girlfriend
In today's context, competition is in every field which demands one to be career oriented. And In the name of professional life, one gets so caught up in the work that little or no time do we get to spare to our personal matters.
Actor Corey Hawkins also seem to have fallen for this lifestyle as he is found to be in the situation where there is less priority given to personal relationships.Let us look into his life for more details.
Getting To Know Corey Hawkins In A Personal Level!
Talking about his personal life, he seems very low key about it as he is not found sharing the personal details much. This 29-year-old actor appears to be very engrossed in his work that gives him no time to develop personal relationships.
When we look into his dating history, his name has not been found attached to anyone officially. However at one point of time, i.e., back in 2015 he was seen with Teyonah Parris.
They were seen together attending the U.S Open where they were really comfortable in each other's company. Due to this, he was speculated to be in a relationship with her but what is the truth can be only revealed by him.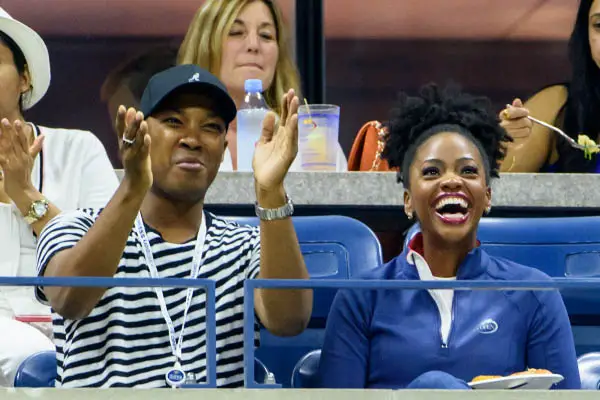 Caption: Corey Hawkins and Teyonah Parris attending the U.S open together (2015).
Photo Credit: theybf.com
As he is in his prime time to be committed to someone, it really surprises that he is still single without any girlfriend. So till when will he remain a bachelor?
And though some may speculate his sexual orientation as being a gay, there is not any proof for this allegation. Interestingly, once when Corey was in Fox 5's Kevin McCarthy's show, Kevin asked Corey to answer a fan question about the film, and it turned out to be his own mother.
Well Developing Career Of Corey Hawkins!
Corey's career kicked off when he starred in Off- Broadway. After this, there has been no looking back for him as he is vigorously going forward with his career. It all began for him starting from the year 2011 when he got to play Busboy in "Royal Pains" and Kai in a short film "Digital Antiquities."
Then in 2012, he got featured in the movie "Allegiance." In 2013, we got to see him in a small role in "Iron Men 3." In the same year, he also played the role of Evander in "Golden Boy."
Also, he made his Broadway debut in "Romeo and Juliett in which he played the role of Tybalt. The following year he has seen again on the big screen in the action thriller "Non-Stop."
His journey doesn't stop here. Rather, the year 2015 proved to be very fruitful for him as he got to play the roles of Heath in "The Walking Dead" and Dr. Dre in "Straight Outta Compton" which raised his bar as an actor. Recently in 2017, he has made his appearance in 24: Legacy.
Caption: Corey Hawkins "Dr. Dre" behind the Scenes of Straight Outta Compton posted on August 1, 2015.
He has still a long way to go in his professional life. As per now, from the works he's done, his net worth is estimated to be 100 thousand dollars. His parents also must be very proud of what he has achieved till date.