The diligent and versatile Star Jones has passed through several rough steps of hardships and successes from setting an exemplary marriage ceremony to the trails of divorce and single again.
Fabulous Wedding: Married Investment Banker Husband in 2004
Married to investment banker Al Reynolds, in 2004, Star Jones, made the ceremony count by garnishing it with wonderful arrangements and fabulous outlay. The wedding, which was held at Saint Bartholomew's Church in New York City, was attended by five hundred guests featuring three matrons of honor, twelve bridesmaids, two junior bridesmaids, three best men, twelve groomsmen, three junior groomsmen, six footmen, four ring bearers and four flower girls. The wedding's worth One Million Dollars. This massive wedding ceremony is said to have been sponsored by more than thirty corporate sponsors.
They were initially engaged after her husband Reynolds proposed her during the 2004 NBA ALL-Star Game.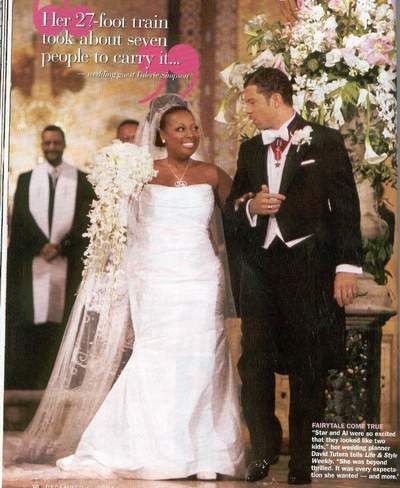 Caption: Star Joes and her husband Al Reyolds at their marriage
Source: piterest.com
From Wedding to Divorce:
However, their relationship gradually turned sour and was consequently followed by the separation as the couple reached the mutual aggrement for divorce in 2008. Even Star Jones, who began using the name "Star Jones Reynolds" after the marriage, reverted to just "Star Jones" in 2007 on the grounds of separating the public persona from her private self.
After their divorce, Star featured on the March 25 edition of the 'Wendy Williams Show' and gave her honest assessment, "The wedding was fabulous, but the marriage was kind of a booty."
Moreover, a case was filed against her by ex-husband Al Reynolds with charges of talking smack about their marriage and the compensation demand of $50,000. Furthermore, Reynold later claimed that he was not in love with Star anymore and just wanted to move on, in one of his exclusive interview with essence.com.
He exclaimed, 'No, I'm not in love with her, I've moved on. We've grown apart. I still respect her for the love we both shared, but I'm looking to find the right woman for me."
As one can comprehend, this awful marriage had a painful ending for Star Jones, and yet she was strong enough to move on with her life.
Suggestions corner: From Star Jones to married women
From being a survivor of heart disease to feeling the pain of divorce, Star has given her view on divorce issues for women. From her official social networking accounts, we can learn that she has demonstrated a lot with regards to divorce. Let's see some of her ideologies that indeed would be of great help for those who plan for their divorce:
Inspiring Star Jones and her weight loss:
Her big size and heart problems always made her conscious of losing weight. However, Star dropped down her weight by 160 pounds in three years. The entire world was surprised by her transformation. She later admitted in glamor magazine to have undergone gastric bypass surgery.
"The complete truth is, I was scared of what people might think of me. I was afraid to be vulnerable, and ashamed at not being able to get myself under control without this procedure," Jones wrote post her weight loss.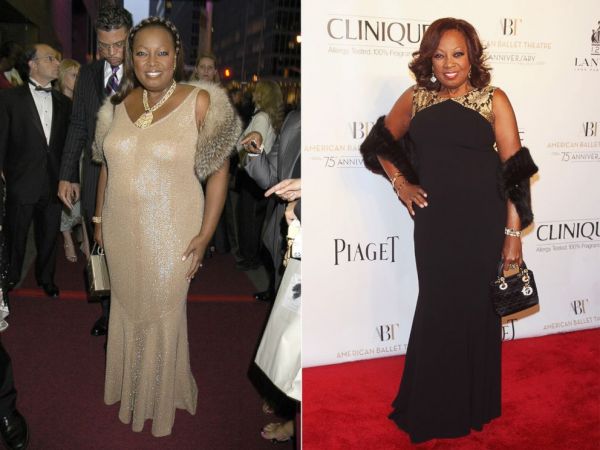 Caption: Star Jones weight transformation
Source: ABC News
She is a fighter, survivor and an inspiring face of the entire feminine gender.
Star Jones, 2 New men in her heart. Back on the Love Track?
Star Jones has revealed she is in love once again and has found her new 'life partner.' At the 8th Annual Children's Museum of the East End Family Affair in Bridgehampton, New York on July 2016, she arrived with her pooch Pinky in her handbag as well as the two new men(one and a half, if you were to go into details) in her new life. She is now in a deep relationship with Ricardo Hugo who has a son named Jake. She introduced them saying,
"This is my family. I'm not married, but we're together."
When questioned whether 'life-partner' would be a fitting term for Richardo, she responded with,
"That's a cool way to put it, That's a good one."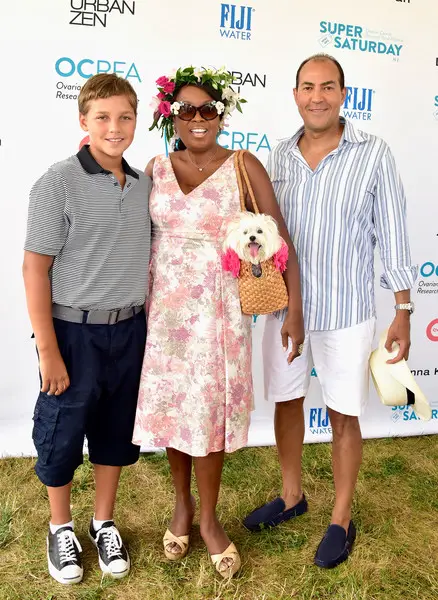 Caption: Star Jones and her new family At the 8th Annual Children's Museum of the East End Family Affair.
Source: zimbio.com
Jones also talked about her upcoming project 'Satan's Sisters,' a VH1 tv show based on her book of the same name. Hers what she had to say about her show and its cast,
"It is basically an insiders look at daytime television. So it's a show within a show. Vanessa Williams plays the lead character, Maxine Robinson, who is the most formidable broadcast journalist in the history of television. And I've had some pre. tty strong female mentors in broadcast television, if you know what I mean."
She is one among the multiple American personalities who has tried her hand as the lawyer, journalist, writer, fashion designer, television personality and the women's advocate. Wow! Interestingly amazing, isn't it? This black beauty, who got the notable credits for The View and The Star Jones Show, has the notable frequencies of ups and downs in her life as well.
The former heart disease survivor also has been active in the campaign for preventing heart disease and has also worked as the volunteer for American Heart Association for three years. This 54-year old Emmy-winning host, who is also the President & National Spokesperson, National Association of Professional Women (NAPW), has set up a strong example for women's empowerment.
#television personality
#fashion designer
#American lawyer
---