Sometimes real life situations become more dramatic than the movies.
Steve McFadden, who has been playing the best role in movies fits the statement, as his love life is much of drama as well. He had multiple relationships in the past, which were like a mellow drama running in reality.
So what really happened, turning his stable life into an unstable one? Why couldn't any of his relationships reach the level of marriage? Let's find out.
Has Kids, But With Wife Or Partners?
Steve McFadden has had many love affairs, and it seems like he enjoys having their company. He not only has an extensive list of girlfriends but also had kids with every girl he dated.
His first ever girlfriend was his childhood sweetheart named 'Seu Marshall.' He also experienced his first fatherhood with her and gave birth to a baby boy named Mattew McFadden. It was the time when he was just 26, in 1985.
After her, Steve shared a bond with his second girlfriend 'Angela Bostock,' with whom he shares two daughters, Teona McFadden(August 1997) and Mollie Patrice McFadden(May 2004).
After 5 years at the age of 50, he became a father one more time. It was from his neighborhood girlfriend, Rachel Green, who gave birth to daughter Amelie Tinkerbell McFadden on 29th June 2009.
Rachel Green divorced with her then-husband when she got pregnant with Steve's baby. The couple also announced that they were going to be married soon.
This relationship first came to light when it emerged Dr. Green left her husband. The relationship was further confirmed when the couple was spotted at co-star Samantha Janus' wedding reception at Claridge's Hotel, where Dr. Green was spotted with a diamond on her ring finger.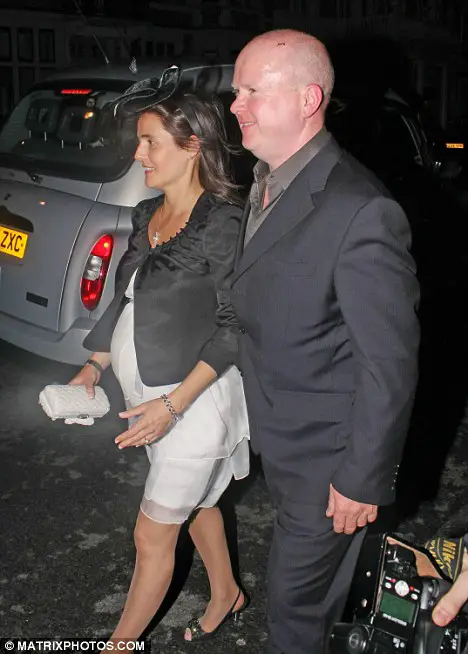 Caption: Steve McFadden and Dr. Racheal attending wedding while she was in stage of pregnancy
Photo Credit: dailymail.co.uk
However, this relation could not reach the height of success as Dr. Racheal said
'He can't be trusted.'
The couple broke up some time later without specifying any particular reason, leading the media to assume the reason to be trust issues.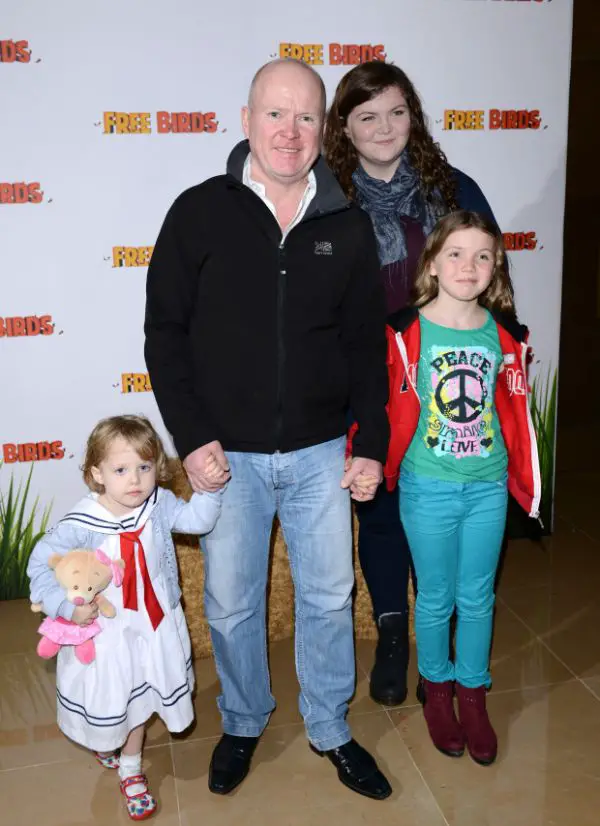 Caption: Steve Mcfadden with his daughters Teona McFadden, Mollie Patrice McFadden and Amelie Tinkerbell McFadden.
Photo Credit: mummypages.co.uk
It was for the fifth time, that Steve became a father again on May 2016, with his girlfriend, Karen Cairns. They gave birth to daughter Frankie McFadden, and it was a joyful moment for them.
He and Karen said that this pregnancy was a surprise, but they were happy with the news. Now, Steve seems to be enjoying his fatherhood with his new-born child.
Caption: Steve McFadden spending time with his daughter Frankie McFadden.
Photo Credit: thesun.co.uk
Sad to know that he never ended up getting married; let's hope him to have a stable and happy love life ahead with Karen!
Glory And Fame Through EastEnders:
EastEnders is a British TV program where Steve McFadden plays a role of 'hard man' as Phil Mitchell in BBC soap Opera EastEnders. He joined the show in 1990 but left in 2003 so as to concentrate in pantomimes. This program brought his acting career in even higher level.
Now, the twist has been revealed that he is presenting his role as a changed man in EastEnders. He makes a dramatic return to EastEnders, as he bounces back from a liver transplant to rescue the family during the crisis.
Sean from EastEnders even mentioned,
Phil returns in a moment of crisis for the Mitchells. But he is a changed Phil from the exhausted lion that left the square. Steve McFadden is a mesmerising actor. Every scene he does with absolute commitment and conviction. It's amazing to watch how he does it. He's great at rage and pent up aggression, but he was at his most moving after the death of Peggy. And when he told Sharon that he loved her just before he was taken away for his liver transplant on Christmas Day was so touching.
Steve attended an award show, and in an interview, he gave a statement saying it is not a public information film.
Caption: Interview with Steve McFadden about the EastEnders (Published on Jan 27, 2011).
Steve McFadden is an English actor was born on March 20, 1959, in Maida, London, England. He is recognized best for his role in EastEnders, and he also served as presenter of Britain's Hardest. He studied economics in North London before realizing that he wanted to be an actor.
Some of Steve's best-featured movies include The Firm(1988), Murder in Mind(2001), Provoked(2007), Lesbian Vampire Killers(2009).
He has been doing excellent work in this industry and has gained lots of popularity, accumulating an estimated net worth of $2.8 million.
Stay with us for the emerging updates on Steve McFadden!
#English Actor
#Phil Mitchell
#EastEnders
#Seu Marshall
#Angela Bostock
#Rachel Green
#Karen Cairns
---