Entertainment
Steven Pasquale Trying To Move On From Divorce With Wife Of Six Years; Conceals The Identity Of Daughter
Is it hard for people to move on from amicable splits? It should not be that hard actually, right, because everything comes into consideration when you short out things and move on from the situation that no longer serves you good.
But what's with the Broadway star Steven Pasquale? After the amicable divorce with his estranged wife, is he moving on fast or struggling? Let's know how he has been moving on, after his divorce with wife of six years.
Moved On Quite Fast!
After finalizing a divorce, the American actor Steven Pasquale has moved on with Broadway star Phillipa Soo. The two were set up by Soo's co-actor from Hamilton, Jonathan Groff, who helped them to take their relationship to the next level.
The pair made their relationship official in early 2016. They took their picture to Instagram which showed the ruby ring in the hand of Soo and the picture was captioned as,
"Oh just some spicy Chinese noodles with my bride to be. Workin down the st from each other."
This is all evident to the fact that 'The Robber Bridegroom'star Steven Pasquale is moving on catching his pace and is all set to tie the knot with beautiful Phillipa Soo.
Conceivably, Steven Pasquale will be moving on 'forever' with Phillipa Soo.
Let bygones be bygones!
'Madison Country' star was previously married to 'Gypsy' actress Laura Benanti.
The two first met in 2005 in World AIDS Day benefit concert, then following the two years of togetherness, they tied a knot in September 2007.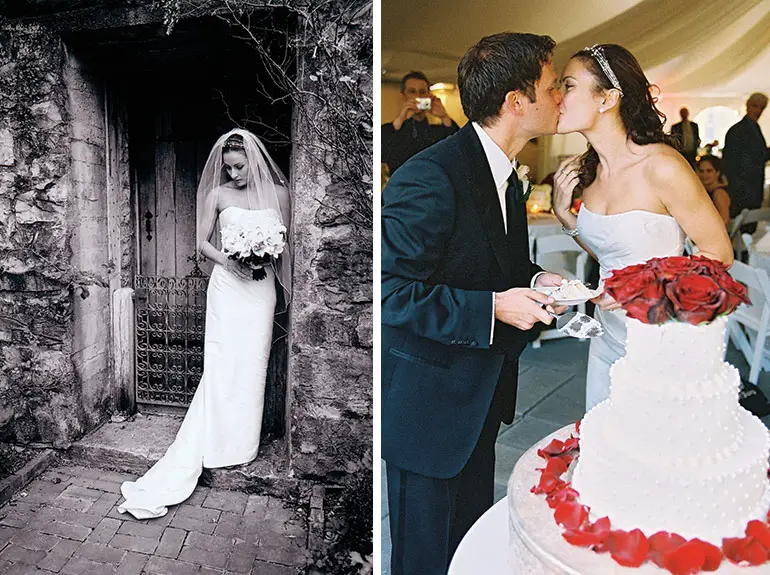 Steven Pasquale and Laura Benanti during their wedding in September 2007. (Photo: newjerseybride.com)
About their wedding, Laura divulged,
"For a lot of couples, their wedding day is the biggest event of their lives, but it's different for us. We're both performers and used to being the center of attention, but we didn't want our wedding to be about that. We wanted it to be a celebration for our friends and family."
But after six years of marriage, the pair filed for amicable divorce in 2013 and separated in the same year. Steven and Laura also share a daughter, Maddie (1997) who is now in her late teens.
Despite the fact that, Steven and Laura share the limelight, they have kept their daughter out of sight from the attention of people. But Steven in an interview has shared how creative is his daughter. He proclaimed,
"she's a really good kid with a good heart. She's bright and funny and sweet. She's the best thing in my life."
Further, he added,
She's obsessed with fantasy fiction, so she wants to write novels, and she's very gifted. I think she's going to do that. I'm very proud of her."
Rather than this all, he has rarely discussed his daughter and moreover has kept the identity of daughter concealed.
After the separation with Steven, Laura found love in Canadian politician Patrick Brown with whom she got married on 2015, and now they are rejoicing their blissful marriage, working on to welcome their child.
Pennsylvania-born Steven Pasquale made his debut from the television working on an HBO series 'Six Feet Under' in 2001. Then, with his work he got many opportunities which uplifted his career which includes The Good Wife(2014-2015), Coma, Do No Harm(2013), Marry Me(2010) and other.
The earnings of his net worth are also contributed by his movies The Answer Man(2009), Aliens vs. Predator(2007), Aurora Borealis(2005) and The Last Man(2004).
Looking at his lifestyle and all his work has a whole lot of contribution in his net worth, but still, the sizeable figure of his net worth is not made official by the actor.