Entertainment
Tanner Foust has a Daughter? Who is His Wife? Dating and Girlfriend History of Racing Driver
The first word that may strike to your cerebellum when you hear Tanner Foust is of course "speed." Be it as a co-host of Top Gear, stunt driver for movies like The Fast and Furious: Tokyo Drift and Iron Man 2, or a prolific racer in the world-famous circuits, all that Tanner thinks about is getting on racecars and speeding.
Three X Games gold medals and double Formula Drift Championships are ample to prove how successful he has been on his quest. The forty-three-year-old has been competing in FIA World Rallycross Championship only since 2011, but his first encounter with driving dates back to his days as a boy.
The handsome driver, who defines his age with good looks, already has a daughter, and not many are aware of it. Today, we will help you all to have a glance at his love life. We will be introducing his girlfriend and their daughter.
However, he rarely entertains us with the information about his personal life. But when he does, he makes it count with a bang.
Caption: Some personal information about Tanner Foust.
Tanner Foust's Daughter:
The impressive racing driver, Tanner, has a daughter and a loving girlfriend who follows him everywhere. When it came to light that Tanner has a daughter, the news became the talk of the town.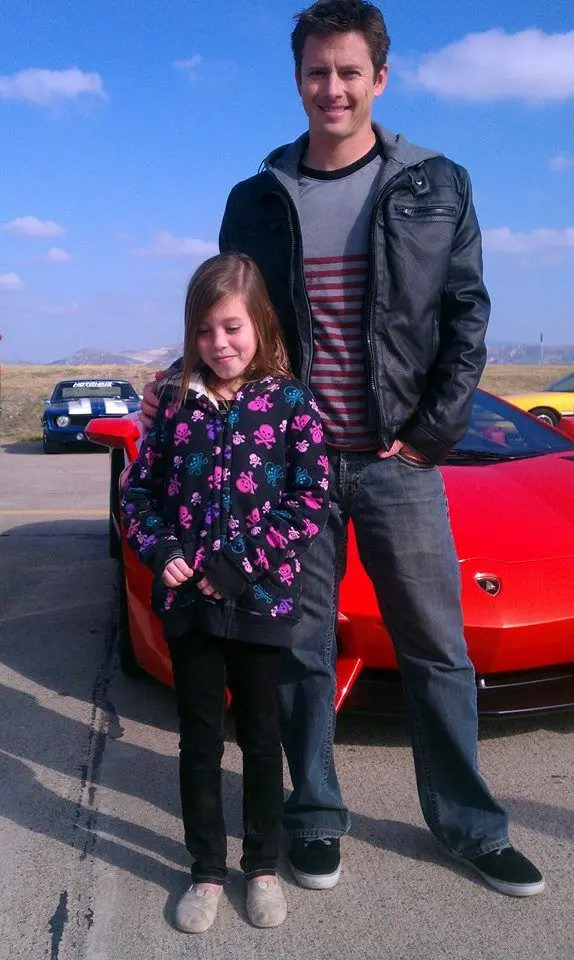 Caption: Tanner rarely comes out with details of his daughter
Source: pinimg.com
As of today, she is ten-years-old and has been residing with the star racing driver in their home at the coastal town of Dana It has been a decade for this father-daughter pair but who is the mother?
Well! For now, we have to stay in the dark regarding this subject, as remaining silent about personal affairs happens to be one of the traits that Tanner has mastered.
His Dating History and Girlfriend: Is Married, Wife?
He may not be as handsome as @RobertDowneyJr, Robert Downey Jr., for whom he was featured as a stunt driver in Iron Man 2, but the 43-year-old still has it in him to lure the attraction of the opposite gender.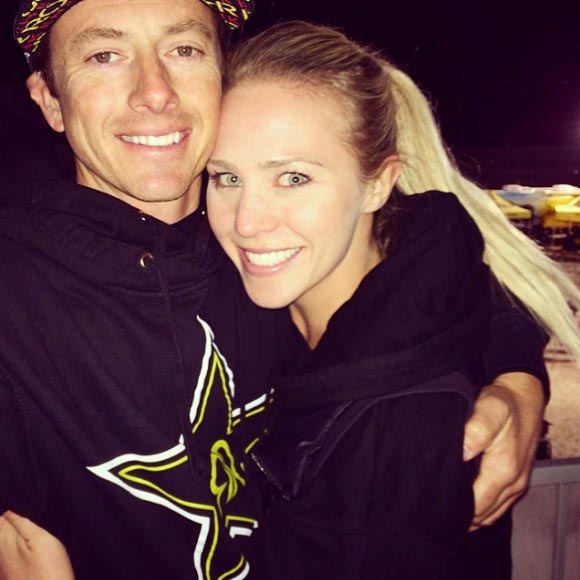 Caption: Loving girlfriend Katie with Tanner
Source: cdninstagram.com
Reportedly, he has long been dating his girlfriend, Katie Osborne. The gorgeous lady is also a familiar face in the world of TV presenting and hosting. RTM's show Power Nation is beautified with the skillful presentation from the lady. She used to be a d1 swimmer previously. The couple is often seen spending happy time together publicly. Katie is often witnessed taking interview of the racing star.
Caption: Katie Osborne was taking interview of Tanner Foust.
They made an adorable pair in the Global Rally Cross fraternity. There are rumors that they are living together but whether they are married or not is the question we have to wait to ascertain.
Katie will surely make a great wife to Tanner and a loving Mother to his Daughter:
Born to speed, Froust won't be Slowing Anytime Soon:
"It takes a lot of time but it's an incredibly fortunate situation and it can all go away very quickly. I think you have to strike while the iron is hot." - Froust
Caption: Tanner's world record breaking jump at the Indy 500 on May 29th, 2011.
Growing up in Scotland where his stepfather, a US Navy officer, was stationed, Tanner first placed his hand on the steering wheel of a Volvo that was assigned to drop him "to and fro" between school and home. He was thirteen when he got his driving license, and as you can see, there was no turning back from the moment.
"I come in as a racer, with a racing background, where I see things from the driver's seat. I like performance, and I have fun driving because I am driving at the limit" - Tanner Foust
From breaking world records, pulling off crazy stunts in the car for many action thrillers, to shouldering the obligations of hosting American version of reputed show Top Gear, Foust has always found his way into the headlines.