Entertainment
Terra Jole Got The Husband Of Her Dreams! Cancer Symptoms While Being Pregnant With Baby No.2 Just A False Alarm?
Who doesn't want to marry the person of their dreams? Well, no one, to be precise. It's everyone's dream to live their life with the one they always desired of. Despite yearning, only a few people get what they want.
Terra Jole, a reality television personality, who is best known for 'Little woman: LA' has made one of her dream come true as she wedded Joe Gnoffo, the man with whom she wanted to spend rest of her life.
The couple is also the parents of their two children, and amid all the happiness, Terra was recently suspected having a breast cancer, just after the couple welcomed their baby son. Is the suspicion a false alarm or is there anything to worry about? Let's find out!
Just A Symptom, Or Is The Cancer Suspicion Significant?
The 'little woman' star Terra Jole is happily married to her husband Joe Gnoffo, who is also an actor and a drummer. They welcomed their son, Grayson Vincent Gnoffo last August, and while being pregnant with him, Terra noticed the Blood Leakage from one of the nipples.
It was an alarming symptom, and she immediately examined her breast to figure out if it had anything to do with cancer. Surgical breast specialist, Dr. Kristi Funk examined her and talked about the issue,
"The bloody discharge from the nipple isn't uncommon in nursing women; we call it rusty pipe syndrome, If bloody discharge persists after one week of breastfeeding, then you should seek medical attention. The bloody discharge can be a sign of cancer, and Terra did the right thing by following up."
Thankfully for Terra, there was no sign of cancer as she revealed the reports were positive,
Caption: Terra Jole, announcing the Test results on 'The Drs' (Published on Apr 19, 2017).
She even mentioned how overwhelming it was to feel the freedom,
"When I first found out I was cancer free it was an overwhelming feeling of freedom. No longer facing what was to come and free to no longer stress on the what ifs. My husband Joe stayed strong but after finding out I was cancer free really shared with me how scared he was about the possibility. He even mentioned moving around family if we needed help. It's wild to know he kept his feelings from me and remained so strong while we waited for the results. Tears of Joy"
The strong bond they share was built throughout the period of their togetherness. It was after welcoming their first child together that Terra tied the knot with her husband Joe Gnoffo on Father's day, June 21, 2015.
Joe is also amongst the famous faces, as you might have seen him in films such as Benchwarmers and Mirror Mirror. He has also made, guest appearance in few TV shows like, According to Jim, Drake, and Josh, and Desperate Housewives.
Apart from being an actor Joe plays drum and is a Drummer in Nirvana tribute band called 'Nirvanish.'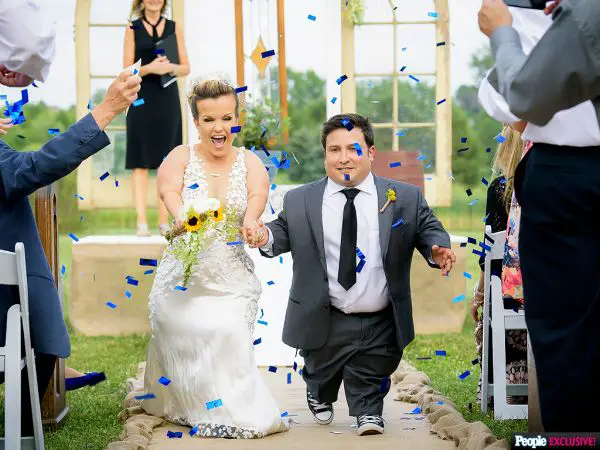 Caption: Terra Jole, looking all content and excited with husband Joe, on their wedding day.
Picture Credit: People.com
Terra told People exclusively,
"Not only have I married the man of my dreams, but I now have a new family that feels like my own."
The couple's first child Penelope "Penny" Charlevoix Gnoffo is a daughter, who gave them the privilege of being parents on March 16, 2015. Jole gave her birth, via c-section and the newborn spent three days under intensive care, before being allowed to go home.
Penelope is also reported to be born with the dwarfism as her mother.
The duo welcomed another member of their family, last August and named the baby boy, Grayson Vincent Gnoffo.
However, they have not been able to agree on, when to stop enlargening the family. Terra stated,
"If it's up to Joe, he's pretty sure No. 2 will be the end, If it's up to me, I would love a big family — three to four kids would be great!"
Short Bio of Terra Jole:
The mother of two Terra Jole is famously recognized for her show Little Woman: LA. She was born on 25 May 1980, in Texas, USA. She is an actor, producer, impersonator, and a reality TV personality.
She stepped up for her career on-camera in 2001 and has been working ever since. Terra has also given her performance in films such as Jackass 3D and The Hungover Games.
She's like a small package that is massively explosive, as she is contained with varieties of skills regardless of her height; which is 4.2 tall. Terra also participated in the season 23 of 'Dancing with the Stars' and dazzled all the viewers with her moves.
Caption: Terra's performance in 'Dancing with the Stars' (Published on Oct 3, 2016)
It's not only her work that inspires people, but she does have a generous heart to add to her resume. It is just about a month before; Terra teamed up with PETA, (People for the ethical treatments of the animal) for the campaign related to animal rights.
She has adopted a pup named Peggy who is a part of her family. Her campaign features the story of how she rescued Peggy, who she found on the side of the road.
She mentioned,
"I found her on the highway, and she was dragging her back end, so I pulled over, and I am the girl who has a leash and cat treats in the backseat of my car. I picked her up and took her to the nearest vet… [She's] still one of the happiest dogs, and I wouldn't give her up for the world."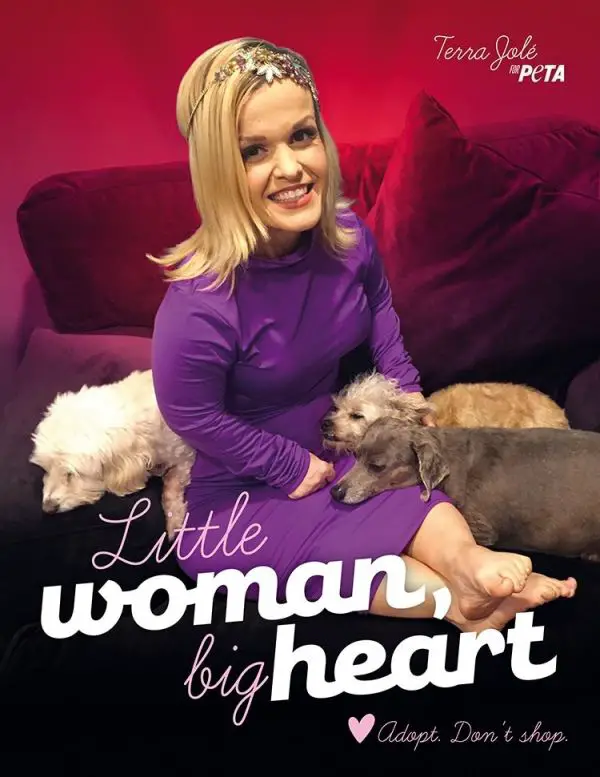 Caption: An exclusive look, from Terra's Campaign with PETA
Photo Credit: Intouchweekly.com
With all the success she has accomplished with her sheer passion and dedication, Terry has accumulated a net worth of $500 thousand.