Entertainment
How Terry Dubrow's Lavish House Always Sparkles With Wife & Family
'Everyone needs a house to live in, but a supportive family is what builds a home.'
This quote by Anthony Liccione signifies the importance of having family members by our side to call a house a home. And the quote fits the bill for the American plastic surgeon and TV persona, Terry Dubrow. Owner of a lavish house, and blessed with a star wife and adorable kids, the co-host of TV show Botched and Real Housewives of Orange County star, is living a royal life in his posh house.
Blind Date Gone Well: Wife and Kids Make A Home
Los Angeles born Terry met with Real Housewives of Orange County alum, Heather Kent Dubrow through a surgeon friend, and went on a blind double date with her in December 1996.
And despite it not being love, at first sight, the couple grew affectionate with each other and frequented their meetings and had an affair with each other. After more than two years of dating, the couple exchanged the vows and were pronounced husband and wife in 1999.
The couple is parents to four kids, twins Nicholas and Maximillia who were born in 2003, and two more daughters Katarina and Collette who were born in 2006 and 2010.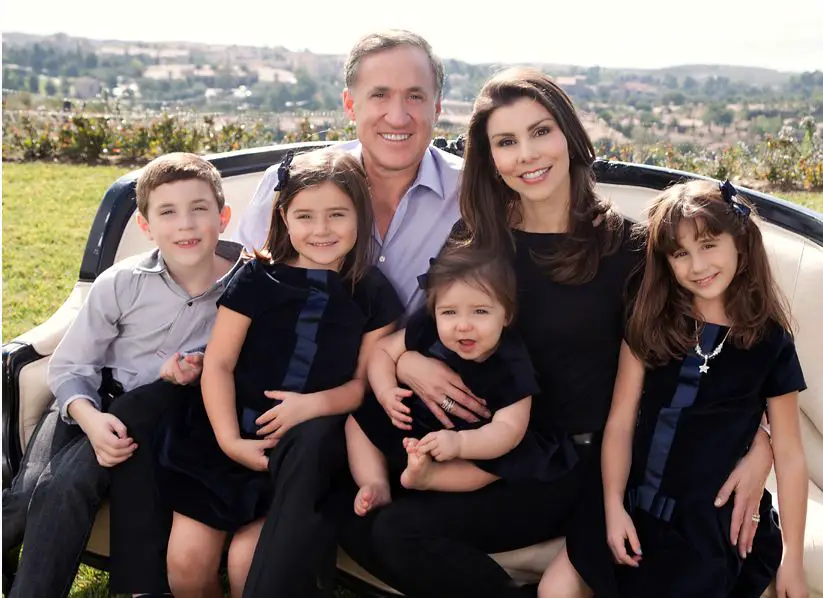 Terry Dubrow with wife Heather Kent Dubrow with kids in 2012 (Photo: Nigblondehair.com)
And the passing time has done little to dilute the relationship between the two. The fabulous couple is still going strong despite having spent the best part of two decades together. Their social media handles are full of adorable mentions towards each other and show that they are madly in love.
The youthful zest between the physician and his reality show star wife was evidenced when Heather posted a video of the couple wishing each other a happy anniversary on June 6, 2016.
And in December the same year, Heather posted a photo of the couple in her Instagram commemorating their blind date night which took place 20 years ago.
Moreover, the doctor, whose salary is in line with an average salary for plastic surgeons in the US, wished his beautiful wife a pleased birthday on his Instagram with a collection of throwback photos remembering their time together on 6 January 2018. Similarly, Heather also posted a photo of her kids giving her a birthday party on her birthday on her Instagram on 5 January 2015.
With a loving wife and lovely kids, all that was missing for the couple was a home fit for their royalty.
Luxuriant Home: Abode Fit For Kings
Regular viewers of the Real Housewives of Orange County were given glimpses of the family abode Dr. Terry and his wife, Heather. The lavish house was being built in a 20,000 square foot during the filming of Heather's stint in the reality show.
The couple whose combined net worth is a whopping $60 million, $30 million of each spouse, has been built with full planning and no stone has been left unturned to make it a grand sanctuary for the regal couple.
The doctor's wife, who believes the secret to happy married life, is having a separate bathroom for husband and wife and has planted that ideology in her home. The house contains 14 bathrooms for a family of 6, along with Beauty salon, underground garage, infinity swimming pool, and an 18 seat movie theatre.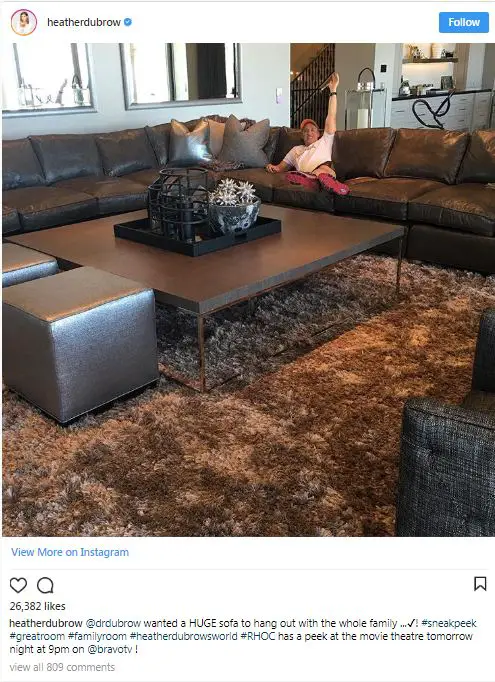 Living room of Terry Dubrow's magnificent house (Photo: Heather Dubrow's Instagram)
The couple's home has its own wine cellar, champagne doorbell and overlooks the Orange County skyline. The couple moved into the house, in July 2016 and are living a blissful life in their mansion.