Entertainment
Teryl Rothery: Feels Blessed to Have Her Daughter; Too Busy to Get Married? Husband or Boyfriend?
Being a single mother and juggling with the career as an actor is quite tuff. However, the Canadian Actress Teryl has a different opinion about being a single parent and expresses her busyness to get married. Well her fan's might be in great anticipation to know about the father of the child and the insight future of the actor.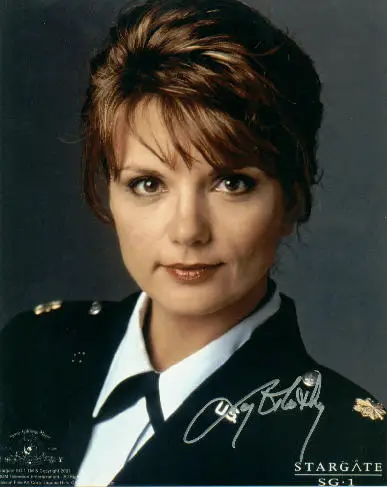 Caption: Teryl Rothery in Stargate SG-1 (1997)
Source: space-debris.com
What was on her card? Son or Daughter?
The 53-year-old actress came into media attention after her role as Dr.Janet Fraiser in Stargate SG-1. Millions of fan adored her on-screen pair up with Jamey Sheridan while plenty of people thought her on-screen love would be carried behind the screen. However, things went around the other way when the Canadian actress gave birth to a baby girl on 3rd Oct 2008. Even though the actress has not stated anything about her relationship status in any of her social networking sites however on a recent post posted by gay Vancouver online portal, Teryl has frequently mentioned about Doug as her husband.
@ladava Thx sweet Dava. I'm taking my daughter in for dental surgery. Poor little muffin!

— Teryl Rothery (@terylrothery) June 14, 2016
Is she Married, Husband or Divorced?
Similarly, the actresses have been surrounded by the rumors of her pregnancy, her split off with her long term boyfriend and about her engagement. Sparks of rumor have been spreading across the twitter about the actress. Many concerns have been shown by her fans via tweets. Still, the actress has chosen to remain silent. We really don't know whether the actress is married or divorced or dating any men or women.
Teryl Rothery's Short Bio:
Teryl Rothery was born on 9th November 1962 in Vancouver, Canada. She has an estimated net worth of $3 million. She has performed in many tv series, movies and in theatrical shows. This versatile lady has been nominated in 4 Leo awards. In 2004 she was nominated for best supporting performance by a female for Stargate SG-1 and for The Collector.
In 2008, she was nominated for short film "Coffee Diva" and in 2009 she was nominated for "Sound Of Loneliness" from "The Guard". She has performed in plenty of movies and television series like Arrow(2013), Cedar Cove(2013), A Fairly Odd Summer (2014), Supernatural(2015) and Wayward Pines (2015).She has also acted in theater and has appeared in various roles and character.
In the year 2006, she appeared in Kiss Me, Kate and The Taming Of The Shrew. In the year 2007, she appeared in the act A Delicate Balance, for which she was nominated for Jessie Richardson Theatre Award.