Entertainment
Theresa Vail On Her Journey From Army Camp To Pageant Show But Still Hasn't Considered Getting Married; Unveils Reason For Having Tattoos
With the advent of years, each and every year brings something new and different at our door. The year 2014 did the same. It is quite a memorable year in the history of Miss America Pageant that occurs every single year as on 2014 something new and something different happened in the form of a contestant who was the first to display her tattoos in the show in ninety-three years.
Her name was Theresa Vail. She was a participant who came from the military background. So how did beauty pageant come to co-exist in her life? Let's dig into her life for more.
Theresa On Her Way Of Breaking Stereotype:
From her father's inspiration who happens to be a dentist in the Army, Theresa was motivated to join the Army at the age of seventeen and made it to the post of Sergeant. The question arises how did an army official come to participate in the beauty contest? She was encouraged by the commanding officer as he believed that she could be an ideal role model for the competition.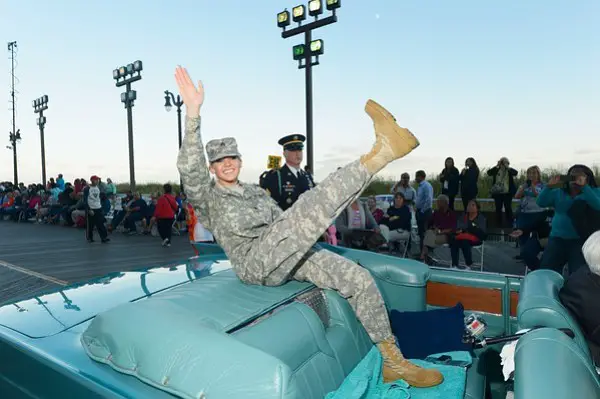 Caption: Miss Kansas Theresa Vail appears in the 2014 Miss America Competition Parade.
Photo Credit: the blaze.com
Being a military personnel it may seem an out of the blue thing to be in the competition, but for her, military background and beauty pageant can't be looked at as two different things as they somehow come to the point where they relate to each other. She puts this in the following manner,
"I certainly wouldn't be Miss Kansas without my military experience," Vail said. "I attribute every positive quality I have to my dad or the military. My leadership, my public speaking ability, my diligence, I credit all of that to being in the military and that's what you need in a competition like this"
And further, adds,
"Nobody expects a soldier to be a beauty queen but I'm all about breaking stereotypes."
Caption: Miss Kansas Theresa Vail on participating in "Miss America 2014".
The Significance Of The Tattoos That Caused So Much Buzz:
She was like other contestants in outer appearance but what separated her from others were her tattoos. She walked on the stage in bikini round of the competition exposing her two tattoos. In the ninety-three-year-old history of the Miss America pageant, she became the first participant to do so and able to attract a lot of media's attention. Some even criticized her it but here's what she has got to say from her side,
"Why am I choosing to bear my tattoos?" Vail says. "My whole platform is empowering women to overcome stereotypes and break barriers. What a hypocrite I would be if I covered my ink. How can I tell other women to be fearless and true to themselves if I can't do the same? I am who I am, tattoos and all."
"I think I'm paving the road, paving the road for future contestants to say 'she did it, she owned it, she's not covering anything up, '" Vail said.
Her tattoo on the left shoulder is the insignia for the U.S Army Dental Corps with the letter 'D' written in the middle. 'D' is to show tribute to her father for being an influence on her. It also means service to her country and people.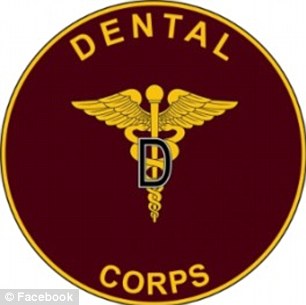 Caption: An emblem of the Army Dental Corps, tattooed on her left shoulder (2013).
Photo Credit: dailymail.co.uk
Similarly, the tattoo on her right side rib cage is a serenity prayer which reads as-
God, grant me the serenity to accept the things I cannot change,
The courage to change the things I can,
And wisdom to know the difference.
When Theresa was a small girl, she had to face the bullying which even developed suicidal tendencies in her. So to get through that experience, she used to pray to God and ask for peace. To get reminded of the past she got it inked on her body and shared her story as,
"I remember just asking God, praying for peace and for the things I couldn't change that I was being made fun of for and more to grant me the courage to stand up for myself."
"So when I was old enough and I was thinking, hey, I want to share my story and let people know you can overcome anything. That's when I decided I wanted to get a tattoo of it—to remind me of my past and guide me through my future."
More On Theresa Vail:
Measuring 5 feet 7 inches in height, Vail was successful to become one of the top finalists in" Miss America 2014, " but she couldn't win the title that year. In the beauty pageant, she was not allowed to showcase her skill in archery as she was told "projectile objects" are not allowed in the competition.
Thus, she decided to do opera and learned to sing opera just in two days. Apart from being a military personnel, she is also a senior at Kansas State University with a double major in Chinese and chemistry.
However, from some source, it has come to be known that she is single and not married. Till date, she has not got a husband or a boyfriend and is very secretive about her relationship.