Entertainment
Thomas Dekker's Obscure Sexuality: Gay or Straight? Dating With Girlfriend But No Serious Relations
Thomas Dekker as the John Connor we knew from the Terminator: The Sarah Connor Chronicles has some questions lingering on his name. Those are, Is Thomas Dekker gay or straight? What made people question his sexuality? Let's find out possible answers.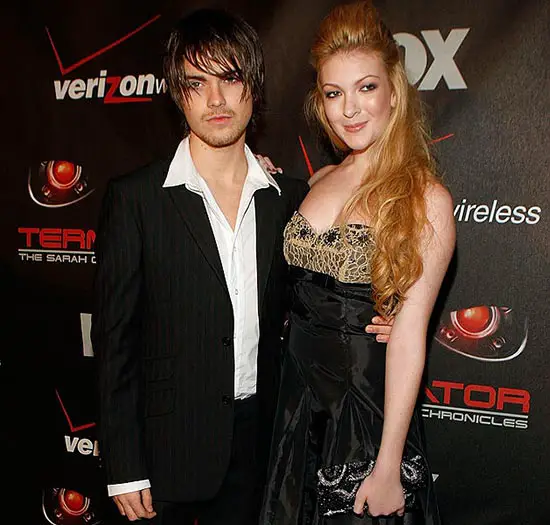 Caption: Thomas Dekker and Sydney Freggiaro in the screening of Terminator.
Source: gettyimages.com
First of all, we would like to talk about an uncertified rumor of Thomas Dekker getting secretly engaged with his current girlfriend and is scheduled to get married soon; however, this news is not so much from a trustable source and Thomas is believed to be single. So, what is the sexual status of Thomas Dekker? Well, According to his interview with Perez Hilton in 2011, Thomas Dekker is not a gay but an open person to any sexuality. He says,
"I've only really had relationships with women, but I'm certainly not closed to it. If there are possibilities of being able to do anything in life, why would you say you would never take any up?"
So, this clears out that he has dated women and is not a gay but will certainly not remain closed to it. He was also dating a girl back in 2008 named Sydney Freggiaro but broke up later on.
The possible reason behind his break up with Freggiaro was; as we speculate, his lack of seriousness. To make it clearer, he has also said,
"In the later chunk of my teen years, I was so all over the place with sex. It was terrible. I never really had a real relationship at all. During puberty, it's all about sex, and it's all about figuring yourself out. I think I overdid it when I was younger."
In that same year, 2011, he had a chat with the Next Magazine where he talked about his perspective towards the role he was playing in the movie called Kaboom and about his experience as a victim of molestation.
He says,
"I felt it was such an honor to play a role that was neither gay nor straight," Thomas continues, "I hadn't come across a feature script like that before."
He later talked about his perspective towards nude and sex scenes. He says that it is actually emotional scenes that are hard for him as he doesn't really care about nudity or sex.
"Honestly, I don't care about nudity or sex. I find it a lot harder to do those emotional scenes than ones merely involving vanity. If I could do every photo shoot and every scene naked, I would. It would be easier. People have less to judge when you're naked."
So, this concludes that Thomas Dekker, is not a gay but is open to anything he is offered. Now, what would you call that? Leave your thoughts in the comment section below.
Thomas Dekker was born on December 28, 1987, in Las Vegas, Nevada, US. His career as an actor started in when he was seen in the CBS network soap called The Young and the Restless.
Later in 2006, Dekker played a recurring role of Zach on Heroes and later on went to take the starring role of John Connor in Fox's show called Terminator: The Sarah Connor Chronicles and till this date, he is widely known for his role as John Connor. He has also won a Young Hollywood Award for 'One To Watch' award along with many others.
Thomas Dekker is also known as a musician as he had a debut album of his own released in 2008 called Psyanotic.