Entertainment
Topper Mortimer Remains Friends With Former Wife Even After Divorce! What Cause the Separation?
Robert Livingston Mortimer, better known as Topper Mortimer, still keeps the relationship alive with his ex-wife even after a conspicuous divorce. Topper and his former wife, Tinsley Mortimer(Tinsley Randolph Mercer by birth), are supposedly holding their relationship as friends after their separation.
Topper, in one hand, is linked with Vogue's Valerie Boster, actress Meredith Ostrom, and shoe designer Tabitha Simmons, while on the contrary, Tinsley is currently adjusting herself amid other real housewives of New York city in the ongoing ninth season of Bravo TV series, The Real Housewives Of New York City. Well, the two seems to be doing quite well after their official separation.
While the two appear to have moved on, we might want a flashback to the time when the two decided to divorce and know the apparent reason.
What Made Topper and Tinsley Call For Divorce?
The former couple: Topper and Tinsley met at an elite New Jersey boarding school called Lawrenceville Prep close to Prince University. They began dating while they were in school, Topper being junior and Tinsley, senior to Topper.
According to New York Times, the two eloped to Florida to escalate their relationship officially when they were just 18. However, their marriage plan got annulled so they could later get married more conventionally.
Finally, they made up to nuptials at their age of 26 on May 4, 2002.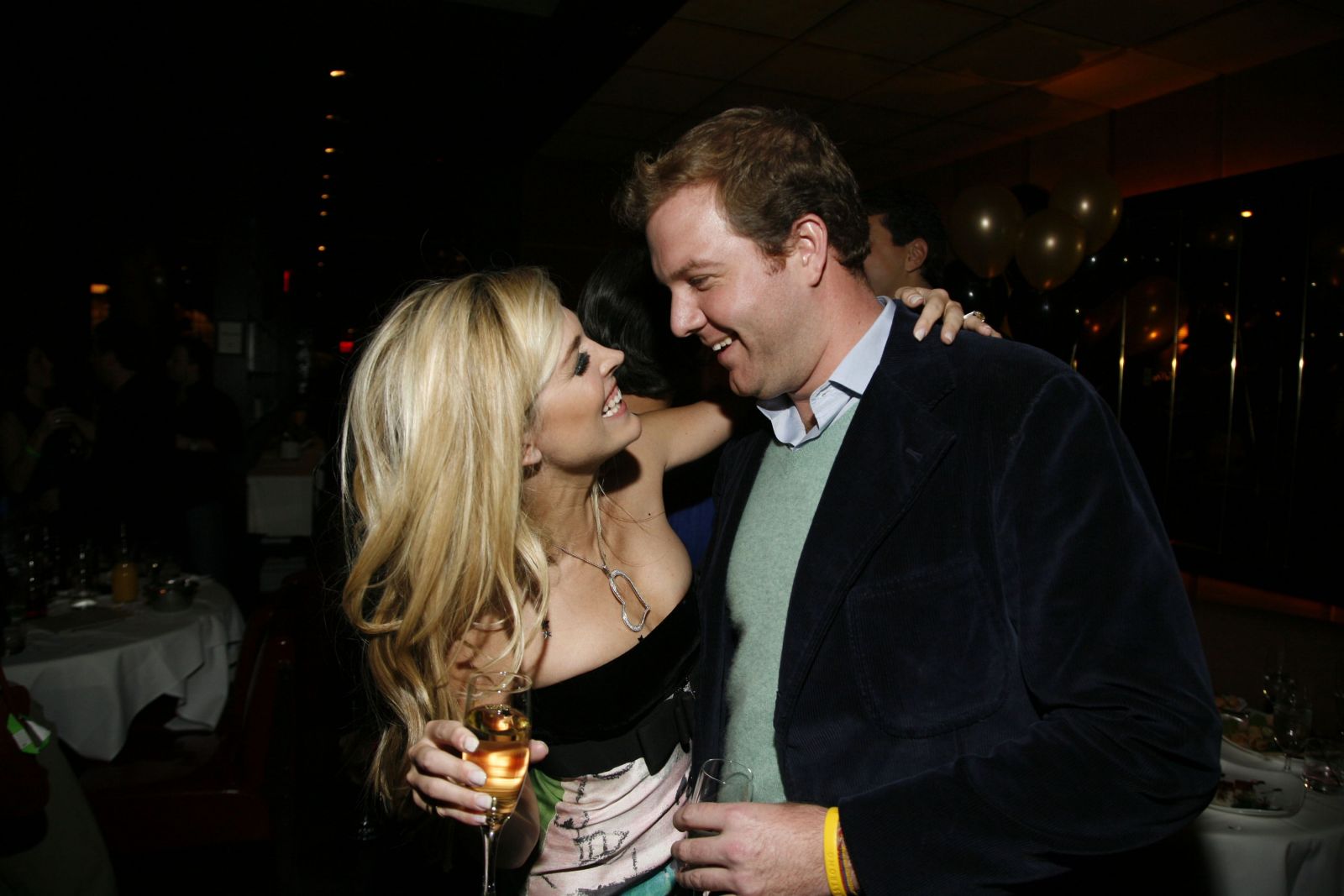 Caption: Topper, sharing a romantic moment with his ex-wife Tinsley back in time.
Photo Credit: refinery29.com
While they were once delighted and impatient to get married, they got into several conflicts in their conjugal life with the passing days.
Much of their conflicts stemmed from Topper and his family's soreness with the socialite status of Tinsley, which resulted in Tinsley to step out of the relationship.
It's not that Topper didn't attempt to salvage his married life. He indeed emailed his friends declaring his intentions to protect his marriage. His email read as:
"I know I have involved you guys in our problems and that was wrong. Tinsley is at fault of course but Casi [sic] never gave her a chance to breathe even when I asked him to give us space. He was manipulative and overbearing. I love my wife and we are going to do what we can to salvage this marriage."
Meanwhile, Tinsley made a public statement about her relationship with the then German Prince, Casimir Wittgenstein-Sayn. She verbalized:
"We're not hiding. I have filed for divorce. I am allowed to date other people."
The couple finally got divorced in the year 2009 and Tinsley moved to Palm Beach and began dating her ex 'Alexander "Nico" Fanjul.' However, Tinsley and Topper remain close friends according to a 2016 profile of the new Housewife in Harper's Bazaar.
The lady socialite Tinsley also took to Instagram to recall her marriage on the occasion of her marriage anniversary last year on May 4.
This post thence makes us rethink the relationship between the former couple.
As of Topper, he is the descendant of John Jay Mortimer and an heir to the Standard Oil fortune and is supposed to be living Upper East Side/Hamptons lifestyle currently. Although it is clear that Topper enjoys a substantial net worth, the actual figures remain confined for some undisclosed reasons.
Stay with us for the budding updates on Topper Mortimer!