Entertainment
Trae Crowder Is Not Dating Because He's A Married Man! Talks About Wife While Maintaining His Comic Career
Every one of us knows the persona "Liberal Redneck" and the real person behind it; to those who don't recognize him, he is an American comedian Trae Crowder.
As of today, he is the protagonist of this article, as many of us desire to know about the real person's bio, who is never seen dating anyone. Thence, we try to unveil the truth and bring you the recent happenings from his life.
Trae's Journey And Prosperity To Success:
Trae Crowder started as a stand-up comedian at Side Splitters Comedy Club in Knoxville, Tennessee and it was by then he discovered the character "Liberal Redneck".
No sooner, he began creating videos and posting them to Facebook, the notable being him criticizing the North Carolina "bathroom bill." The video went so viral that it succeeded to grab 26 million views and more of that; he got featured on ABC's Nightline and CNN's Tonight with Don Lemon.
Additionally, his popularity grew after his appearance on HBO's Real Time With Bill Maher on November 2016 as a season-finale guest, where he discussed his book Liberal Redneck Manifesto: Dragging Dixie Ou of the Dark. He had written the book in coordination with his friends: Drew Morgan and Corey Ryan Forrester.
The professionalism stage for Trae, in a real sense, began when he signed a development deal with WBTV which concluded him to be a part of the Fox comedy project, which resulted in the production of several videos.
We can view one of the videos from the same project, where Trae is talking about the US President Donald Trump here.
Caption: Trae speaks of the US president (Published on Jun 3, 2016).
Moreover, he supports gay and relates his videos favoring them. He regularly raises his voice for their rights and thinks that it should not be a part of politics. As of now, he is making his public appearances as he is on the WellRED Comedy Tour with fellows Drew and Corey which started on June 8 in Los Angeles.
The three-month tour, which is already at a great height of its popularity, will end on September in Lexington.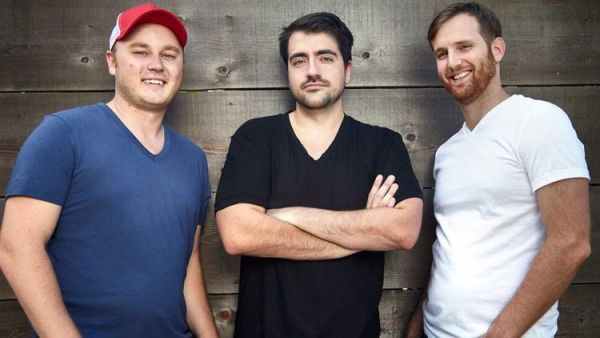 Caption: Trae and his comedian fellows: Corey(L) and Drew (R).
Photo Credit: chicagotribune.com
Does Trae Have A Girlfriend Or Is He Already Occupied With A Wife?
The comedian, who emerged from a rural city of Tennessee, keeps his relationship almost concealed, but his constant tweets suggest something else about him. Well, he doesn't seem to have a girlfriend, but indeed he is supposed to have a wife and children as well.
He earlier tweeted about being busy with his wife for cleaning the house.
Yeah Im cleanin the house and listenin to 90s country, cause me and my wife dont believe in traditional gender roles lol jk she lazy af

— Trae Crowder (@traecrowder) April 7, 2017
And he doesn't only have a wife, but also a child, which he mentioned in an earlier tweet.
My 4 year old just yelled "GET BACK IN THE KITCHEN" at my wife and apparently "laughing hysterically" was not the appropriate response.

— Trae Crowder (@traecrowder) December 10, 2016
These all tweets shared in a comical manner, however, proves that Trae is a family guy and he is popular among his family too.
Stay with us for the emerging updates on Trae Crowder!