Entertainment
Travis Wall Is One Step Closer to Getting Married! A Gay Romance That's Too Good To Be True
The contemporary dance style is one of the difficult forms of dance, and it requires ample skill to master this dance form.
One of those who can boast around and tell people that he has perfected this art is Travis Wall, who is best known for his work on the second season of "So You Think You Can Dance."
But apart from his dancing, there is one thing he enjoys the most, being with his partner, who he is engaged to and is now en route to getting married. Today, let us have a look at this beautiful gay relationship and see why this relationship is "too good to believe to be true."
Travis Wall & His Partner Got Engaged And Are Now On Track To Getting Married:
There are several ways to celebrate your dating anniversary, but it was May of 2016 when Travis Wall and his partner of 5 years Dom Palange, a gymnastics coach elevated things to the next level, as they got engaged while celebrating their fifth anniversary of togetherness.
Speaking about the special moment in an interview, the Virginia born dancer said,
'He said 'yes!''
He also explained that he had the engagement ring with him for two years, but was looking for an opportune moment to pop the question.
'I've had the ring for two years and have been waiting for the perfect moment.'
Well, the timing of him popping the question was perfect, Wall.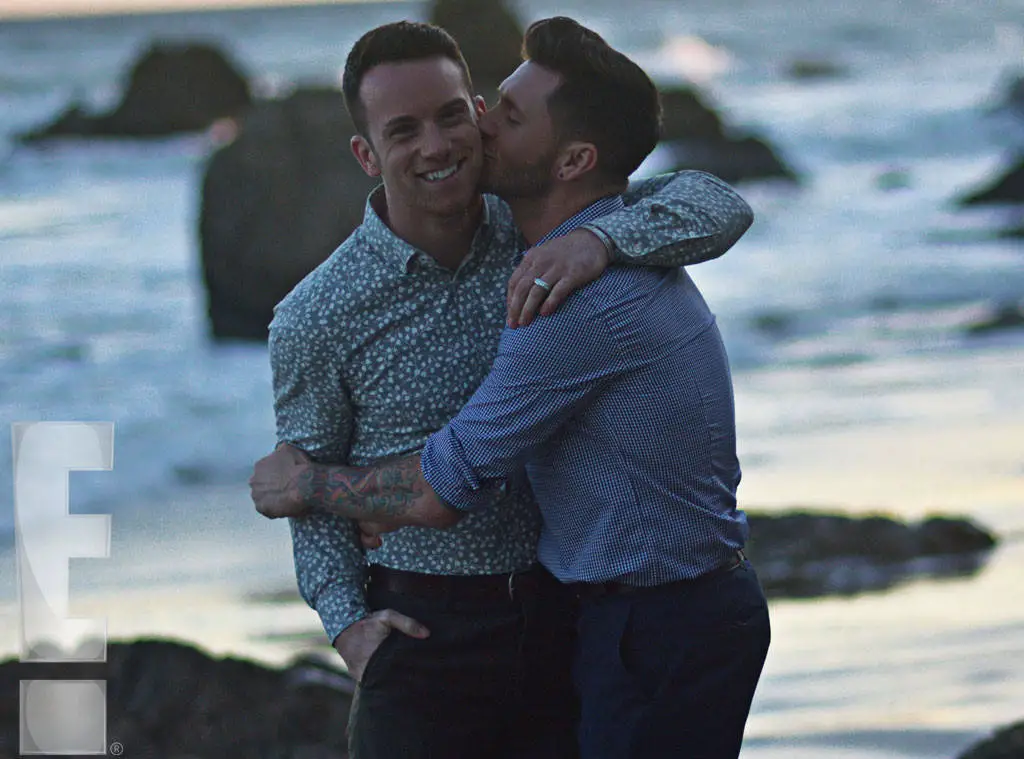 Caption: Travis Wall hugs his partner after getting engaged in May of 2016.
Photo Credit: Eonline
The families of the two lovers were also reportedly there to witness the happy occasion unfold.
'This special moment was worth the wait and now I get to spend the rest of my life with this incredible man,'
On one year anniversary of their engagement, Wall took over his Instagram to share the happiness and bliss he feels while being with Palange.
Moreover, every single moment he spends with his partner is precious to him.
Now that we know that they are engaged and are more than happy with one another, the fans often wonder to be aware of their plans of tying the knot and getting married.
But the two are yet to disclose any plans as of such, as they probably are enjoying their romance for now and have some plans stacked for the future.
More About Travis Wall:
Born in the year 1987, on September 16 in Virginia, Travis Wall is a contemporary and jazz dancer best known for his work on the Mega Fox TV series, "So You Think You Can Dance."
He's served both as a competitor and a choreographer on the show and even got nominated for the prestigious Emmy in 2011.
That is the kind of success he has tasted in his career, along with a healthy net worth of $500 thousand.
Speaking of his family life, Wall's mother, Denise Wall, has been instrumental for his dancing glory, as she was the one who helped him to own course to the professional path in his life.
His mother has also trained SYTYCD's Season 3 dancer, Jaimie Goodwin. His adopted brother, Danny Tidwell, is also an equally successful dancer and was also the runner-up on Season 3 of the dancing reality show.