Entertainment
Trevor Linden Adds Son to Family; 22 Years After Being Married To Wife!
Holding the winning trophy is the greatest happiness for a sportsman, but holding own children in the arms is a much greater feeling.
Trevor Linde, a retired ice hockey player, was questioned for not having a child even after 22 years of marriage, but finally, he is a father now.
The athlete, who used to make headlines with his brilliant play records, may not have been satisfied despite being in the highest position in his career, but his happiness is undoubtedly at the peak after embracing fatherhood.
Do you want to more about his new journey of fatherhood? Just keep reading and you'll not be disappointed!
Trevor Linden Enjoys Fatherhood. Finally!
Trevor Linden got married to Cristina Giusti on July 8, 1995. Even after so many years of married life, their family felt incomplete because of the absence of a junior. But finally, after 22 years of their marriage, they welcomed their first child to the Linden family.
Vancouver Canucks president, Trevor Linden, and his wife, Christina, named their first child Roman Mattias Linden. Well, there was a meaningful reason behind his son's name.
"It's a shoutout to my old roommate."
The former Canucks captain is, of course, talking about his teammate and roommate of seven years, Mattias Öhlund of Vancouver Canucks. Naming the only child after one of his old teammates is one of the best forms of gratitude an athlete can express.
He even mentioned that he wants his son to be like Öhlund, who is one of the six people to get the 'Ring of Honour' status.
"I think you think of people who you imagine your son to be like a little bit.
But have you realized that his son's first name, Roman, does not come from the player? Well, that's because he's also named after Cristina's father, Romano.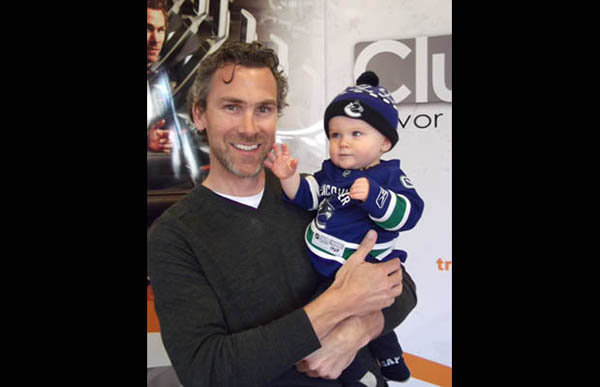 Caption: Trevor Linden with his infant son, Roman Mattias Linden.
Source: Ottawa Citizen
Linden, who has a pretty busy day job, says he has the duty of night shift with little Roman.
"It's the quality time that I get to spend with him when we're hanging out at three in the morning and he's kind of looking around and just chilling."
Well, it seems, with the increment in his age, his happiness has been doubled as he is enjoying his fatherhood with the utmost pleasure and satisfaction.
An Overview of Trevor Linden's Career:
In his career as a sportsman, Trevor Linden has played 20 seasons in the NHL from the year 1988 to 2008. He has spent most of his career with the team Vancouver Canucks and has played 16 of those seasons with them, earning the nickname 'Captain Canuck.'
He played for the Vancouver Canucks from 1988 to 1998 until a change in management in the team made him leave the club. So, between 1998 and 2001, he played for multiple teams.
Trevor played for New York Islanders from the year 1998 to 1999, and for Montreal Canadiens from 1999 to 2001, and for Washington Capitals from 2001 to 2002. He returned to the Canucks on November 10, 2001, with an improvement in his playing style.
Likewise, he has helped The Medicine Hat Tigers win two straight Memorial Cup Championships in 1987 and 1988. He played for the team from 1985 to 88.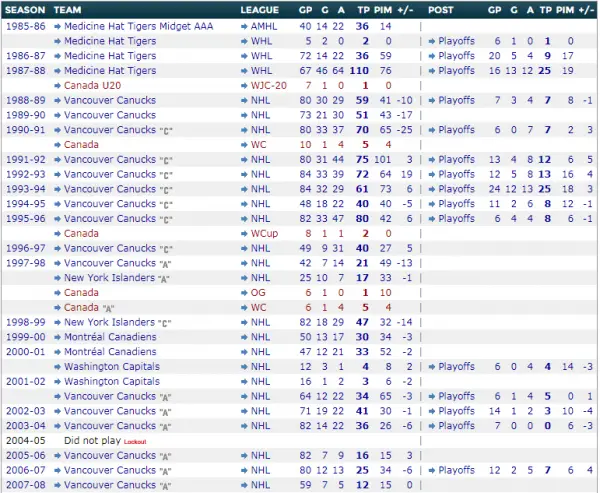 Caption: Trevor Linden's career stats
Source: elite prospects.
Trebor had a splendid career which is evident in his overall career stats. During his captaincy in the Vancouver Canucks, he led the Canucks to the Stanley Cup Final, back in 1994.
He has also won the King Clancy Memorial Trophy in 1997 for his leadership qualities and has made a noteworthy humanitarian contribution to his community.
During his career, he was actively involved with the NHL Player's Association. Linden boasts 1,140 games played with 415 assists, 318 goals, and 733 career points.
Trevor retired as a Canuck on June 11, 2008, which was a week before his 38th birthday and also the 20th anniversary of his draft day. He became the Canucks President of Hockey Operations and Alternate Governor of NHL in April of 2014.
Throughout his hockey career, Trevor was respected as a leader both on the ice and in the community. His 20 years of wins, losses and ups and downs make for a great story.
Now as an engaging, honest and highly regarded speaker, he talks about leadership, teamwork, and the life lessons he learned along the way.
Following his retirement, he continued giving back to the community through the Trevor Linden Foundation. He also became a member of the business community through several real estate developments and the launch of two fitness clubs: Club 16 - Trevor Linden Fitness and Orange Theory Fitness.
He has been a leader, a long time captain and player of the Canucks, a president of the NHL player's union for eight years, and he even gained experience in business after retiring from the game.
He is one of the most accomplished and celebrated players in the team's history, but he has not revealed much information about his contract and salary. However, it remains known that he enjoys a splendid net worth of $20 million.