Entertainment
Vernon Kay Managed Somehow To Save Relationship With Wife! Stood Past The Affair And Are Happy Now
If you know Vernon Kay, you probably must be familiar with the sexting scandal he was involved in; which grabbed massive attention. Not only did he drag the media attention and the spotlight over him, he simultaneously risked his married life with his wife as well.
The scandal was one that raised major eyebrows, but despite all the claims and all the hurdles, Vernon seems to have saved his marriage and is living a happy life with his wife, leaving all the allegations and scandals behind.
So let us see how their relationship got jeopardized and what the scandal was and find out how Vernon saved his marital life with his wife.
Vernon Kay Sexting Scandal & How It Almost Ruined His Married Life With His Wife:
Vernon Kay is married to his wife, Tess Daly since 2003. And it all seemed to be going right between them until Vernon and glamor/lingerie model Rhian Sugden were involved in a sexting scandal.
The very scandal and the alleged extramarital affair that shocked everyone was one of the major media highlights of 2010; the incident that claimed Vernon reportedly swapped flirty texts with the gorgeous lingerie model behind Tess' back.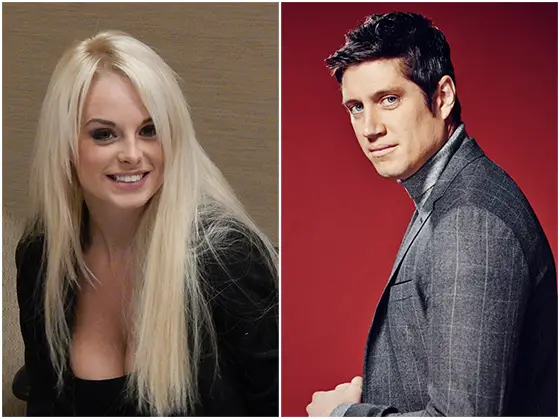 Caption: Vernon Kay was involved in a sexting scandal with lingerie model Rhian Sugden.
ALong with Tess, Sugden's fiance, Coronation Street doctor, Oliver Mellor was furious with that very fact; that indeed led the couple to face some trouble in their relationship, which even resulted in Mellor breaking up with the star model.
Some sources close to the two revealed,
"Oliver is away working, so he hasn't seen Rhian since the claims emerged. He was annoyed to find out she had been messaging Vernon, especially as she had kept it secret from him."
However, moving on from the scandal, Sugden and Mellor buried the hatchet, and have been publicly spotted together on several occasions.
Sudgen and Mellor weren't the only couples to experience the bitter side, as the incident nearly ended Kay's marriage with Tess as well.
The scandal brought some threats to the relationship between Tess and Kay, but they say when your love is strong; no force is able to break it. The prime example came forth when Tess elaborated that she would not let Sugden ruin her marriage.
"I won't let this woman ruin my marriage."
Moreover, a source close to them released a statement that read,
"Tess thinks this whole incident has been designed to cause harm and she won't let it affect her. They've talked about it and they're absolutely fine. They're totally united. She thinks the whole thing is a 'stitch-up', and this woman is trying to make cash and boost her own profile. They're both determined these allegations won't damage them or their family.
The two seemed high on spirits and love when they made their appearance at a family gathering in early 2016.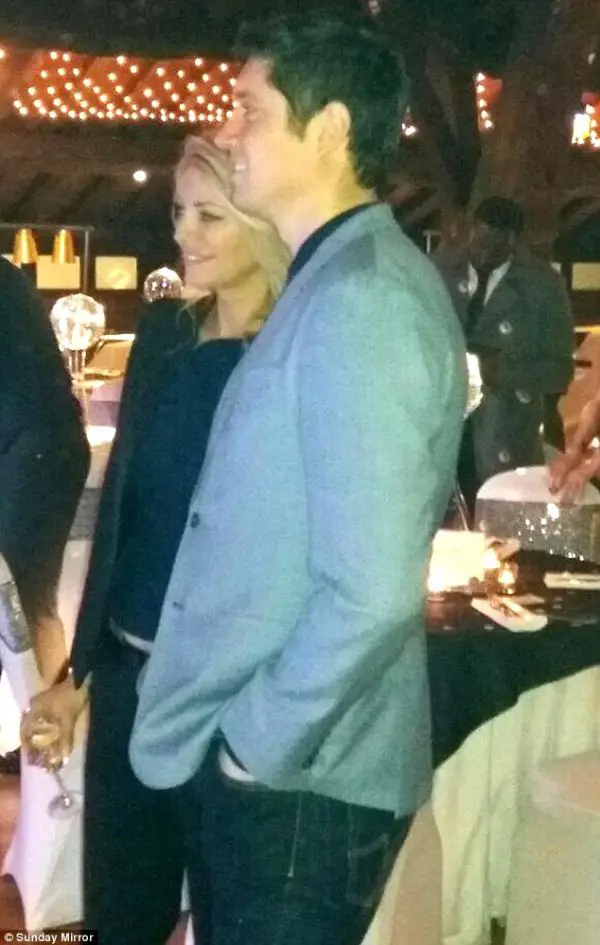 Caption: Amidst the sexting scandal, Vernon Kay and his wife, Tess looked high on spirits as they attended a family gathering.
Photo Credit: Daily Mail
The two were facing some scrutiny, but the love between them seemed to have won the battle with the scandal, and the smiles on their faces made it evident; that things were good between them.
In the end, the love they shared and the faith they had upon one another prevailed!
Did you know Vernon Kay is a successful radio DJ? The successful radio personality used to present his own show on Radio X; he left after working for 18 months in March 2017.
Regardless, there is no doubt he is one of the top radio personalities going around. However, although he has accumulated a hefty net worth to his name, he is yet to reveal the actual figures to the media.
Think we're missing something? Do let us know in the comment section below!