Entertainment
What Is Melissa Gisoni's Age? Has Any Wedding Pictures To Reveal With Mysterious Husband?
"Dance Moms" star Melissa Gisoni is someone who has been nothing short of success, in her career as a reality TV star. But how many of you know anything more than her participation in the dance reality show? How old is she? What does she have to put up to in her personal life? Who is she married to?
These are some questions that the fans often wonder about and if you too are looking to know the explanations to these queries, then you have hit the right place.
Who Is Melissa Gisoni? Her Age And Her Wiki-Like Bio Including Her Husband:
Melissa Gisoni, who starred on the series "Dance Moms," is the mother of Maddie Ziegler and Mackenzie Ziegler. She is 49 in age, 1.37 m in height and was born on June 13, 1968, in New York.
But did you know that her daughters are the result of her marriage to her former husband, Kurt Ziegler?
Melissa and Kurt were once married, but following some undisclosed reasons, the two ended their marriage in divorce in 2011.
However, life gives us all a second chance, and love again knocked on her doors. After two years of her split, Melissa again got married back in 2013. Her husband, Greg Gisoni is the Vice President of Westinghouse Electric Company, Gregory.
The two have been living happily since and are all loved up with one another.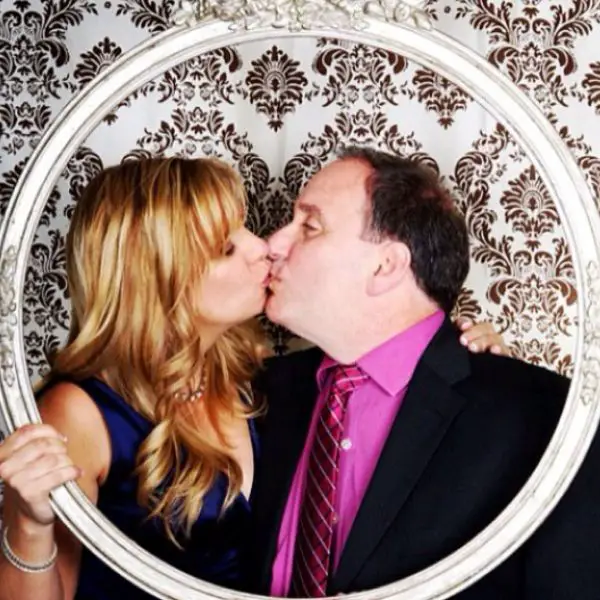 Caption: Greg Gisoni and Melissa Gisoni are all loved up with one another.
Photo Credit: Greg's Twitter
But has the couple shared their wedding pictures?
Well, the two have decided not to share their big day's photo, which is a clear indication that the two want to keep things personal and private.
They are entitled to do that, and we should respect their privacy. However, we hope that the couple shares about her love life with the fans in the days to come!
The Strong Relationship Between Melissa and daughter Maddie:
A daughter and mother share is a strong bond. Of course, they love one another, but they are also mutually supportive.
Maddie is a successful dancer at a very young age, but she also knows her responsibilities, and she has proven that she is an equally successful daughter. An example of that was seen, when Maddie saved her mother from Bankruptcy.
Melissa Gisoni filed for bankruptcy in 2009, when she and her then-husband (now former) Kurt owed $1,214,284.15 to creditors.
The former couple reportedly owed $908,999 in mortgages for three of their properties, $14,000 in several taxes to the IRS, and $291,967.03 worth of unsecured nonpriority claims. The case was discharged in July 2010.
The reports said that the former couple was spending more than $8,000 monthly (almost twice their accumulated and combined monthly income of $4,480.06). It was reported that the former couple's salary mostly went to the bills of daycare, preschool, and their security system.
Six years since the bankruptcy case was discharged, it seemed like star Melissa is back on her feet. Her daughter, Maddie hit gold after starring in aspiring star Sia's entire music video trilogy, "Elastic Heart," "Chandelier," and "Big Girls Cry."
Maddie was also allowed to perform outside of "Dance Moms" on other shows like "Ellen," "Jimmy Kimmel Live," "Dancing with the Stars," "Saturday Night Live," and the 2015 Grammy Awards. Maddie has added to her mom's net worth, which at the moment, is said to be around 2 million.
Furthermore, they flaunt their mother-daughter love via Instagram, which is evident through the image they shared back on January 6, 2016.
This picture, where Maddie wishes her mom on her birthday on June 13, 2017, shows the amount of love between them.
The "Ziegler-Gisoni" family sold their old home located in Pittsburgh in May 2015, before moving into a larger custom built house located too in Pittsburgh. The family is also expecting to live in LA half the time.
And did you know, apart from Mackenzie, Maddie has three more brothers and one another sister as her siblings?
She also has two step-siblings from her now father Greg's previous marriage.
It is safe to say, they are a close knit family and are all loved up with one another, and we would like to wish the family the very best for their collective futures.
Stay with us for the emerging updates on Melissa Gisoni!