Entertainment
Why Couldn't Nicole Alexander Get Married To Her NBA Legend Boyfriend? Dating Anyone Now?
It is not easy being in a relationship with an NBA legend. Nicole Alexender had been in a relationship with NBA legend Shaquille O'Neal for three years before calling it quit in 2012. There are ups and downs in any relationships what the reason behind their split is? We'll reveal it all!
Nicole Called It Quits!
It is no hidden fact that Nicole and her fiancee Shaquille had their share of ups and downs before, but their love affair was finally over on August 27, 2012.
The former NBA star Shaq and his girlfriend started dating back in 2010 when Shaq played for the Boston Celtics and resided in Sudbury together while Shaq played for the team. Both couples left the local 'burbs when Shaq retired and had been living in Florida.
Talking about Nicole, she is best known for her appearances on Flavor Of Love, and I Love Money on the VH1 network where she emerged victoriously.Before starting her career on a reality TV shows, Nicole Alexander worked as a TSA agent at Detroit Metropolitan Wayne County Airport.
Shaquille O'Neal, who is a father of five, was previously married to Basketball Wives producer and star Shawnie O' Neal. But couple's seven-year marriage ended in 2009.
Why did Nicole and Shaquille split?
Now after four years of their breakup Nicole has finally revealed the reason for their breakup. During the dawn of her reality show, she shared,
"I'm still hopeful for love. Shaquille is so smart in business and look at his wife [Shaunie]…being together with him, you just gotta sit back and soak up [that knowledge] and pray you're making the right decisions, too."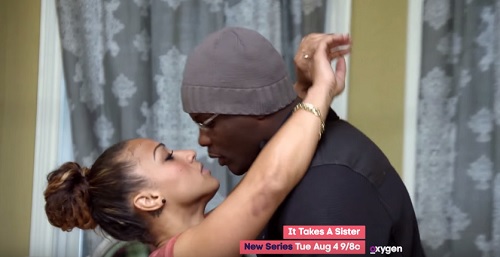 Caption: Nicole Alexander and her boyfriend Ovince Saint in a reality TV series.
Photo credit: mixedmartialarts.com
Finally, Nicole Alexander revealed that her to be husband Shaq cheated on her with no heads up and like any other woman it was unacceptable and hurtful. Currently, she is in a relationship with Ovince Saint, a UFC fighter. During an interview, she revealed,
His name is Ovince St. Preaux. We've been together a little over a year. I wasn't looking for anything. I was just happy I was going to be focused on me. Doesn't it always happen that way? The minute you're like no, I'm just going to focus on me, career, and that's it. And then, oh hi! You meet someone and then one thing leads to another.
Moreover, she added:
I took a chance on love again, even after the past, which is really hard. But he is so patient and I love him to death for that. To be able to just be there and to still be okay with me letting all that go. And still loving me. He has a big career on his hands too, [he is a UFC fighter], but we're juggling the time between our relationship and our careers between each other.
The Past is history, and now she has successfully moved on from it. Congratulations Nicole and Ovince Saint for the love they found!