Entertainment
Wife as a Fan, Jim Furyk is Helping Families in need During Victory Drought? Veteran Golfer's win Majors plus Married life
Gifted golfing caliber, 27 professional wins, a golden heart, two offspring and a whopping net worth; Jim Furyk has everything he could ever ask for.
To cap it all, he has his charming wife of around 16 years, Tabitha Furyk, who as Jim's Number 1 fan has been beside him all this while.
However, this exceptional American golfer is undergoing through probably "the darkest phase of his career" owing to his wrist injury and drought of trophies. Putting aside last year's victory, Furyk is yet to register a win since The Tour Championship in 2010. The wrist injury he suffered at the BMW Championship in 2015 has aggravated the scenario, even more, forcing him to withdraw reluctantly from the 2016 Masters for the second time in his career. It was the same wrist problem that took the toll when he departed for the first time in 2004.
From a minor to winning majors: A roller coaster career of Jim Furyk
Furyk is ranked among those finest golfers around the world and of course richest having compiled some $ 64 million solely as prize money.
Golf is something he inherited from his father Mike, a pro at West Chester Golf and Country club.
The Pennsylvanian native harnessed the skill taught by the father during his stay at Manheim Township High School and the University of Arizona to be the two-time All-American and NCAA champion.
Turning pro in 1992, he got into fraternity's radar real quick when he won the Nike Mississippi Gulf Coast Classic in 1993. However, his run had actually just begun as he bagged one tournament each year since 2003 till his first and only major championship- U.S Open in 2003. Later, he would go on to slump his form sharply after as he crashes out of the top ten of Official World Golf Ranking. A couple of year and Furyk discovered himself back to clinching a PGA Tour. By 2006, he notched 13 top-10 finishes, nine top-3s, four second-place finishes and two victories. He would put on the PGA Player of the Year and PGA Tour Player of the Year performance in 2010 in the course of winning three tournaments the same year.
Furyk went on a barren run ever since despite get his hands agonizingly close to few.
"I was getting to the point where I was starting to get to the point where losing hurts a lot more than winning feels good," He describes how he felt "And I was starting to believe that. And I didn't want to, but you have the lead and see someone beat you a bunch of times in a row, and I won't say it was a negative attitude. I was starting to feel like this game is beating me up, and the losing hurts a lot more than winning feels good. I think I just forget how good winning feels."
It took this FedEX Champion roughly five years to register his 17th victory on the PGA Tour which came on the second playoff hole against Kevin Kisner. His swing dubbed "an octopus falling out of a tree" is oddly unique and yet compelling.
Watch him make the swing in slow motion:
But it seemed to have lost its initial charm plagued by the recurring wrist injuries. Once enjoying the top-10 place (1999-2005) in World's ranking including the career high of second in 2006, his form has slumped rapidly as he lurks at the current ranking of 19th. Nevertheless, it would hardly be hampering his determination and love for the game which he had shown finishing T2 (tied second) at the 2016 U.S Open in his comeback.
And the Twitter welcomed it with open hands:
A solid 2nd place finish for Jim Furyk in the US Open. We'll take it. #717 #LancasterPride

— 717 Public Relations (@CenPennPR) June 20, 2016
I've seen about one hole of US Open golf all week but what a week for Jim Furyk after missing all that time.

— Brent Martineau (@BrentASJax) June 19, 2016
The following video sums up his career:
Jim and Tabitha: an adorable pairing
Whenever you see Jim and his wife Tabitha Skartved holding hands or embracing each other (as they are usually witnessed), the first thing that comes out of your mouth is sheer "awwwww."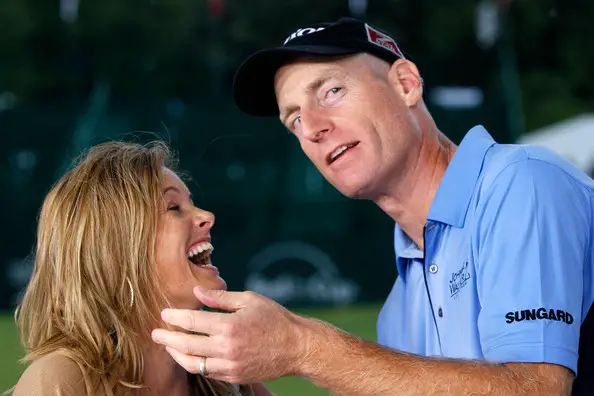 Caption: the couple sharing a light moment together
Source: fabwags.com
They started dating long back when the then young tour pro, Jim, met Tabitha, an employee at Muirfield Realty through the mutual friend and Tabitha's boss Ray Hustek at Jack Nicklaus' Memorial Tournament. Following a long time together, they finally got engaged when Tabitha readily accepted Jim's proposal ring in 2000. They got married later the same year and added two children namely Caleigh Lynn and Tanner to the pleasant family life.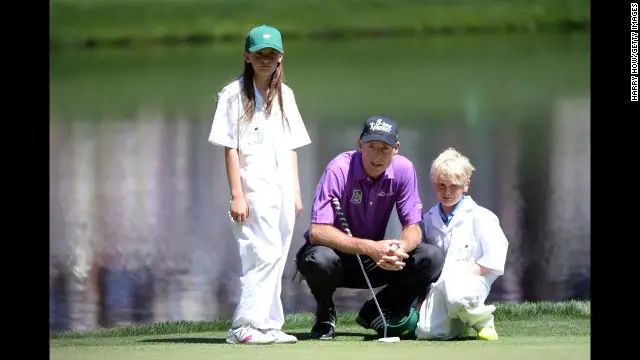 Caption: Furyk alongside his children Caleigh and Tanner as he looks to swing one into the hole
Source: turner.com
The "feisty" wife of his has frequently been in the limelight for defending Jim from all sorts of things including the one; Jim describes below.
The Jim & Tabitha Furyk Foundation
"It is dedicated to helping support those organizations that lend a hand to those who can't fulfill the most basic needs. By providing project specific funding to these organizations, the foundation helps to give food for underprivileged children, care for children with life-limiting or threatening conditions, and simply providing a safe place for them to go after school."

- The Jim and Tabitha Furyk Foundation
If the happiness through family and career wasn't enough, he is also gathering the bliss from another medium- joy from giving and caring.
The Charity Foundation has been indulged in all sorts of humanitarian tasks, including financially assisting the needy, providing food and shelter to children and supporting the organizations dedicated in the field, since 2010. And unsurprisingly, Tabitha has been his biggest helping hand.
He certainly is blessed to have Tabitha, and we are blessed to have them.