LifeStyle
A Guide On How To Make Homemade Burgers; Easy Recipe For A Delicious Treat
One of the most loved fast food in today's time is a burger. It is convenient to go into a burger station to have this delicious treat, but it's easy to make a burger at home as well.
And if you make it at your home you can use ingredients and spices of your choice which appeal to your taste buds, so without much ado let's jump to the recipe to make the delicious treat.
Guidelines On How to Make Homemade Burgers
Burgers can be easily and readily made at home, and while some prefer chicken, other love veggies. Thus, we bring you two recipes for burgers for those questioning how to make homemade chicken burgers and how to make homemade veggie burgers.
Homemade Chicken Burger: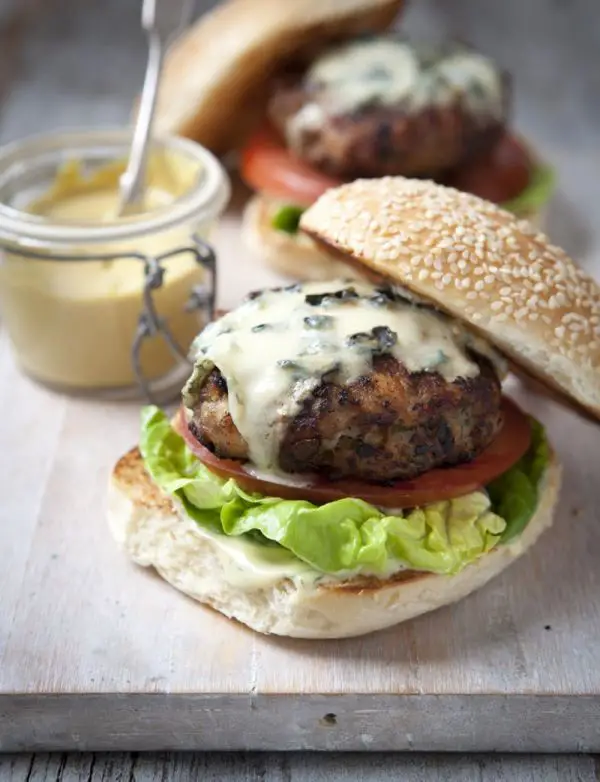 Caption: Yummy homemade chicken burger easy to make at home.
Photo Credit: hairybikers.com
Serving: 4
Ingredients:
500gm skinless and boneless chicken, one small onion, one large sliced tomato, 1tea spoon dried oregano, mayonnaise mustard one teaspoon, lettuce leaves, olive oil, four burger buns sliced into halves, sea salt and freshly crushed black pepper.
Direction:
Take a mixing bowl, place the chicken into it and add onion, oregano, salt for taste, and grind some pepper into it and mix all the ingredients well. Divide the chicken into four portions and shape it into the patties of about 2 cm in thickness.
Heat a frying pan, and the temperature of the pan must be medium hot. Place the patties into the pan well spaced apart. Cook them for 4 minutes on each side and turn them over carefully with a metal spatula.
The patties should be well seared and should lift off easily, if not cook a bit longer. Take them out of the pan and keep them aside for a couple of minutes to rest a bit.
Take the sliced bun and lightly toast the sliced part. Wisk mayonnaise with mustard and spread it on the side of the bun, then add lettuce and sliced tomato and add patties on top. Also, you can add herbs or chili or lemon zest or blue cheese or bacon or avocado slices; possibilities are endless.
Homemade Caramelized Onion Veggie Burger:
Preparation time: 20 minutes
Cook time: 25 minutes
Yield: 6 burgers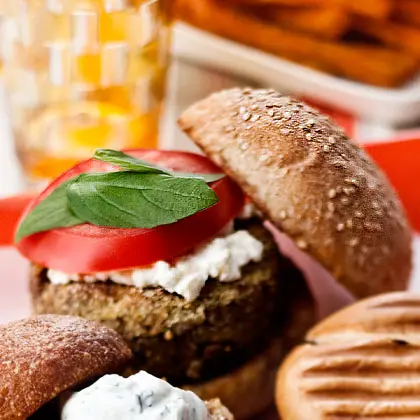 Caption: Scrumptious Caramelized onion-veggie burger made at home.
Photo Credit: health.com
Ingredients:
Garlic clove 1 large, Cremini mushrooms( stems removed) ½ pound, fresh thyme leaves 1 tablespoon, Olive oil 2 tablespoons, chopped onion 3 cups, rinsed and drained canned lentils 1 cup, breadcrumbs ¾ cups, whisked egg 1, salt to taste, yellow cornmeal 1/2 cup, goat cheese crumble 2 ounces, 6 buns, sliced tomato 8 and fresh basil leaves.
Direction:
Use a food processor to pulse garlic, mushroom, and thyme leaves finely. Heat a skillet until medium-high and add one tablespoon of olive oil and cook the onion. Caramelizing onion takes time so have patience. Stir onion occasionally until golden brown.
At this stage add mushroom mixture and cook for 2-3 minutes or until the liquid evaporates. Remove from the heat and let it cool down.
Combine the mushroom mixture with lentils along with breadcrumbs, whisked egg, and salt, and mix everything well and form 6 patties from the mix. Spread cornmeal in a shallow plate and coat the patties evenly.
To fry the patties or burgers, heat a nonstick skillet over a medium heat and cook burgers for 3 minutes on each side or until golden brown and till the cheese melts. Now, place the burger on lightly toasted bun and complete the burger by adding a dollop of goat cheese, tomato and basil leaves. Enjoy this scrumptious treat!
Sometimes you wish to make homemade burgers, and we brought you two simple and easy recipes homemade chicken burgers and homemade veggie burgers. Try these recipes out and treat yourself and your loved ones with the delicious delight. Also, you don't need to stick to the recipes as you can always add ingredients of your choice as the homemade burgers are meant to be customized according to the flavors which appeal your taste buds. Enjoy the treat!