LifeStyle
What Is Street Style? Learn About New York Fashion Along With Top Trends And Brands For Men And Women
With changing trends and fashion now and then, everyone wishes to dress up in their stylish best, as the clothes are the reflection your style and personality. So for all the street style lovers, we bring you the latest on street style which is the theme of New York Fashion Week 2017.
What is street style?
Street style fashion was not immersed from fashion studios; the youth of the urban towns contributed and influenced the contemporary street fashion wear. It's amalgamation of comfort and style which we can stylishly daily wear in life, unlike many fashionable clothes which get limited to fashion shows and ramp walk only. Different urban youths all around the world have created their version out of it, over the time, like Hippies, Punk, Gothic, Preppy, Hip Hop Fashion, Feminine, and Kawali.
New York Fashion 2017:
New York Fashion 2017 was about street style, and it showcased an array of options to choose- plaids, patterns, bold colors, skirts, velvet. So all you street fashion lovers we bring you few but the best outfit choices with which would instantly add to your style quotient.
Celebrity like Julianna Moore, Gwyneth Paltrow, Millie Bobby Brown started off the New York Fashion Week 2017 along with A$AP Rock who made an appearance at Calvin Klein. Moreover, Huma Abedin appeared at Prabal Gurung's s show, and Chelsea Clinton, daughter of Hillary Clinton, made an appearance at Tanya Taylor show. Similar was the Philip Plein show that gathered immense limelight when Madonna and Tiffany Trump were in the room for the show.
Top brands like Calvin Klein, Kate Spade, Marc Jacobs, Dior, Norcome, Armani, Givenchy, Dolce Gabbana, Fendi, Todd's and others showcased their fall collection for 2017 which will influence the upcoming trends.
Top Trends For Women:
The good news is that there is an array of styling options to choose from which would make you look stylish and fit into your budget as well, and we bring you top five fashion trends this fall.
Fall color is Red:
NYFW suggests that the color of this fall is Red, as it was the predominant color, which mostly appeared in the collection of top brands. So go bold with red this season and add the beautiful color to your wardrobe or any monochromatic color of your choice that would do the trick as well.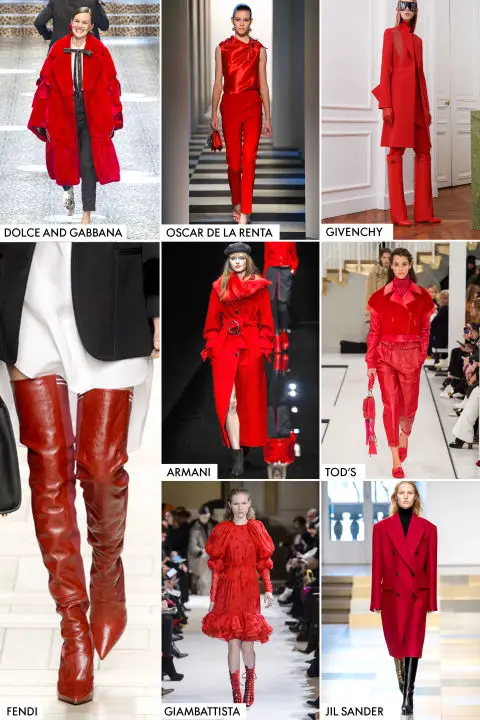 Caption: Red is the color this fall 2017.
Photo Credit: ELLE
Plaids:
Plaids of 70's are back in fashion again, and at the same time, it's versatile as well. A plaid coat or a skirt will instantly add up your style quotient. Also, you can choose to wear a solid color sweater or top along with your plaid pants or skirt, and you are ready to go.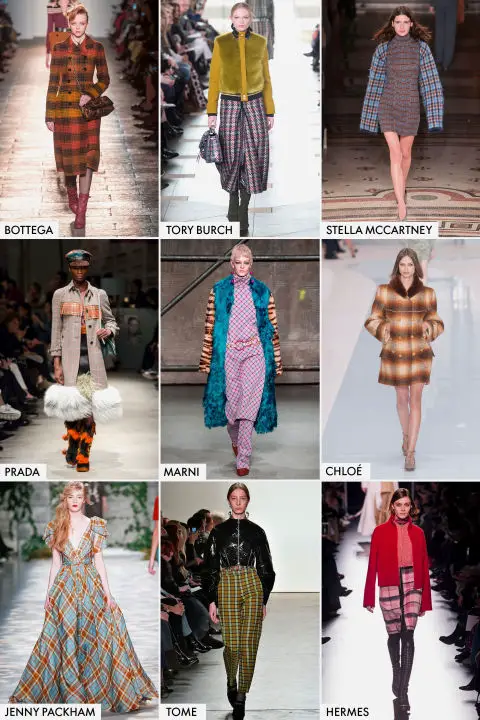 Caption: 70's plaids are back this fall 2017
Photo Credit: ELLE
Leisure Suit:
Leisure suit is trendy this fall, and feel free to wear it on the street as well and add up the edge while wearing it with heels. And rock the look like Rihanna did with her stilettos for Fenty Puma show.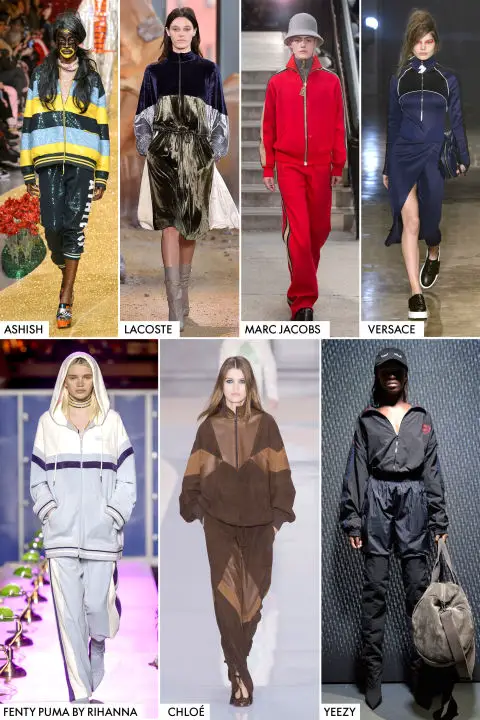 Caption: Leisure suit is trendy this fall 2017.
Photo Credit: ELLE
Velvet dress:
Velvet dress is designers favorite this season, especially in jewel colors. Velvet dress is perfect for a fall wedding as it will keep you stylishly warm for the occasion. So add a velvet dress to your wardrobe this fall and enjoy events while staying warm and glamorous.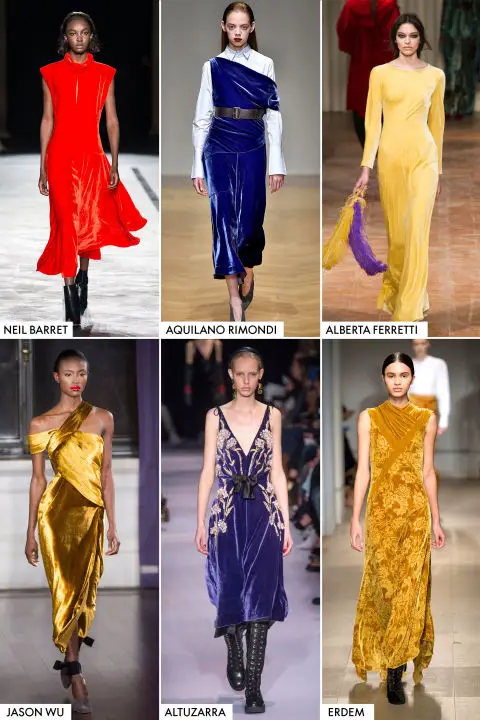 Caption: Designer favorite, Velvet this season.
Photo Credit: ELLE
Caps and Hats:
While keeping you warm, hat instantly gives you an edgy look and consider this as an add on to your wardrobe, as brimmed caps and bucket hats featured in the collection of Marc Jacobs, Coach 1941 and Maison Margiela fall collection.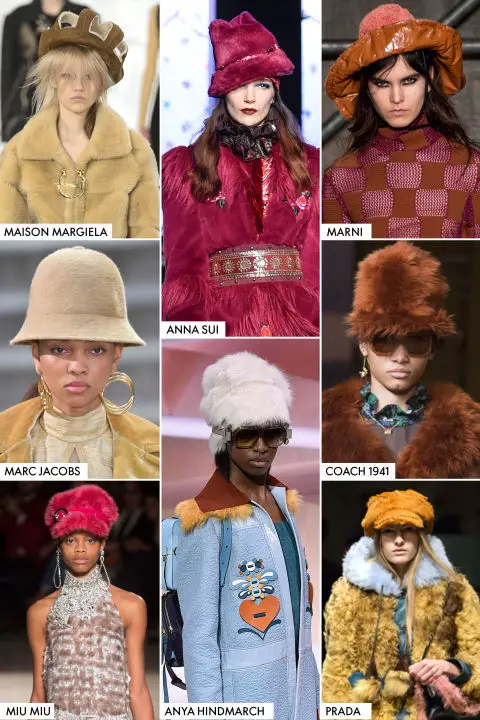 Caption: Accessorise your look with caps and hats.
Photo Credit: ELLE
Top Trends For Men:
Being trendy and stylish is important for men as well. So we bring you the top trends which will set the trend of fashion this fall 2017.
Scarlet Red:
Unlike before, this fall, the runway of men collection greeted with scarlet red color which provided the burst of new color to men's usually dull wardrobe. So don't hesitate to try this color this season as Dior and Normcore included this color in their fall collection which defines modernity and also color knows no gender.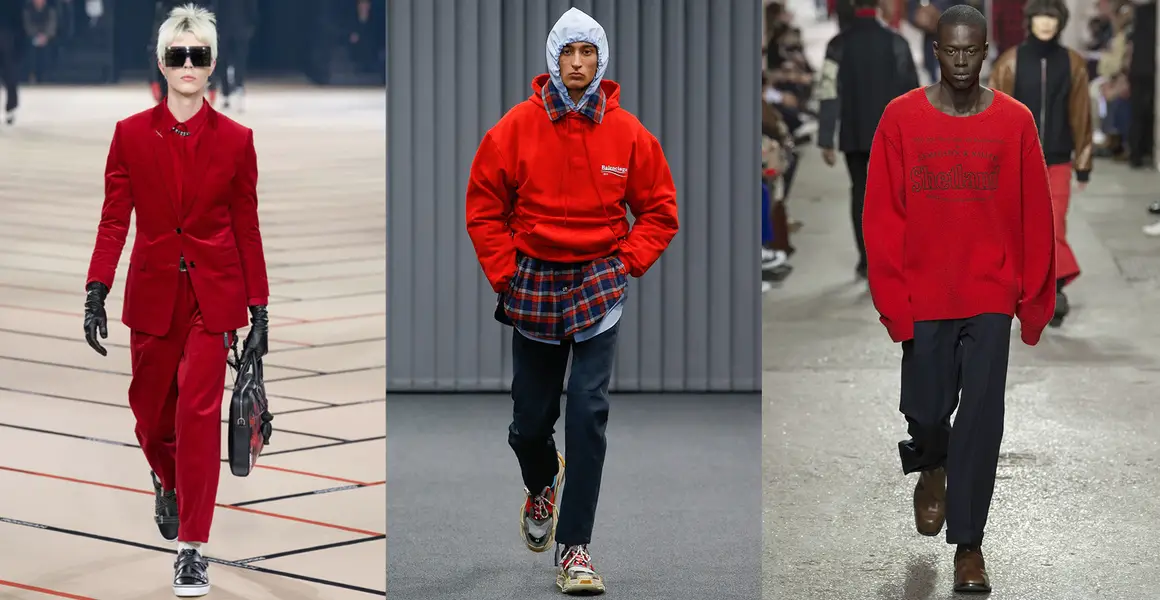 Caption: Collection by Dior Homme, Dries Van Noten and Balenciaga.
Photo Credit: Vogue
Orange:
Electrifying orange and sunrise orange has been a surprise addition to falling collection on the runway. And the ways to accompany it, in your wardrobe was showcased in the collection of Gosha Rubchinskiy, Dior Homme, Givenchy.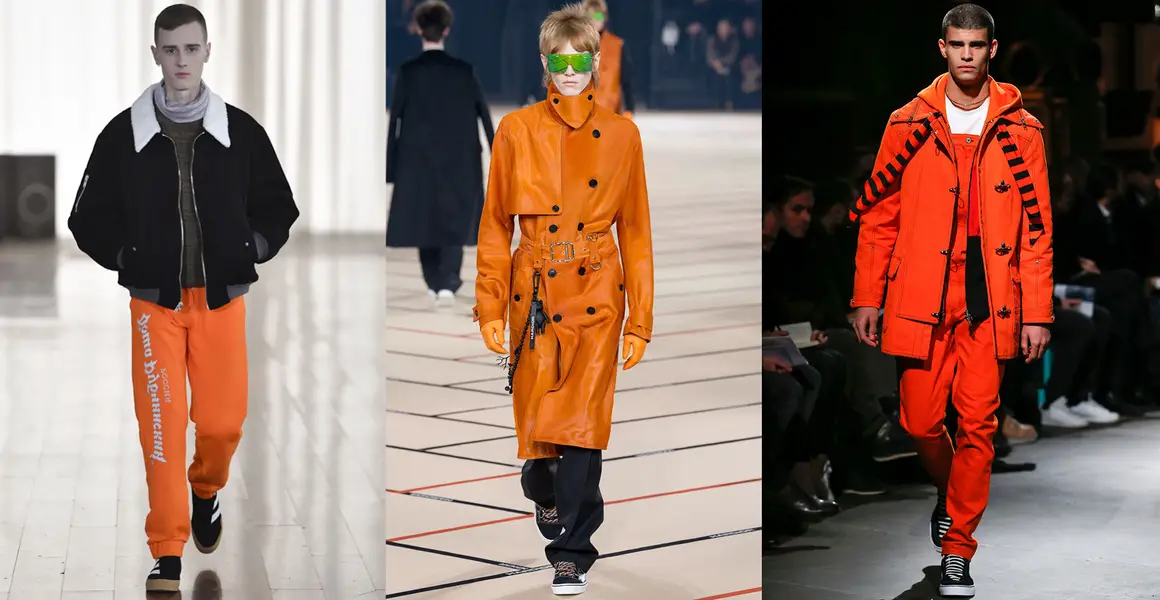 Caption: Collection of Gosha Rubchinskiy, Dior Homme, and Givenchy
Photo Credit: Vogue
Bags:
The accessory is an essential part of styling, and for the bag lovers, there is a new collection by Supreme and Louis Vuitton called Supreme x Louis Vuitton. These bags are all step to create a trend for the years to come.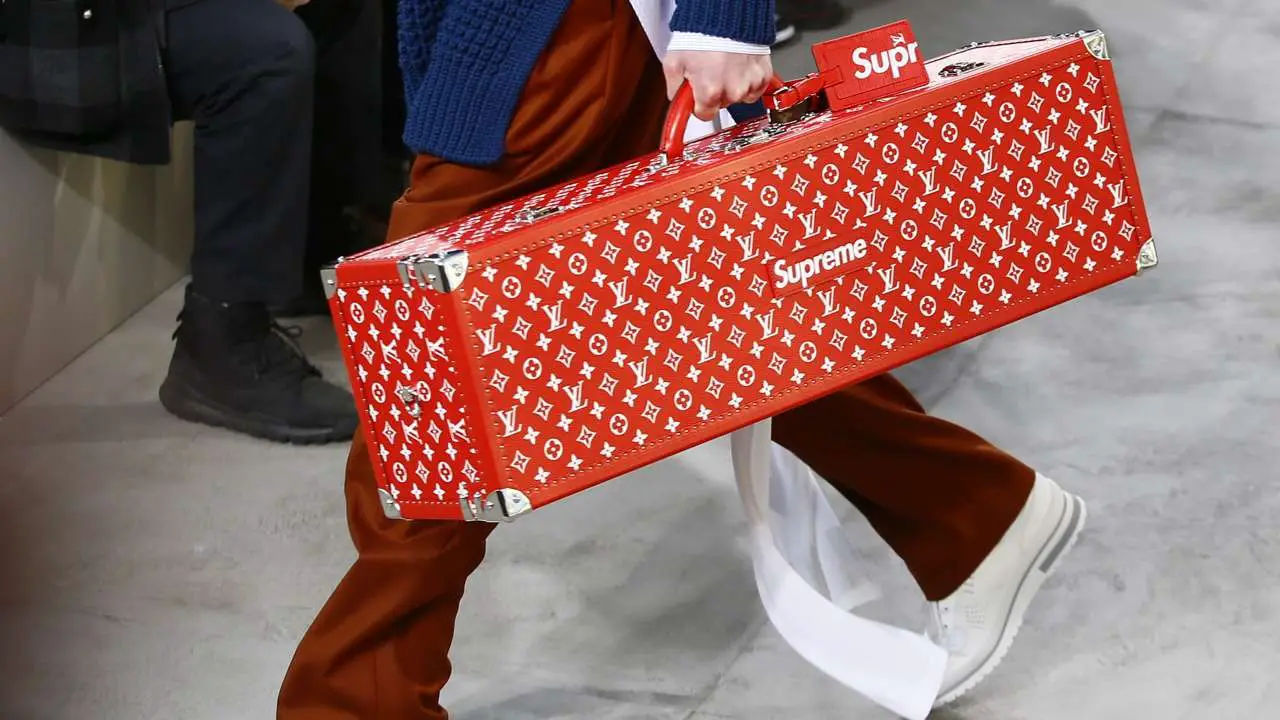 Caption: Supreme x Louis Vuitton bag collection which appeared in NYFW fall collection 2017.
Photo Credit: scmp.com
Fleece:
The fleece is a favorite of many, and it's has been loved to be worn as a second(animal) skin too. Designers love fleece as well as it was proudly presented in the collection of fall 2017 as well.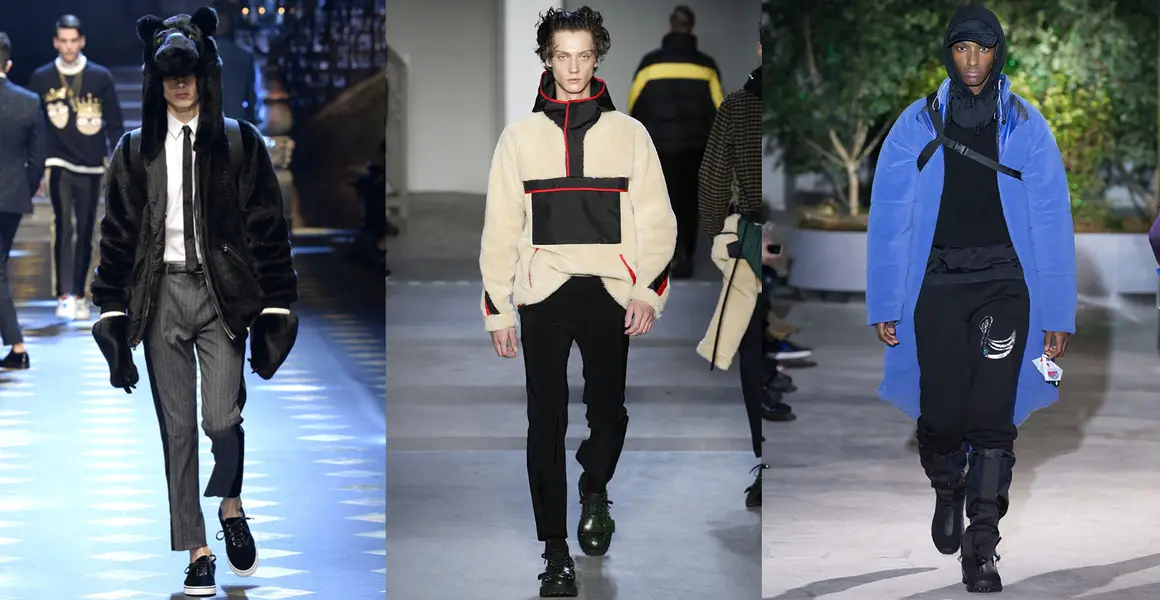 Caption: Collection of Dolce & Gabbana, No.21, and Cottweiler
Photo Credit: Vogue
Rocket Style:
Rocket style is the trend this season and those who love to opt for a casual look with an edge, then rock this look this fall.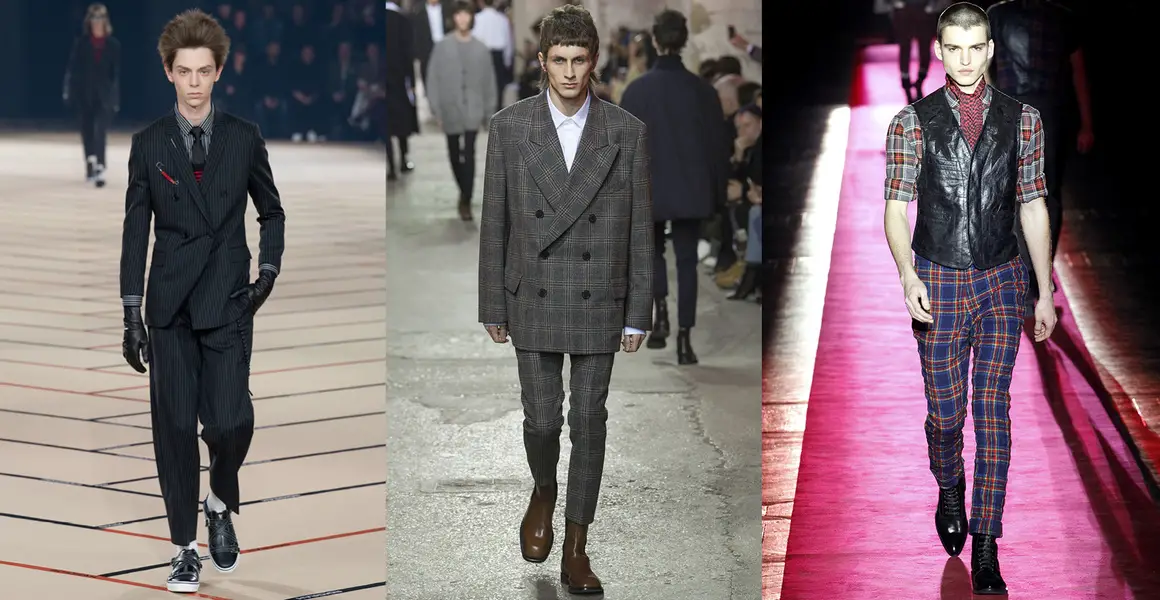 Caption: Collection of Dior Homme, Dries Van Noten and Haider Ackermann
Photo Credit: Vogue
Stree style is all about being comfortable and stylish and this fall the trend is to bring out the very comfortably elegant side of you. So don't hesitate to experiment and go bold with colors. Also, keep testing as experiments are the only way to explore the unknown stylish side of yours.
Keep it Stylish!