News
'Lunch For Two': Rebecca Harding Drops Hints On Dating Her Boyfriend Andy Lee After Their June Split
Like a switch, it's back on again as Rebecca Harding is back again with her ex-boyfriend Andy Lee. Rekindling the old flame the two have decided to date once again after their recent split on the 31st of July 2016.
There was rumor however that funny man Andy Lee was trying to win back his ex-girlfriend after their breakup. It seems to work, whatever he did, as she gives him another chance now they are back together. Happy and in excited of winning back the relationship he had posted his feelings on his Twitter:
Model Rebecca Harding, 25, took back Andy Lee, 35, the radio star confirmed first on Herald Sun on Tuesday 6th of December 2016. Andy being the one to break it off with Rebecca in their relationship first had his doubts as the relationship was steadily growing.
After 18 months before they started dating in 2015. Towards the end of their relationship, Andy had commitment issues at that point when she was ready to move to the next level. Andy, during his radio show, spoke about the moment they got back together saying;
"Bec and Andy have always had great chemistry. They split because he has commitment issues – she wanted to take their relationship to the next level but he wasn't ready."
Despite their long pause in their love life together Andy soon regretted ending the relation with Rebecca when he accidently said during a telephone call he made to congratulate Rebecca on her new job, where he said;
'Hey Bec, I've got to go, dad's calling through' and she says no problem. I said: 'Thanks very much. Love you.'"
And at that moment after hanging up, he said;
"At that point I just realized I'd said 'I love you', which was something you were allowed to say a while back, back when you were going out."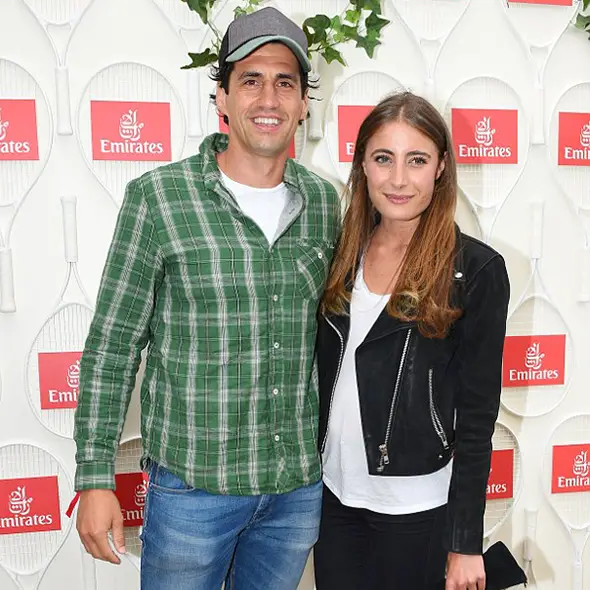 Caption: Rebbeca and Andy together on showing indication of sparking lost Flames in 2015
Photo Credit: dailymail.com.uk
But all signs indicate that he is back together and even go as far as to post about it though social media. The two might stick together this time and perhaps long enough to hear some wedding bells in their future.