News
Exclusive! Marissa Hermer Reveals Her Pregnancy Issues While Expecting Her Third Baby!
The beautiful and meticulous, Ladies of London restaurateur Marissa Hermer might have seemed healthy and well but she just revealed her struggle during her pregnancy. Marissa got pregnant for the third time with Matt, and unlike others, she didn't want to announce her pregnancy neither she wanted to celebrate the news.
The reason she did not want to share about having a new baby was something scary for Marissa; she was diagnosed with placenta accrete. Here's a detail about her pregnancy and diagnosis.
Marissa explains her issues regarding her pregnancy with the third child. Marissa was totally breaking down when she was told she could even miscarry the baby.
The word "miscarry" hit her so sad that Marissa couldn't even share her joy because nobody knows what future holds. In several interviews, Marissa shares her feelings when she was pregnant with Matt.
In an interview with Celebrity People, Marissa said following statements regarding her tough times, where she said;
"Without going into too much detail, we've been unlucky a few times and in the early stages of this pregnancy. It looks like it was going in the same direction … but now all clear and looks good,"
Further with Hello Magazine she gets emotional,
"I would stand in the shower every morning and have a big cry, asking myself, 'How am I going to get through this?'"
she further added;
"Ultimately I did that with Matt by my side – he was my rock. And with two boys to look after, I couldn't just curl up in a ball. I had to keep moving, and that's what probably saved me on an emotional level."
After the baby girl has entered into this world, hermers' lives have changed drastically. She gave birth to a beautiful baby girl on April 26, 2016, who is named Sadie.
Moreover, Marissa says that she has gone through a lot of ups and downs and perception for life has also changed. She came to know her best friends and people who have given her love and support through her hard times. Her Ladies of London friends have given her company during Marissa's pregnancy.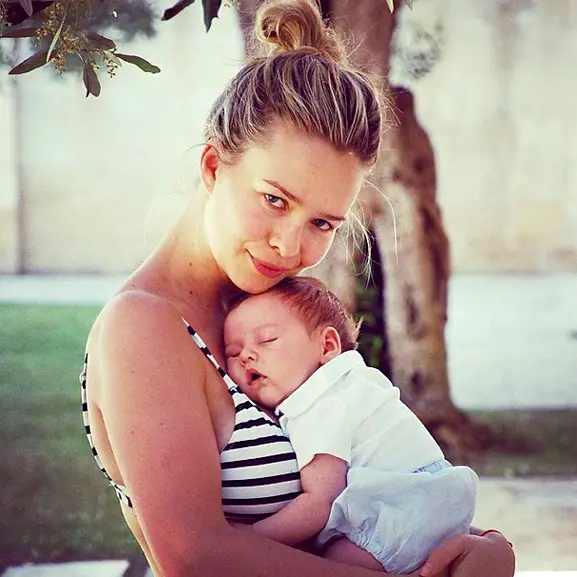 Caption: Marissa was posing for the camera with her baby girl.
Picture Credit: bravotv.com
During the pregnancy, Marissa was busy as ever. Despite such hard times, she still devoted some time to run her Top Dog restaurant, which featured on the second Season of 'Ladies of London.' Marissa also utilized her time writing a cookbook along with her favorite recipes, which will soon be realized in coming spring.
Marissa keeps frequently posting on Instagram showing how excited she is to have Sadie in her life.
Matt Hermer, no doubt has been a super dad and a great backbone to Marissa in every way possible. It is so clear from Instagram posts and other social media posts from Marissa that Matt could not have done any job better than being such a caring husband and a father too. Marissa speaks in support of her husband, Matt, with Bravo Television, where she said;
"My priorities have completely shifted. I don't think they were out of whack before, but I'm so grateful to be alive, [for] my daughter, to have three healthy children, and that's almost all I care about."
she also added;
"Thank goodness I have him[Matt Hermer] with me and supporting me through this. He's[Matt Hermer] amazing. He literally is my rock. He was very steady the entire time and supportive,"
Today, Hermer boys are blessed with little sister and Marissa and Matt with the little princess; Hermer family seems to be on cloud nine. Obviously, this pregnancy phase had been more than a roller coaster to Marissa and her husband, but staying stubborn and having faith in God has really uplifted hermers' life and happiness.