News
'Married At First Sight' Actress Jamie Otis Reveals Baby's Gender After Sharing Pregnant Snaps With Husband
After tragically losing their son in a devastating miscarriage, the 'Married at First Sight' alum has recently divulged about her pregnancy along with the baby's gender. After sharing many pregnancy snaps with her husband Doug Hehner, Jamie Otis revealed they're expecting a baby girl.
Otis, with all excitement, shared,
"I was so shocked!"
She further added,
"I was pretty certain it was another boy. If you follow the old wives' tales, I had no symptoms of [having a] girl."
The 30 years old reality star mentioned how much she is excited to share her love with her daughter. In the memoir Wifey 101, she stated the complicated relationship with her mother, and now she is flying high as a kite. She said,
"I've always wanted to have that mother-daughter relationship that I missed out on with my mom,"
The excitement of Otis can be figured out with her words, right? Moreover, Otis revealed that she secretly hoped her daughter to be mini her.
"I secretly hoped to be a mommy to a little girl and to have a little mini me."
During an interview, she opened up about the new member who is due to arrive this fall.
"My husband and I are beyond thankful and excited for this new little miracle growing inside me. We feel so blessed and honored and excited and proud and ahh, so many feelings!'
The pair had shared several snaps before out with the gender of their baby.
Previously, the couple lost their four months son in a miscarriage, and the unborn was named Jonathan. But after soon after their work to add a new member to the family, she got blessed with a pregnancy. Jamie Otis shared the news with a heart touching message.
Getting back to their loss, she stated,
"The moment I lost our sweet Johnny I felt so empty inside, it felt wrong not to have my sweet boy growing inside me. We asked our doctor how long we should wait before trying again and she said we could try again immediately... I was on a mission to be pregnant again. I wanted to fill that void inside me."
The pair met on the season one of FYI's Married at First Sight. Then they went on to marry at first sight in 2015. The first year showed the ups and downs which the pair have to face post marriage.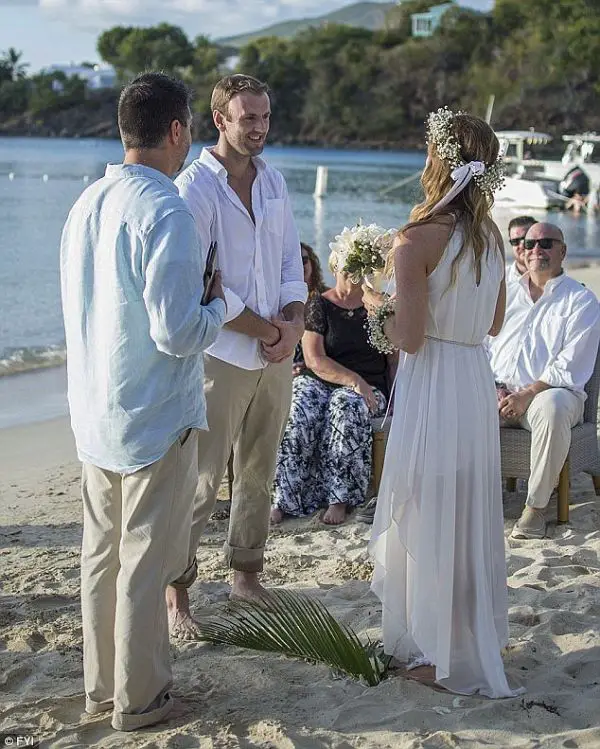 Caption: Jamie Otis and Doug Hehner got married in 2015 on the show "Married at The Firat Sight. (2015)
Photo Credit: dailymail.co.uk
Although they had to face hard times in the first year, they successfully overcame all the obstacles. Confessing the exact reason behind the complexity on the first season, Jamie Otis said,
"I felt obligated to tell my husband how I felt because it almost felt like cheating if I didn't, I was thinking of my ex. That is not OK in a marriage. I knew I needed to be honest with Doug in order for us to work through it.'
After all the obstacle now they are into marital bliss and will soon say hello to their new member.
Congratulations James and Doug!
Stay with us for more news about the couple!