News
Advocate Chaz Bono Broke Engagement With Partner Turned Girlfriend, Weight Loss To Look Young?
Every random individual from television celebrity, sports celebrity or a normal being loves to be in a spotlight and get acknowledged for their achievements. But, things turned out opposite for the actor cum advocate Chaz Bono Broke, who remained in the limelight for his broken engagement with his girlfriend turned partner. What may be the real cause for this dismay?
Is it due to his heavy weight or are there any hidden reason unshared by the star. Just for the lovers of Chaz Bono, we are sharing the untold story of his ruined engagement and about his initiation for weight loss.
Ditched: Just before Getting Married to his Partner?
Chaz Bono and his girlfriend, Jennifer Elia, a private tutor were in a relationship for an extended period. They started to date one another in the year 1999. The relationship was a real serious one as both the duo were in living together relationship and were in the process of taking their relationship to the next level of marriage.
The couples were spotted everywhere together and considered as an excellent match. Even in an interview published on Daily Mail.Co.Uk on 13th May 2011, the advocate had spoken about getting married after few weeks just after they got engaged. He said:
"We've been engaged for two years and had to put things on hold for a little bit; I would say in a year, definitely. Now I feel like this is over we can plan a wedding."
The couple was into each other very much as they were inseparable in any of the events and looked good together.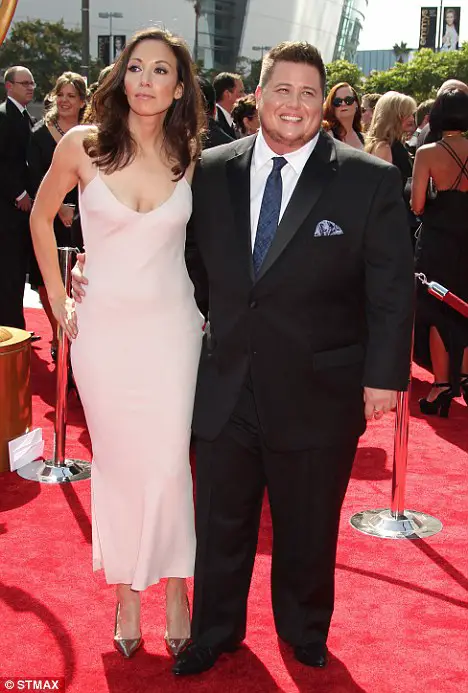 Caption: Chaz Bono with his girlfriend, Jennifer Elia in an Emmy Award 2011
Source: dailymail.co.uk
Unfortunately, the relationship turned into a miserable one just after the seven months of engagement the couples officially announced the news of their break up in 22nd December 2011.
When answered by his lady about the actual reason for a break she confronted the media by taking the sole responsibility of break up in her head. She also mentioned about her difficulties in dealing with her partner's transitional phase of gender changing process and about her serious drinking habit.
As published by Daily Mail.Co.UK on 20th December 2011 she said:
'Well I can't blame it solely on Chaz's transition, my sobriety has always been a problem.I was sober when we meet when things go bad I drink. When Chaz told me about this, I told him I needed a drink.'
However, after the few months of a breakup, the star finally mentioned about the difficulty in finding a permanent partner due to his disgust attitude, but he has not spoken a single word about his break up with his partner Jennifer Elia. As posted by NY Daily News on 17th October 2015, he said:
"I seem to repel women that I am attracted to. I have been single for four years, which has been a great thing and it's great to have time to myself."
Even though the lady in an interview, had accepted the fact of her fiance gender transition. She had supported the man throughout the period. But in reality looks like she could not intake the fact which might have turned her out to be more rebellious and anxious.
Although his partner had spelled out the actual reason of break up, the star has himself not faced or revealed the real reason for ending his decades of relationship.
Weight Loss: Untold Story
When talking about his major transformation in weight loss, the actor in the show of Oprah Winfrey open about the real reason for his weight loss.
As published by people.com on 6th February 2016, the writer spoke about his unhealthy body and about the presence of dysphoria which added an extra pounds inside his body weighing him 75lbs. The actor also explained about his weight shedding procedure he had taken to make his current weight 50 lbs.
Caption: Chaz Bono Returns to The Doctors to Reveal His Stunning Weight Loss posted on February 9, 2013.
When talking about his weight losing interest, he thanked about his gender transition decision that he had initiated in the year 2009. He also revealed about having no intention of getting back to his old figure and about his preparation in focusing on his acting career.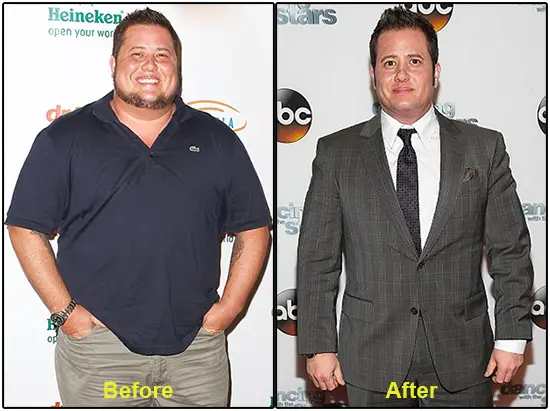 Caption: In right Chaz Boon 75lbs, left Chaz Bono 50 lbs after weight loss
Yes, the significant change in the actor has made him look young and fresh. Now what we are looking forward is to see him in Hollywood movies and to set a new record in his acting zone.
We also hope he gets hooked with a new bee, who would love him for what he is and hope she would be a decent wife too.We all are waiting for the man to get married and start his family soon.
At present let's focus on his acting and upcoming movie he is working on.