News
Child Aboard! Andy Roddick And Wife Are Pregnant With Baby Number Two As The Man Himself Confirms
Expecting Jr. Roddick 2!
Former American tennis player, Andy Roddick, who is a former Grand Slam singles champion, and former world number one, 2003 US Open winner, is now going to be a father of a baby for the second time, as his wife Brooklyn Decker is pregnant with the couple's second child.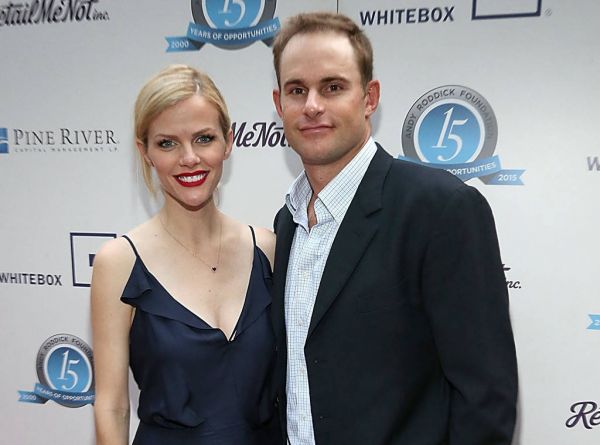 Caption: Mr. & Mrs. Roddick are expecting baby no.2.
Photo Credit: eonline.com
The happy and auspicious news was revealed by the star tennis player, while he was being inducted into the International Tennis Hall of Fame in Newport, R.I.
The former world no.1 thanked his mom Blanche, late dad Jerry, his first child Hank, his wife Decker during his heartfelt speech, and most importantly and notably, he thanked his daughter-to-come.
In a heart-warming speech; Roddick praised his wife for how well she has handled the stars personal life. In his own words,
"Brook, I don't know how you juggle it all... You hear a lot of guys find it very tough to walk away from professional sports, but you are the reason my personal transition into a quasi-everyday life has been gratifying and full, Hank will someday realize how lucky he is, and our daughter that's coming will also realize she has the best mother on Earth."
The couple tied the holy knot of marriage back in 2009 and are loved up since that instant. The former tennis star and his swimsuit model, significant other exchanged vows in an intimate candlelit ceremony in front of a group of close friends and family in Austin, Texas.
The love between them multiplied when the couple welcomed their first child, their son, Hank Roddick on September 30, 2015.
We would like to congratulate on the expanding family of the Roddicks, and wish them the very best!
Throwing Away Nearly All Trophies:
Earlier this month, Brooklyn Decker revealed that the former world No1 Andy Roddick decided to throw away almost all of his trophies during a cleaning spree at the couple's home. The couple lives in Austin, Texas and the Texan has won nearly 32 trophies in his 12-year long career as a tennis player.
Brooklyn said,
"We have his US Open trophy, But all his other trophies Andy threw away in the garbage."
She further added,
"It was really upsetting, He did it one day when I was out of town. [He] decided that these don't mean success to me, these don't define me and I don't really care to have these material things sitting around the house, so he threw them in the trash. I think he saved a few but they are not on display."
Those trophies are Roddick's, so he can do anything he wants with them. Still, it is shocking and sad to know about Andy's decluttering act!
Stay with us for the emerging updates on Andy Roddick!