News
Baby On the Way! Molly McNearney, Wife Of Jimmy Kimmel Is Pregnant With Their Second Offspring!
The wife of the famous host of "The Tonight Show" Jimmy Kimmel is pregnant with the second coming on the way into new spoiled celebrity lifestyle. Molly McNearney, announced along with her husband who gave a rather awkward and usual comments on the upcoming baby, and his thoughts on his baby name.
Though Molly had very little to say on the matter, on the other hand, Jimmy had more than enough to say in updating the media. Doing what he does best and hosting willingly speaks for all three,
Another Baby on the way!
Molly McNearney, 38, a screenwriter and a mother of Jane Kimmel is pregnant again with another baby. Announced first by Jimmy himself, her 49-year-old husband, on Jimmy Kimmel Live! In one of his episodes whilst stating, he is the new host in the Oscar on December 5th of 2016.
"My wife is hosting a baby inside her body, so that's what's coming,"
He jokingly added
"We got the ultrasound, which is weird because it's like you're already spying on the baby—but we asked the technician not to tell us whether we're having a boy or a girl. Our plan is to let the child decide for itself. We want that to be a surprise, but I have been trying to think of names that would work for a boy or girl. So far, all I've come up with is Dyson, after the vacuum, or Jelatin with a 'J'. No? That's exactly what my wife said."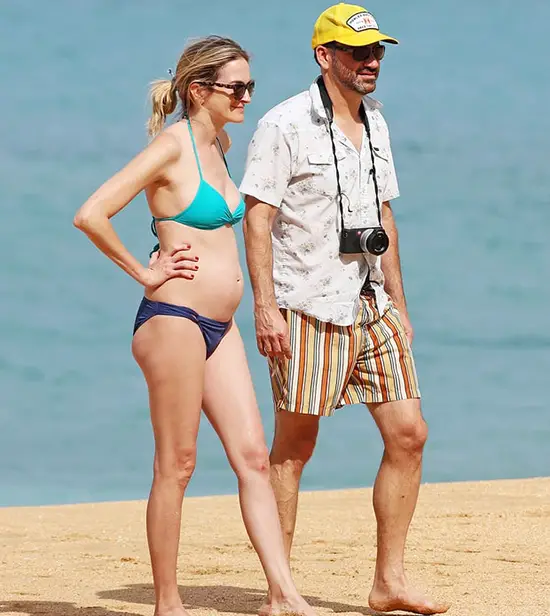 Caption: The two on the red carpet together as they pose for the camera on the 6th of December.
Picture Credit: eonline.com
The proud dad of 3, Kevin and Katharine from his first marriage with Gina Maddy and the third from Molly, plus the fourth one on its way, even for a host that is a handful of children to look after.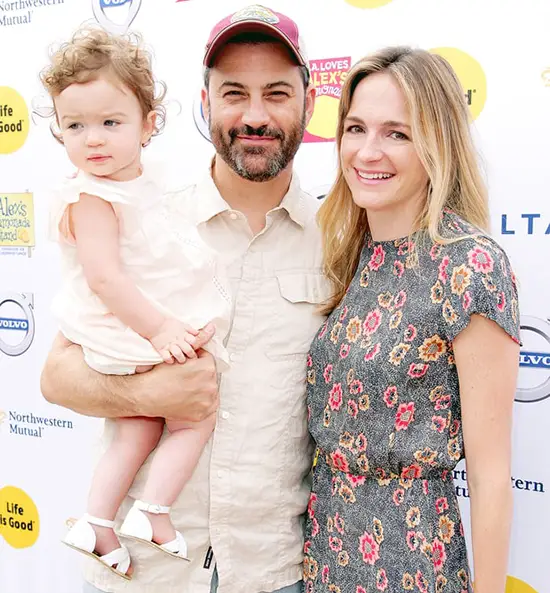 Caption: Jimmy Kimmel, Molly Mcnearney, and Jane Kimmel together on the 12th of September 2015 in Los Angeles, California.
Photo Credit: usmagazine.com
With their four children altogether two of which, Kevin and Katherine, are with ex-wife Gina Maddy back in 1988 when they were married and until their divorce in 2002.Between the two marriages, the host had dated Sarah Silverman in 2002 but soon broke up in March 2009.
Jimmy started dating Molly when she was a co-writer on "Jimmy Kimmel Live" in October 2009, soon after got engaged in August 2012, married in July 2013 and had their first baby in July 2013.
Caption: The wedding prank on Jimmy Kimmel with celebrities on July 16, 2015.
Even though he had a divorce with their mother Jimmy still keeps in touch with his children. Jimmy is still regularly working along with his wife on his show waiting and expecting his newborn baby soon.