News
Book And Quotes Author Jonathan Safran Foer: Preparing Comeback After Divorce With His Wife
To present the view regarding various issues in as a way that the people will connect with them instantly is a tough job as they may receive criticisms because of a different perspective of people or can receive applaud for extraordinary thinking. And in today issue we talk about Jonathan Safran who is reputed and highly talented author, novelist and short story writer.
Jonathan has written many fiction and non-fiction books and has received mixed reviews for his unusual writing technique as some view him as a polarizing figure in modern literature and is also considered as most overrated modern American writers.
Jonathan wrote a non-fiction book called "Eating Animals" on 2009 which had so much impact of words that famous actress and his friend Natalie Portman turned vegan after reading that book.
We can see in a Twitter post that how she turned to vegan;
There was also a rumor that Jonathan was very much interested on Natalie Portman who is already in engaged with French dance named Benjamin Millipied but things did not go well with his love interests, they even had lots of e-mail sharing between them but that too did not help Jonathan to get Natalie love as per a report.
Preparing Comeback After Divorce With His Wife:
Every love life have a romantic beginning, some marriage have a long life and some have short. Jonathan also had a very short married life with his long-time partner Nicole Krauss who is also an author and his ex-wife with whom he has two children. Once considered as a power couple they both hit a rough patch in their relation and mutually decided to end their 10-year long relation.
It also came as a shock to many of their fan as the couple were very successful and enjoying their stable and happy married life.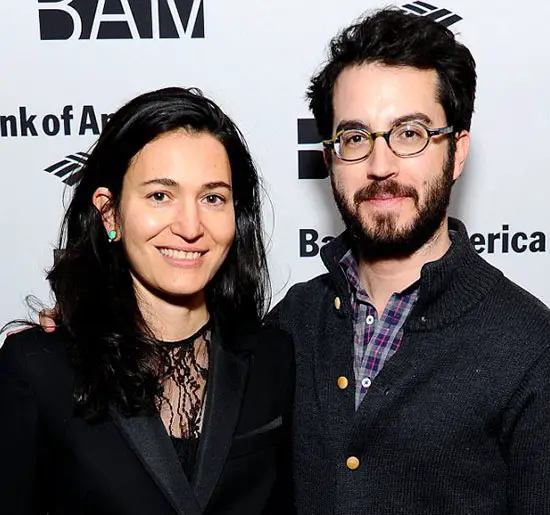 Caption: Authors Jonathan Safran Foer (right) and Nicole Krauss (left) 'split amicably a year ago' without the public knowing, and are pictured here looking cozy at a New York event on 2014.
Source: Gettyimage.com
'On an interview, Jonathan gave to theguardian.com in 2012 just a year before their divorce, he had said ;
"the best kiss of his life' was the first date with my Heathcliff Andrew Ledger, beneath a costume shop awning, in the rain".
In the same interview he said;
"he declared that 'the love of his life', was 'life itself."
Now writing a new chapter in his life Jonathan is dating none other than actress Michelle Williams. Both of them met through their mutual friends and the love of the book is what made her closer to him as per report.
Michelle also shares a romantic journey as she had many relationships before meeting Jonathan.
Michelle formally dated Jason Segel, Spike Jonze, and the late Heath Ledger with whom her relations did not work out, she even had a daughter from a relation with Heathcliff Ledger and says their daughter remind her of her late husband.
Here is a video clip which shows actor Michelle link up with author Jonathan;
Caption: Jonathan and Michelle dating news.
Jonathan Short Bio:
Jonathan Safran Fore was born on February 21, 1977, in Washington D.C., is an American novelist, author, and short story writer. Jonathan attended Georgetown day school and later graduated from Princeton University.
His first novel "Everything Is Illuminate" (2002) was a thesis which later grew into a novel and after that he had given many novels like "Extremely Loud and Incredibly Close"(2005), "Seven Attempted Escapes"(2005) and new York time best-selling book "Eating Animal"(2009) which also received mixed criticisms. Jonathan also is teachers of writing at Yale university. He is best known for is quotes which includes;
"Sometimes I can hear my bones straining under the weight of all the lives I'm not living."
"You cannot protect yourself from sadness without protecting yourself from happiness."
Recently Jonathan published his novel "Here I Am" published on 2016 has reviewed 4 and a half star by goodreads.com.