News
Divorce Battle Continues! Lisa Marie Presley's Husband Michael Lockwood's Appeal for Spousal Support Denied by the Court
There is trouble in paradise once again as the judge has ordered musician and actress Lisa Marie Presley to cover the legal fees of estranged musician husband Michael Lockwood, who is the father of their twin daughters, as the two look to settle a divorce case where she has accused her ex of sexual misconduct.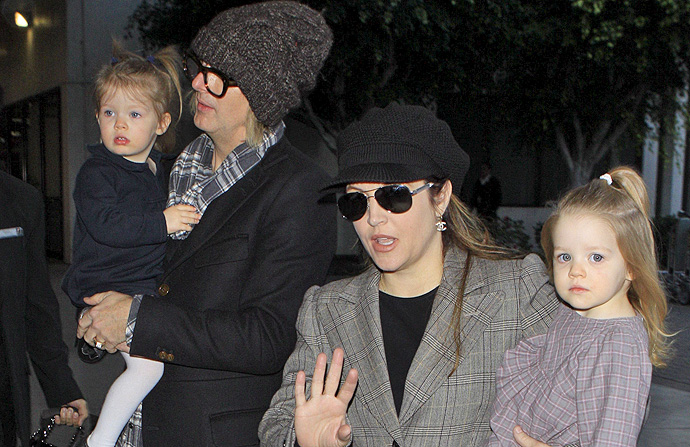 Caption: Lisa Marie Presley and her ex-husband Lockwood along with their Twins. The Twins are now in protective custody following the accusation made by Lisa Marie Presley.
Photo credit: x17online.com
Elvis Presley's daughter, Lisa Marie Presley filed in court earlier in February 2017 in which she opposed her estranged husband Michael Lockwood's request for spousal support by claiming that she found disturbing photos as well as videos of children on his computer. She wrote:
"When I discovered the photos on [Lockwood's] computer and viewed the videos, I was shocked and horrified and sick to my stomach. I had no idea that [he] had taken those photos. I will refrain from describing the photographs in detail out of respect for the privacy of my family."
She had filed court documents in earlier February of 2017 opposing her ex-spouse's request for her to pay him the spousal support of $40k a month as well as covering his attorney fees, following Lisa's 2016 divorce filing.
A judge said on 22nd February that she must pay total $50,000 to cover her ex's overall legal fees over the course of five months and till a trial takes place to determine the validity of a post-nuptial agreement which both ex-couple signed after their 2006 marriage, which details divorce terms.
It only comes days after Presley filed court documents stating she is deeply in debt and their 8-year-old twin daughters are subject to a child welfare case.
Michael's attorney told in court that his client has no source of income and cannot afford his legal fees. However, Lisa Marie Presley's lawyer had argued that she should not have to cover her ex-husband as she was in debt and has no assets but receives $104,000 per month from her inheritance from Lisa Marie's late father Elvis Presley's estate for living expenses, most of which go to her four kids.
He also added that she is currently living with her daughter Riley Keough who is one of two children she shares with ex-husband Danny Keough.
Lastly, Lisa Marie's lawyer said that Michael, a guitarist, could very look for a job and income by getting work at a "Guitar Center" or by giving music lessons and accused him of choosing not to look for employment opportunities.
Lisa Marie Presley filed for divorce from Lockwood in June of 2016 after ten years of marriage. During that time, her representative told that she would be seeking full custody of their twin children after citing irreconcilable differences as the reason behind the split.