News
Elena Gant Is Up For A Double Trouble As She Welcomed Twins With Loving Husband
Yielding twin is a challenge in itself. But if you already have issues that make the pregnancy complicated, it becomes even tougher. But the challenge gets somewhat easier when you have a helping hand.
Elena Gant, an aspiring actress, recently went through the same challenge and gave birth to twins despite a complicated pregnancy caused by her small height. Thanks to her supportive husband, she is now a mother of two healthy twin boys.
The Gant Couple Blessed With Twins:
The couple welcomed the twins in June 2016. With the arrival of twins in their lives, not only the family size, but their happiness doubled too. Elena revealed,
"This is the most exciting time in my life – and I love knowing that the best is yet to come!"
The pair knew that they were having twins after conducting the first ultrasound. This report took them both by surprise in the beginning but gradually they adjusted to the idea and prepared themselves for the big day.
She expressed,
"It's like a double blessing. But at first it was a big surprise, and I didn't even know if I should be happy or I should be concerned or what."
A Challenging Pregnancy For Elena:
With the height of only 4.4", Elena Gant's pregnancy was bound to be a challenge for her. But she didn't let her hopes down and kept a positive attitude which reflects in her following statement,
"I believe in nature, and I think that it will all work out."
Luckily, she succeeded in achieving her expectations and didn't have to face any pregnancy related complications. Talking to People, she exclaimed,
"As a first-time mom, as a little person, I'm so lucky to now hold two beautiful, healthy baby boys." "It was love at first sight, and my husband and I are so blessed with our twins."
Elena had her reasons to fear her pregnancy because of height issues, but constant support from her husband helped her overcome this obstacle. Remembering the time of her pregnancy, she stated,
"Just pretty much [does] everything I ask him to — he helps me with groceries; he cooks for me, like breakfast; he lets me sleep longer. I stay in bed, and he brings breakfast to bed. It's a very romantic time for us."
The couple dated for around three months before getting engaged and married in 2014 after three months of engagement.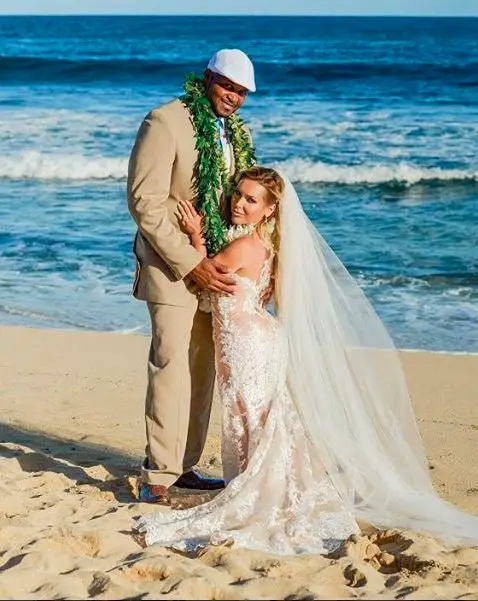 Caption: Elena Gant and her loving husband Preston Gant (2016).
Photo Credit: realitytea.com
Elena Gant is famous for her role in Little Woman: LA. Moreover, she owns a YouTube Channel with more than 60,000 subscribers and also owns a makeup line by the name of EG Beauty. All her hard work and dedication contribute to her splendid net worth of $1.5 million.
Despite various complications, she is now a proud mother of two healthy baby boys. Hope to see this striving actress on screen soon.