News
Evan Bass Gets Married To Carly Waddell In A Beach-Wedding! Beloved Wife and Kids Plan?
Married no matter what!
"Bachelor in Paradise" Season three actors Evan Bass and Carly Waddell were the only couples to stay together from Season 3, and now they have taken their relationship forth and are now married. They tied the knot in a beach wedding held in Puerta Vallarta, Mexico which was officiated by the host of their show Chris Harrison.
"BiP" alums Jade Roper, as well as Tanner Tolbert, were present in attendance to see the pair exchange vows.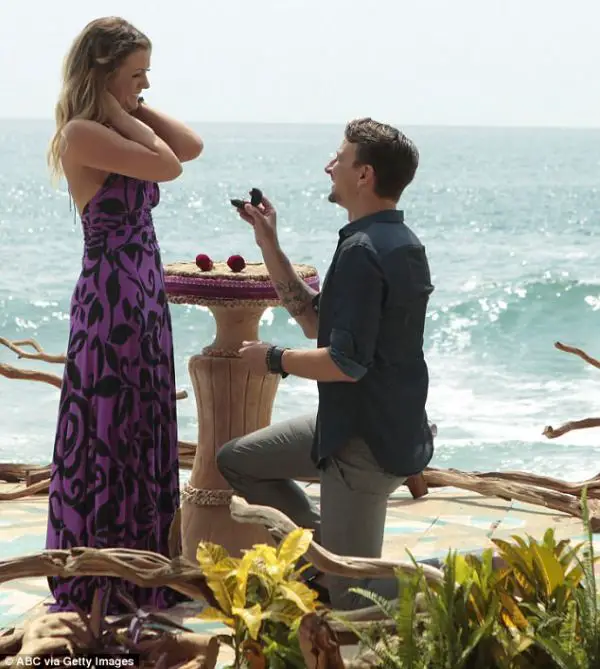 Caption: The Moment of Magic when Evan Bass and Carly Wadell tied the knot.
Photo Credit: dailymail.co.uk
Their marriage will be broadcasted during a special episode of the dating show which is now facing an indefinite hiatus during its fourth season.
The couple first met back in 2016, and during the same year, they got engaged.
Also, back in April, the couple visited E! News and talked about their then forthcoming marriage, their relationship throughout their engagement.
Cary said,
"I think that relationship wise, we're definitely more in love than we ever were before. I think we fall more for each other every day which is fun.It was always good, [but] it's just that as we got to know each other better and better. We fell for each other even harder. We've never had a bad spell. It's always been consistently good."
She also added,
"I think he's just very accepting. I have lots of flaws, and he really just accepts them...He's just very nonjudgmental, which is super important in a relationship with anyone, and it's really nice to have with your spouse."
But it was not just Carly who was gushing about their relationship as Evan too continued by saying,
"For me I think it's Carly's openness. I know exactly where she stands at all times about everything...I just think her ability to process her emotions without a filter.I really love that she wears her heart on her sleeve and is able to just communicate without fear of anything."
Caption: Even Bass and Carly Wadell talk about their relationship, April 2017.
Video Credit: eonline.com
Congratulations to them on their relationship.
Also, did you know, Evan had gone through marriage formerly before splitting with his now ex-wife Marie Bass? Marie also in 2016 made the bold claim that her former husband Evan was a deadbeat dad.
While claiming that he always neglected his kids, Marie said,
"I read an article at the time about Evan being this amazing dad that packed lunches and helped with homework. I got so angry cause at the time, he really didn't see the kids at all ever."
She also added that all of these was not for money and was just furious that he did not spend much time with the kids.
"He simply wasn't spending enough time with the children. It was really terrible. It was close to the worst time in my life, it was terrible, really, really, really bad. It took a lot for me to get through it for sure."
She then concluded,
"He had 50/50 custody so technically he was supposed to be seeing them every other week for the whole week, but he never did that until Bachelor in Paradise. After that was over, he was actually seeing the boys the amount of time that he is legally supposed to."
Evan and Marie have three children together, Nathan, 15, Liam, 11 and Ensley, 8 and Evan and Marie have some fence to mend.