News
Hacked? Actress Kelly Rohrbach Becomes Prey of Hackers, Private Pics Posted Online Just Before the Premiere of Baywatch
"Baywatch" actress Kelly Rohrbach is targeted by hackers as her private photos are allegedly posted online without her consent.
In the leaked pictures, the 27-year-old model-turned-actress Kelly is seen flaunting her sexy curves in her lingerie and famous red swimsuit which she wore in Baywatch as C.J. Parker.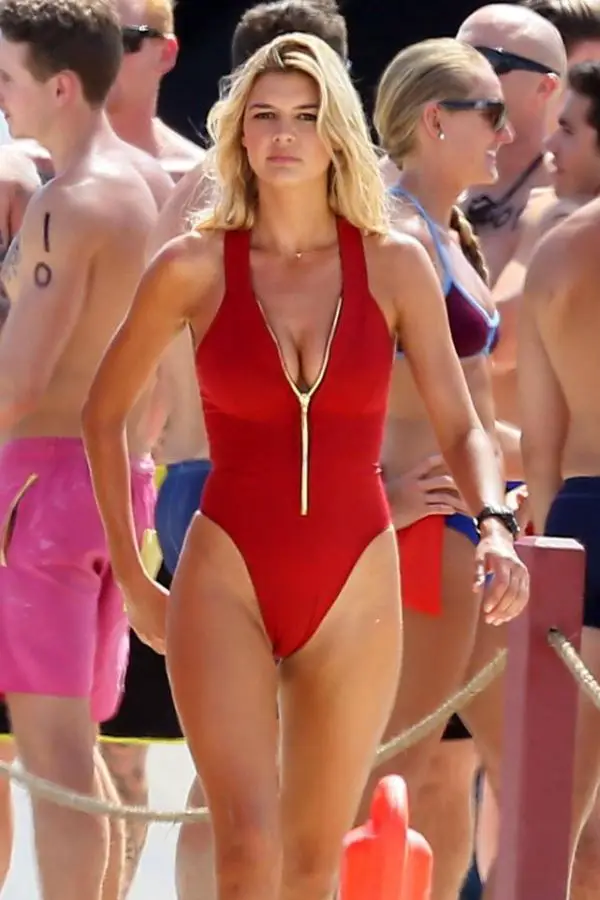 Caption: Kelly Rohrbach's private pictures in her famous red swimsuit and other lingerie are leaked.
Photo credit: The Sun
This gorgeous actress is all set to walk the red carpet for the premiere of Baywatch on Saturday with Dwayne "The Rock" Johnson, Priyanka Chopra, Zac Efron and David Hasselhoff. A source told The Sun-
"This hacking couldn't have come at a worst time for Kelly. She's looking forward to the biggest night of her life this weekend but instead she's having to deal with intimate, private pictures being published online by some pervert."
Along with Kelly, many stars were the victims of hacking and leaked pics. This week, the naked pictures of four female UFC fighters were hacked and feared to be shared online.
Likewise, Mischa Barton's racy photos, videos and nude footage's were stolen and shared without her consent. Demi Lovato is also one of the victims as the picture of her unzipped top surfaced the internet. The images of Emma Watson trying various outfits were also shared online.
Talking about the hacking, The Sun said-
"Cyber geeks are believed to have cracked the passwords of either iCloud accounts, social media sites or internet messaging services belonging to hundreds of celebrities."
"The hackers then trade pictures with each other online, to attract hits and notoriety. Hackers use "invite-only" online forums to talk to other hackers and share files - and these end up being leaked onto the internet."
Prior to the hacking issue, Kelly grabbed attention by her relationship with her ex-boyfriend Leonardo DiCaprio. She studied acting at London Academy of Music and Dramatic Art after graduating with a degree in theater in 2012. Along with Baywatch, she has appeared in some TV shows like Rush, Broad City, Two and a Half Men, Rizzoli & Isles, and The New Normal.