News
Heartfelt Condolence! Rock and Roll Legend Chuck Berry Dies at the Age of 90
An innovator of rock 'n' roll music Chuck Berry died in his home near Wentzville, on Saturday at the age of 90, confirmed by St. Charles Country Police Department on its Facebook page.
According to the post, the first responders immediately applied different life-saving techniques after Chuck Berry was spotted unresponsive. But sadly the pioneer of rock 'N' roll couldn't be revived and was pronounced dead.
Many celebrities offered their heartfelt condolences over their respective Twitter accounts.
Mick Jaggers, a co-founder of rolling stones also took Twitter to show his respect and consolation with series of tweets.
This is the fact that the world has lost a very inspiring personality who has distinctive songwriting perception and was presented with irresistible swagger.
This legendary musician has won the hearts of many with his indelible guitar licks and showmanship and has been the significant influence in the subsequent rock music.
Chuck has given hits like "Johnny B. Goode", "Roll Over Beethoven," "Maybellene," "Rock and Roll Music" and has created or more, redefined rhythm and blues that made rock and roll more distinctive with his storytelling lyrics focusing on teen life and consumerism. For his excellent work, he was honored with the Grammy Lifetime Achievement Award in 1984.
While Chuck Berry made his appearance on The Tonight Show on November 5, 1987, he claimed,
"The main guy was Louis Jordan. I wanted to sing like Nat Cole, with lyrics like Louis Jordan with the swing of Bennie Goodman with Charlie Christian on guitar, playing Carl Hogan's riffs, with the soul of Muddy Waters."
After years passed by, he ended up becoming the mercurial icon in the music industry, leaves inspiration for the aspiring musicians to look up and decide their paths.
This rock and roll Hall of Fame Chuck was married to Themetta "Toddy" Suggs in 1948 and shares two children together; Ingrid Berry, Charles Berry Jr, Melody Exes Berry Eskridge and Aloha Berry.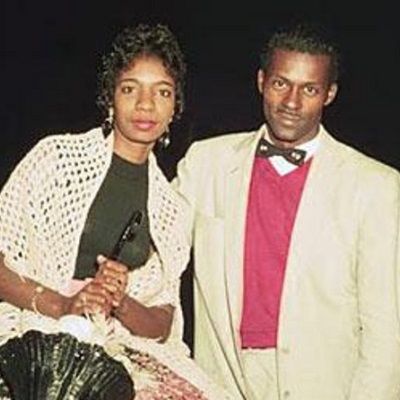 Caption: Chuck Berry got married to his first and only wife Themetta in 1948.
Photo Credit: pinterest.com
We would like to offer our condolence and sympathy for his family in their hard times.