News
He's Fired! CNN Ends Connection with Jeffery Lord, On-Air Trump Supporter for Using The Nazi Slogan
Jeffrey Lord now finds himself in the unemployment line at this age of mid-60's!
In a shocking turn of events, CNN commentator Jeffrey Lord has been fired by CNN following some controversial tweet on Thursday.
The Lord's tweet of a Nazi salute at a random critic that led to his termination from CNN was,
This sparked some major troubles for him and the people online further lashed at him for using this salute.
Moreover, some people even snapshotted the tweet before he would delete it, and he even tweeted about this matter as,
Why would I delete something that mocks the Fascists at Media Matters Fascists? Why would you tweet support tying Fascism?

— Jeff Lord (@realJeffreyLord) August 10, 2017
The tweet was not perceived in the way he wanted it to be as. Clarifying himself, he said,
"I want to make something very clear. I have nothing but respect, affection and love for CNN. I think the world of CNN. I think they're terrific people and serious people."
He also elaborated that he is not an endorser of Nazism or fascist tactics, but was intended to ridicule Media Matters and its utilization of blacklists of sponsors of traditionalist voices, for example, Sean Hannity, which Lord compared with dictatorship.
Lord rejected to shed light on how he was fired, but he called his decision "disappointing."
"From my perspective CNN caved on the First Amendment of all things. I disagree. I respectfully disagree."
Retained by CNN in August 2015, Jeff was an active on-air supporter of Donald Trump, all through his election and candidacy. A supporter of the conservative magazine "The American Spectator," Lord, was previously an aide to the names like Jack Kemp and Ronald Reagan.
He had over and over conflicted with people like Media Matters president, Angelo Carusone, whose group castigated CNN for retaining him as a reporter.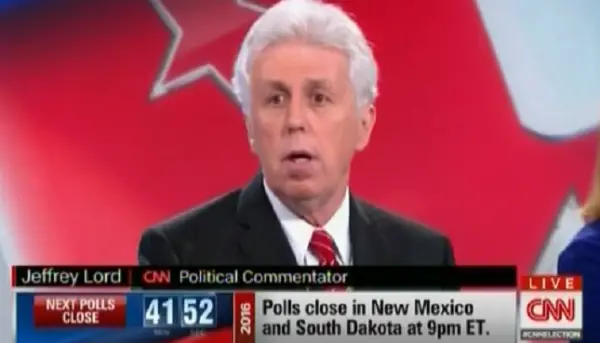 Caption: Jeffery Lord fired from CNN following a "Sieg Heil " Tweet.
Photo Credit: totalwar-ar.wikia.com
Jeffrey Lord's Personal Life:
Jeffrey Lord was born in the state of Massachusetts to parents steeped in Republican values. He is the son of Kathleen Lord and Neville Lord. His father hopped between jobs in the Leisure and hospitality industry.
He graduated in 1969 and received a college deferment from the draft to attend the Franklin & Marshall College located in Lancaster, majoring in government.
Lord was just 24 when he was a candidate for Pennsylvania Senate, but following some setbacks, he lost.
Following it, he settled in Washington, D.C. to climb the political ladder, which enabled him to work in the White House for former Presidents like Ronald Reagan and George H.W. Bramble.
Stay with us for the emerging updates on Jefferey Lord!