News
Joan B. Lee Wiki: The Wife to Famous Comic Writer Husband Stan Lee Dies At 93!
The World lost another Gem as Joan B. Lee dies at 93!
Joan Lee the former Hat model and a wife of Stan Lee, the famous Marvel Comics writer died on Thursday. At the age of 93, her soul departed leaving her family mourning on the tragedy.
The news of her death became official as the spokesperson for the family reported Entertainment Weekly,
"She passed away this morning quietly and surrounded by her family,"
They further added,
"The family ask that you please give them time to grieve and respect their privacy during this difficult time."
As per the source, Joan Lee suffered a stroke earlier this week and was immediately hospitalized. Unfortunately, the duo didn't make it to celebrating their 70th marriage anniversary, which they were looking forward to.
Joan, the former British model, married Stan Lee back in December 1947 and shared two children together with her man. J.C Lee (Joan Celia) was their elder daughter, who was born in 1950, while the younger daughter Jan was born in 1953.
Wretchedly, the couple lost their second child shortly after three days of being born.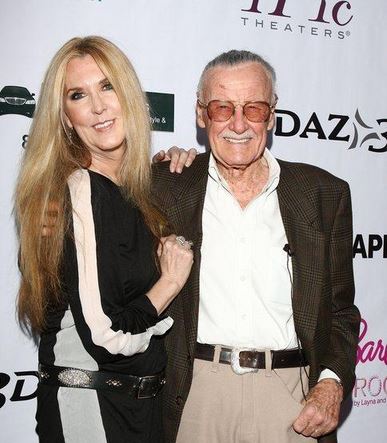 Caption: Stan Lee with his daughter Joan Celia Lee.
Photo Credit: Dailyentertainmentnews.com
Many people are sending their heartfelt condolence and thoughts to the family via Twitter. Mark Hughes shared his words as,
I am sad & heartbroken to hear of the passing of Joan Lee, Stan Lee's wonderful wife. My deepest sympathies go out to Stan & their family.

— Mark Hughes (@markhughesfilms) July 6, 2017
Joan Lee's Wiki-like Bio:
Joan who was born 93 years back as Joan Clayton Boocock died on July 6 in Los Angeles, California. She was a renowned actress and had worked in several of her husband's projects; X-Men: Apocalypse being the latest.
She also acted in Spider-Man and Fantastic Four back in 1994. Stan even revealed that Joan was his motivation for making Fantastic Four.
Joan, before getting married to Stan Lee had tied knots to another man whose identity isn't revealed. It was after just an hour of the divorce being granted to Joan; she was married to Stan Lee.
The couple managed to walk through the journey of companionship till 69 years, as Joan's death has left Stan with no partner.
Caption: Joan Lee with Stan Lee at the Hollywood walk of fame in 2011.
Picture Credit: au.be.yahoo.com
A year earlier, Stan talked about how love spark between them. He expressed,
"When I was young, there was one girl I drew; one body and face and hair. It was my idea of what a girl should be. The perfect woman. And when I got out of the Army, somebody, a cousin of mine, knew a model, a hat model at a place called Laden Hats. He said, 'Stan, there's this really pretty girl named Betty. I think you'd like her. She might like you. Why don't you go over and ask her to lunch.' Blah, blah, blah."
He added,
"So I went up to this place. Betty didn't answer the door. But Joan answered, and she was the head model. I took one look at her — and she was the girl I had been drawing all my life. And then I heard the English accent. And I'm a nut for English accents! She said, 'May I help you?' And I took a look at her, and I think I said something crazy like, 'I love you.' I don't remember exactly. But anyway, I took her to lunch. I never met Betty, the other girl. I think I proposed to [Joan] at lunch."
We would like to send our thoughts to Joan's family and wish Joan's soul to be blessed with eternal peace in the afterlife!